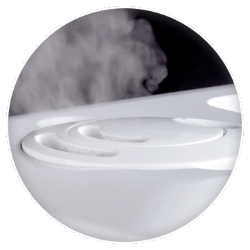 Enjoy Cool and Warm Mist at Home
The Ion90 humidifier produces Ultrasonic Humidification (Cool Mist) for mist at room temperature and Ultrasonic Humidification with heat (Warm Mist) for faster humidification.
Dual Mist Output
The Ion90 manouverable mist outlet allows you to easily adjust the mist output for optimum room coverage.

UV Bio-Photocatalyst Sterilisation
Helps to decompose smelly particles to achieve maximum deodorisation and sterilisation effects

Demineralisation Filter
Softens water by dissolving mineral salts and removing additives, helping to reduce mineral buildup at the nebulizer and producing finer ultrasonic humidification

Intelligent Humidity Control
Features a built-in humidistat that tells you the current humidity level, and a hydrostat that facilitates in continuously moderating and maintaining your desired humidity level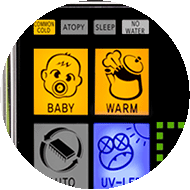 Common Cold
Maintains RH from 56% to 70% for better breathing and to alleviate cold symptoms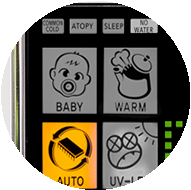 Auto Mode
Automatically adjusts level of mist output until it reaches the desired RH level of 50 to 65%.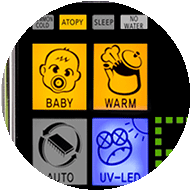 Baby / Atopy
Great for babies and also for those susceptible to allergies such as hay fever and asthma. Maintains RH from 50 to 62% for better comfort.
Timer
Program the ION90 to run from 1 to 9 hours, or continuously
Mist Output Control
Low, Medium, High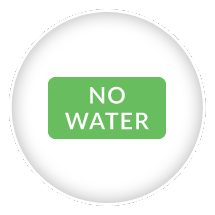 Water Shortage Indicator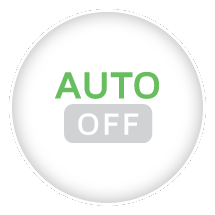 Auto Switch Off When Tank is Empty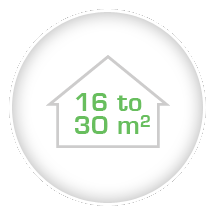 Room Coverage 16 to 30m²

Sleep Mode
LCD becomes dimmer with the relative humidity set at 60%. It will operate continuously for 8 hours on WARM mist setting before powering off automatically.

Low Noise Operation
Suitable to use at night while sleeping and in the kids' or baby's bedroom

Up to 21 Hours of Continuous Use
With a generous 6.5L tank capacity, you can enjoy at least 21 hours of continuous cool mist humidification, or 16 hours on warm mist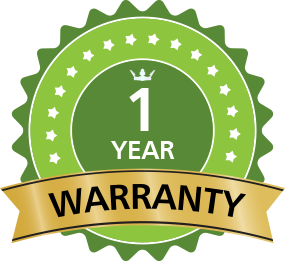 | | |
| --- | --- |
| Model No. | ION90 |
| Input Voltage | 240 V |
| Power Consumption | Ultrasonic: 40 Watts; Heat Vapouriser: 125Watts |
| Humidification Rate | Ultrasonic: 300ml/hr; Heat Vaporizing: 400ml/hr |
| Tank Capacity | 6.5L |
| Coverage Area | 16-30 Square Metres |
| Product Weight | 3.5kg |
| Dimensions | H: 315mm, W: 180mm, D: 260mm |
| Warranty | 1 year |
Ionmax ION90 Humidifier Info Sheet

Ionmax ION90 Humidifier User Manual
Ionmax ION90 Humidifier Product Video