Ionmax ION610 Desiccant Dehumidifier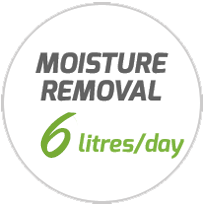 Excellent Dehumidification
The ION610 desiccant dehumidifier removes up to 6L of moisture a day for areas up to 25m2, perfect for use around the home.
Take greater control of humidity levels in your home
4 Relative Humidity Levels
60% - Maximum energy-saving and quiet operation
50% - Inhibit mould and bacteria growth
40% - Super dry mode to prevent condensation
Laundry (Continuous) - Dry clothes faster during winter
3 Power Levels
Auto - Convenient automatic operation
Low (Quiet) - Power saving and low noise for daily use
High - Offers rapid dehumidification

Electronic louvre
Covers large areas from 15 to 25 m2 and provides thorough room coverage with its automatic louvre

Save Costs by Returning Energy to your Home
As a desiccant dehumidifier, the ION610 produces heat as it dehumidifies your home. This helps to return energy to your home as soothing warmth, helping to cut down your heating bill, especially during winter months.

Suitable for Cool to Warm Climates
Desiccant dehumidifiers are great for all seasons, whether it's cool or warm. On the other hand, compressor type dehumidifiers only work best in warm climates; they don't perform well when it's cold. Desiccant dehumidifiers like the ION610:
Provide stable performance across all temperatures (1°C - 40°C )
Can reduce humidity to much lower levels (35% RH)

Energy Efficient
The Ionmax ION610 desiccant dehumidifier can remove up to 6L of moisture a day in a shorter amount of time compared to other types of dehumidifiers. By doing the job faster, the ION610 ensures that it is working efficiently and using less energy to do so.

Antibacterial Air Filter
The unit has an antibacterial air filter at the back, which removes large particles such as dust and hair from dehumidified air. This helps to improve air quality indoors and prevents bacteria from growing on the air filter.

Low Maintenance
The ION610 is easy to maintain with no replaceable parts. It uses a Zeolite desiccant that regenerates itself to continue dehumidifying - hassle-free and no maintenance required! For the air filter, simply vacuum regularly to keep it clean.
Protects Your Home
The Ionmax ION610 helps to maintain an optimal humidity level indoors. By doing so, it helps to prevent mould and mildew, to protect wood floor and furniture, and to prevent walls and ceilings from rotting and peeling due to excessive humidity.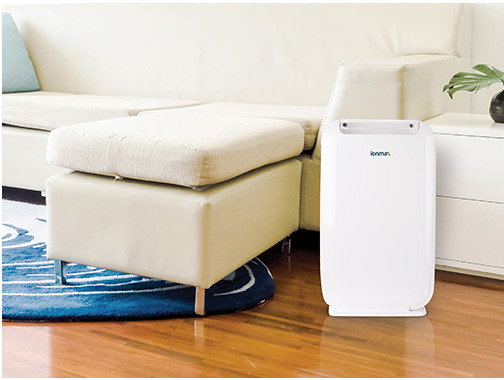 Dry Laundry Indoors
Use the Ionmax ION610's laundry mode to quickly and efficiently dry wet laundry indoors. Perfect during cold or wet weather, and especially suited for small apartments that lack the space to dry laundry outdoors.
Cleverly Designed Water Tank
The ION610's user friendly water tank makes checking and emptying the tank easy each time.
Continuous drainage option
(a hose is provided)
Hand grip to pull water tank out
---
Safe to Use Unattended
The ION610 is safe to use without monitoring, thanks to various safety features:


Fall-down, tank-full and abnormal temperature detection

Auto restart and function retrieval after power cut
---
User Friendly Features
Various extra functions make the ION610 exceptionally easy to use and convenient to have around your apartment or home:

Low noise levels
(34 ~ 45 dBA)

Eco-friendly
Does not emit greenhouse gases


Portable with Carry Handle

1 Year Warranty
Covered by our 1 year warranty for parts and labour
| | |
| --- | --- |
| Model No. | ION610 |
| Input Voltage | 220-240V AC ~50Hz |
| Power Consumption | 280 - 460W |
| Coverage Area | 15 - 25 m2 |
| Daily Dehumidifying Rate | 6L (20°C, 60% RH) |
| Tank Capacity | 1.8L |
| Noise Level | 45 dB High / 34 dB Low |
| Product Weight | 5.1kg |
| Dimensions | H: 445mm, W: 269mm, D: 174mm |
| Warranty | 1 year |
Ionmax ION610 Desiccant Dehumidifier
Fact Sheet

Ionmax ION610 Desiccant Dehumidifier
User Manual

Ionmax Desiccant Dehumidifiers
Brochure

Ionmax ION610 Desiccant Dehumidifier Reviews
This is a review section, this text will be automatically hidden when loading the live page.