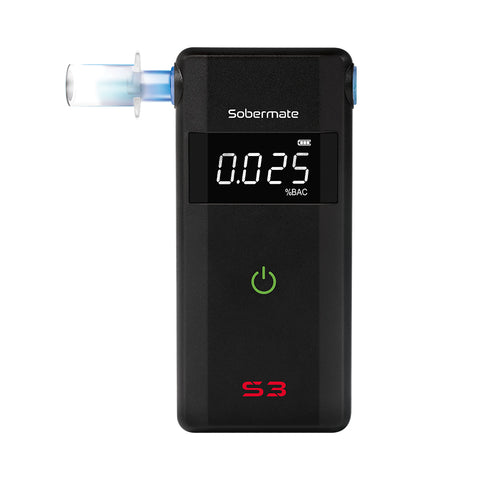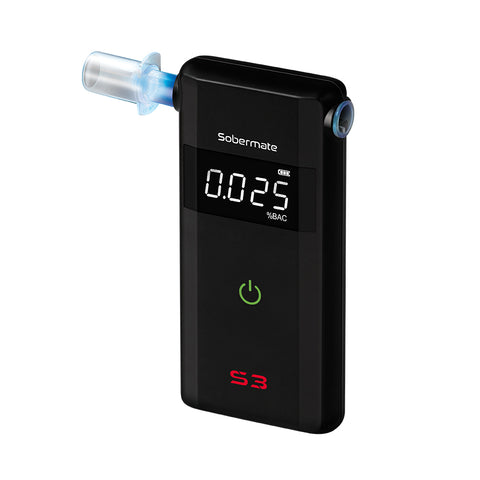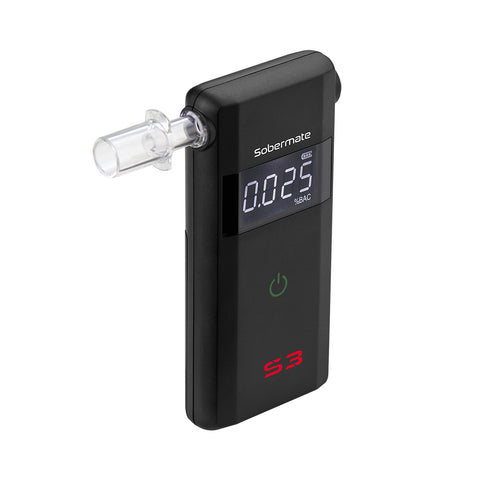 Sobermate
Sobermate S3
Checking local availability
The Sobermate S3 breathalyser utilises a state-of-the-art Fuel Cell Sensor to provide you with reliable and accurate readings. Just turn on the S3, let it warm up, and blow directly into it - easy as! The S3's sleek portability makes it a reliable tool to help you on your night out.
With the S3, you are able to view the number of tests you've taken over it's lifetime - worry not, because our S3 has a battery life of up to 1000 tests on a single set of AAA batteries!
Features: 
Reliable and accurate fuel cell sensor
Sleek and portable
Switch between measurement units: %BAC, mg/L, mg/100mL or ‰
Travel-friendly 
Calibration reminder every 500 tests
Specifications:
Model No.: SM-S3
BAC Range: 0.000% - 0.400%BAC
Sensor Type: Fuel Cell
Accuracy: ±0.0075 at 0.1% BAC / ±0.075‰ at 1.0‰ / ±0.0375mg/l at 0.50mg/l
Warm Up Time: 15 ~ 20 seconds at 0.05 %BAC
Response Time: Within 3-15 seconds
Working Temperature: 5 – 40°C
Power Supply: 2 x AAA Batteries (Alkaline Only)
Mouthpieces: 3 mouthpieces supplied (compatible with AlcoSense/Sobermate mouthpieces)
Memory Capacity: Last test recall
Result Reading: 0.000 ~ 0.400 %BAC / 0.00 ~ 4.00 ‰ / 0.00 ~ 2.00mg/l
Calibration Frequency: 500 tests or every 1 year (whichever comes first)
Display: Back-lit LCD
Features: 500 tests calibration reminder, FLO error warning, Low battery warning, Total test counter,  Auto switch off after 3 minutes, Measurement units can be changed
Includes: User manual, 3 x mouthpieces, batteries
Product Weight: 84g including batteries
Dimensions: H: 109mm, W: 51mm, D: 18mm

Read and download the user manual
Great Product. Need to know how to calibrate after 500.
Great Product I purchased from REPCO Australia. Can you please let me know how to calibrate. Xmas is upon us..
Hi Lee,
Thank you for your positive feedback! We have emailed you on details on calibrating the unit. Feel free to respond to our email should you have any further questions or if you require further assistance.
Crap
These are a handy tool but ours is shit. Have to other brands that work excellent never missed a beat. This one comes up with flow every time. Can't even blow into to sober and it reads flow.
Hi Adam,
We regret to hear that you're having issues with your unit.
One of the causes for the unit to show 'Flo' is when it has insufficient breath sample. The common error that new users make is to stop blowing before they hear a double beep - which is the indicator for sufficient breath.
Our support team will be in touch with you to assist you further.