Ergoarm DMA600 Monitor Arm For 12-24" Monitors
The ErgoArm monitor arm gives you space and comfort at your desk, allowing you to work more efficiently. Working in a comfortable environment is important for productivity and improves your general well being and mood. The ErgoArm is easy to use, versatile and integrates well into most environments, its flexibility lets you share your work with clients or a colleague and helps to reduce neck and eye strain. The ErgoArm boasts sophisticated design, radiates class and is still within reach when it comes to price.
FEATURES
Multi directional adjustment for optimum viewing comfort
Smooth and stable tilt adjustment and extension
Keep your cables tidy with integrated cable management
Strong aluminium alloy and steel construction
Easy extendable and retractable monitor arm with a 22″ (560mm) extension range
Depth from Pole up to 2.3″ (57.5mm)
Height adjustment up to 12.6″ (319mm)
Compatible with VESA 75/100 mounting standards
Supports monitors size 12" - 24".
Weight Capacity: 9Kg / 19.8lbs
BENEFITS
Clutter free desk
Be more productive
No neck or back strain
Free up more space for more monitors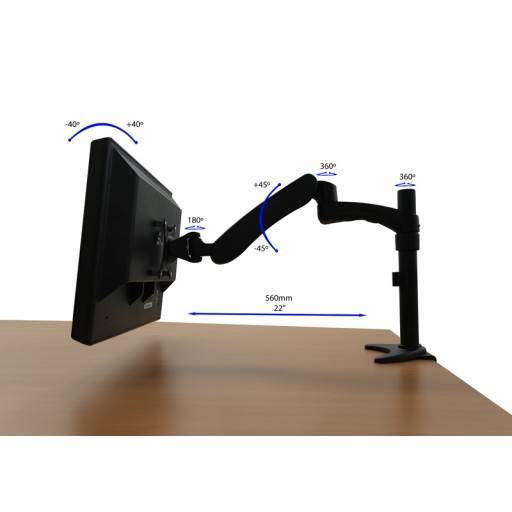 Iwell Ergoarm DMA600 Monitor Arm Reviews
This is a review section, this text will be automatically hidden when loading the live page.