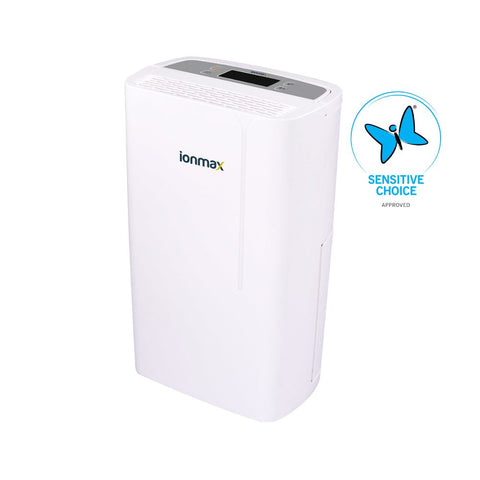 Ionmax
Ionmax ION622 12L/day Compressor Dehumidifier
Checking local availability
The Ionmax ION622 Compressor Dehumidifier offers powerful performance and fast dehumidification for large areas up to 50sqm, removing up to 12L of moisture a day.

Features:
Sensitive Choice approved dehumidifier
Portable dehumidifier with carry handle and wheels

Excellent Humidity Control
Humidity Level Controls up to 70% RH
5-Step Dimmable LCD Display
Timer for up to 24 Hours
Low Maintenance
CFC Free
Suitable for Warmer Climates
Auto Defrost
Energy Saving Auto Pause + Restart Function
User-Friendly Water Tank
Continuous Drainage Option
Water Tank Full Indicator
Speeds up Drying of Clothes

SPECIFICATIONS:

MODEL NO.: ION622
INPUT VOLTAGE: 220-240V AC ~50Hz
POWER CONSUMPTION: 230W
COVERAGE AREA: 50 sqm
DAILY DEHUMIDIFYING RATE: 12 L (30°C, 80% RH)
TEMPERATURE RANGE FOR USE: 5°C ~ 35°C
TANK CAPACITY: 1.8L
NOISE LEVEL: 45dB
PRODUCT WEIGHT: 9.9kg
DIMENSIONS: H: 465mm, W: 278mm, D: 180mm

Read and download the user manual
CHOICE recommended & Sensitive Choice approved dehumidifiers
Recommended high performance dehumidifiers for asthma and allergy sufferers in Australia
12 L Dehumidifier
Amazing product. Has saved our small unit from mould and humidity problems that we have had for 2+ years. Only wish we found it sooner. Highly recommend!
Excellent for humid environments
I've had mine 2 years and it works well in the pilbara heat and humidity - I can empty mine 3 to 4 times a day. About to purchase a 2nd one for the caravan.
Ionmax Ion622
Have only done a check run on this dehumidifier but was amazed at how much moisture was removed from the room in under and hour. It will certainly get a great workout when the humid summer weather arrives.
dehumidifier
How can l rate something l hasn't received yet
Bought for my cat, love it myself
I purchased the ION622 at the suggestion of my vet when we were trying to clear up my cat's allergies, which we suspect started when a kitchen reno released nasty things into the environment. Turns out, the dampness in my apartment was much higher than I'd known. I use this every day, moving it from room to room . The cat's doing better, the apartment air feels better, and my clothes are drying faster this winter. Highly recommended.
Poor quality
Purchase the dehumidifier and it broke down within a month. Andatech kindly replaced the machine however the replacement broke down again also within a month time.
Load machine.
Some leaking at bottom.
Hi Nora,

Thank you for your feedback.

We're sorry to hear to hear about the issue you're facing. While this has happened twice for you, we have not had any other complains of the same nature of this model in the year since its launch. Hence, we will definitely do a quality control check on our stock to make sure it isn't a batch issue.

Regardless, we believe you've been in touch with our customer service team who are assisting you further on this matter. We hope that they've been able to further resolve this with you in a satisfactory manner.
could do with different fan
could do with different fan speed options