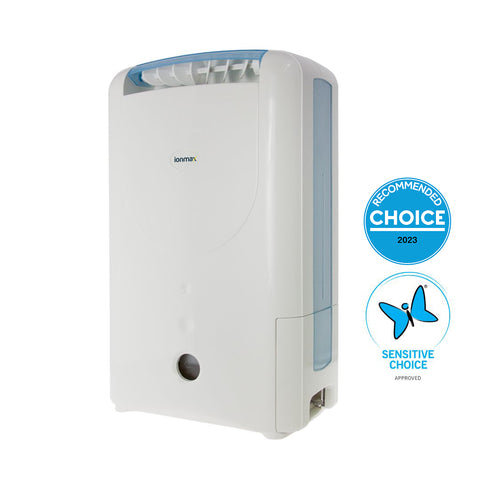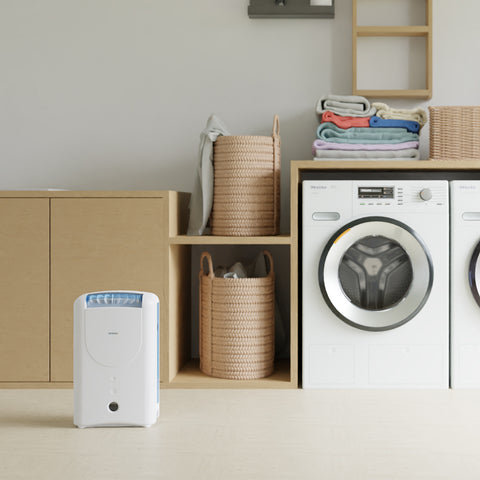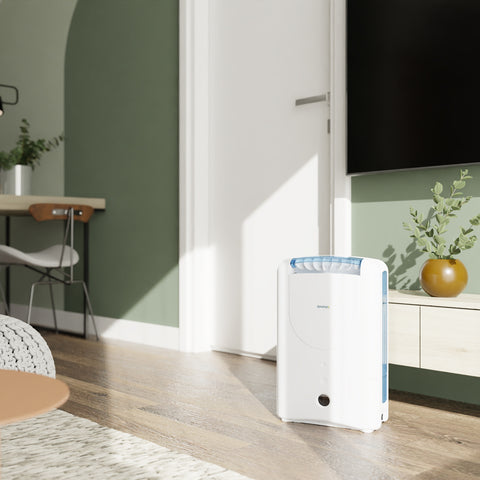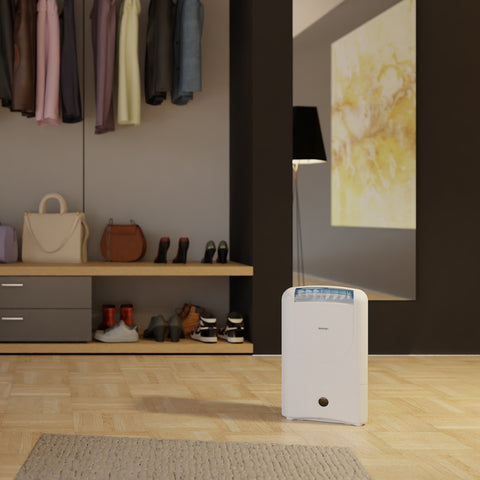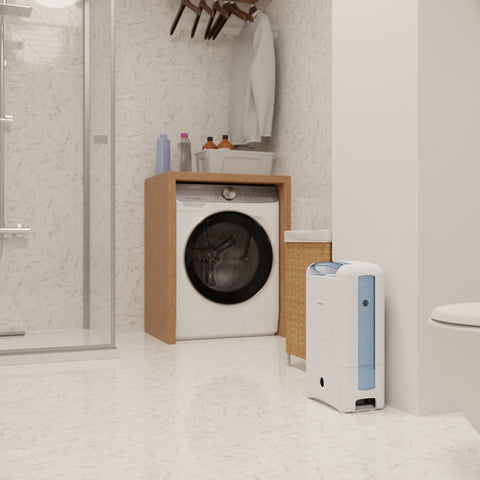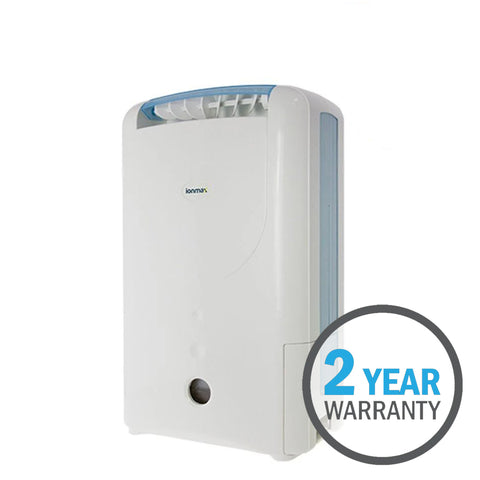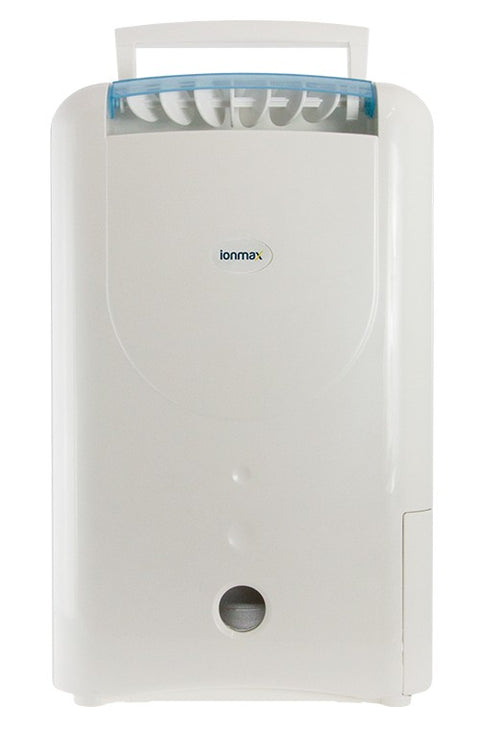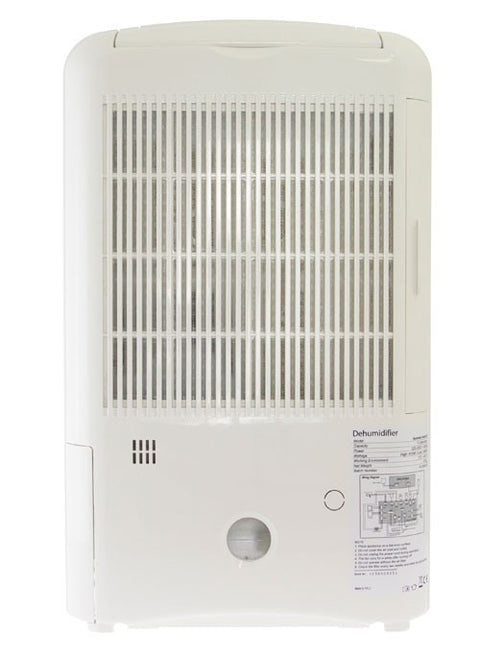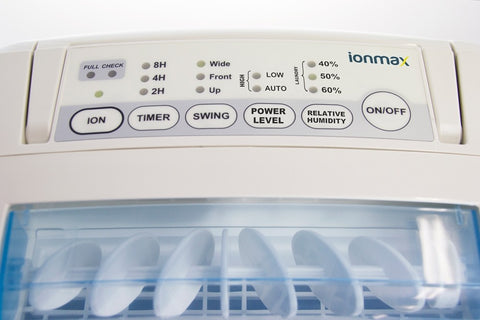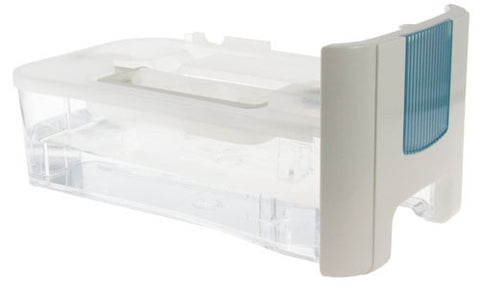 Ionmax
Ionmax ION612 7L Per DayDesiccant Dehumidifier
Checking local availability
Excellent water removal efficiency and ease of use has consistently placed the Ionmax ION612 Desiccant Dehumidifier in the Top 3 Recommended Dehumidifiers by Choice Consumer Dehumidifier Reviews since 2014. Covering a generous area of 20 to 30 sqm, the ION612 is perfect for large rooms, living areas and apartments. Plus, it offers thorough dehumidification throughout the room with its automatic swing louvre and multi-directional louvre adjustment.
Features
CHOICE Recommended
Sensitive Choice approved
4 RH levels for perfect humidity control
3 power levels for you convenience: Auto, Low (Quiet), and High
Large coverage for up to 50 m2
Energy efficient and low maintenance
Produces soothing warmth as it dehumidifies your home
Auto-restart and function retrieval after a power outage
Low noise levels (34 ~ 47 DBA)
Up to 7 litres a day of moisture removal
Specifications:
MODEL NO.: ION612
INPUT VOLTAGE: 220-240V AC ~50Hz
POWER CONSUMPTION: 360-620W
COVERAGE AREA: 20 - 30 sqm
DAILY DEHUMIDIFYING RATE: 7L (20°C, 60% RH)
TANK CAPACITY: 2L
NOISE LEVEL: 47 dB High / 34 dB Low
PRODUCT WEIGHT: 6kg
DIMENSIONS: H: 475mm, W: 290mm, D: 175mm

Read and download the user manual
CHOICE recommended & Sensitive Choice approved dehumidifiers
Recommended high performance dehumidifiers for asthma and allergy sufferers in Australia
Great product
our apartment was very humid, causing a mould problem. This product has so far solved our problem. It is much quieter than I expected. It is also more compact and unobtrusive than expected. It works well-collecting lots of water from the environment. We are very happy with it.
Well worth the money!
An excellent dehumidifier. We've been running it several times a week in our poorly-ventilated bathroom and bedroom to discourage mould from growing, and it seems to be doing the trick!
Ionmax ION612 dehumidifier
Very happy customer
Like the product, it has been removing about 4litres of water everyday , up to now have not had wet windows on the inside so hope the black mold stays away
Another Happy customer
Ion 612 works very quite, easy to handle and the important thing it works as my expectation remove the humidity in my bedroom very quick
Recommended! - Quiet, Efficient, Set and Forget.
Out of the numerous features it has, I really appreciate laundry mode which dries clothes more energy efficiently than my clothes dryer. I chose this model for the negative ion generator, and also love the Silver Nano air filter which kills bacteria on contact. The humidity settings also make it simple to 'set and forget' on the desired level (50% means mould cannot grow). The machine remembers its setting too, so will start up with whatever it was last set to. I've been using it regularly for 4 months and am so happy with the improvement we've had in indoor air quality! Great value!
Ionmax 612
Effective, efficient and super easy to use.
Excellent little machine!
We have really bad condensation problems in our ensuite which the ceiling fan can't do much for. So we bought the Ionmax after doing a bit of research into which dehumidifier would be best. We're not disappointed!
The amount of water left in the bottom of the machine after enjoying a long hot shower is amazing. Our walls are still wet after our shower, but by leaving the machine on for a while everything is lovely and dry. I no longer have to worry about mould forming anywhere. Can highly recommend.
Great Used at home to dry laundry + remove moisture from laundry room while the dryer is on
This dehumidifier works harder then my vacuum cleaner at home. I run it everyday to help dry my clothes and remove moisture at my laundry room while the dryer is on.
Interestingly, this unit helps with removing smell. Must be the negative ion. I love it. I use the big unit the IONMAX ION632 to dry my bathroom.