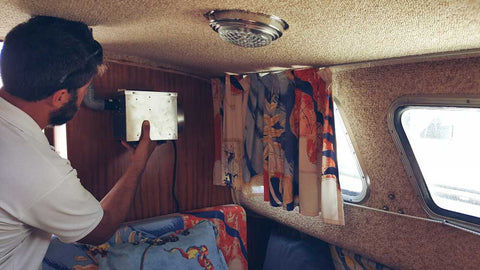 Ecorpro
Ionmax+ EcorPro DryFan® DF8PRO Stainless Steel Industrial Desiccant Dehumidifier 8L/Day
Checking local availability
An industrial-strength dehumidifier for your boat. Made of stainless steel to withstand the unforgiving ocean air, you can rest assured that the humidity levels within your boat are safe and regulated. The Ionmax+ EcorPro DryFan® dehumidifiers have been tested and improved to dry areas with temperatures as low as -20°C - 4 to 7 times faster than traditional dehumidifiers.
Probably one of the smallest and most durable commercial dehumidifiers on the market, the DF8PRO work perfectly in any orientation. Mount the dehumidifier on cabin walls and floors, and even upside down on the ceiling. The DF8PRO can be used as a central dehumidifier for your seaside/ lake storage facility or boat!
Features
The Ionmax+ EcorPro DryFan® is a ducted dehumidifier that operates fully automatically, eliminating the need to empty water buckets daily.
Compact and portable, the DryFan can be conveniently installed in various boat areas, including the engine compartment, sail locker, holds, and cabin spaces.
This heavy-duty dehumidifier maintains optimal performance across a wide temperature range, from -20°C to +40°C.
With its stainless steel construction both inside and out, it's purpose-built for long-term durability, ensuring lasting use and protection against harsh marine conditions.
Powerful DryFan® technology
Patented desiccant rotor absorbs almost all moisture of the air with its honeycomb hygroscopic membranes. 

Continuous 24/7 operation

Works even at -20°C temperature


Customisable installation

Read and download the user manual