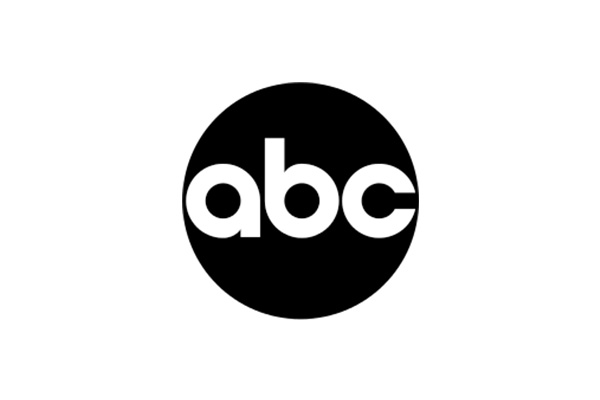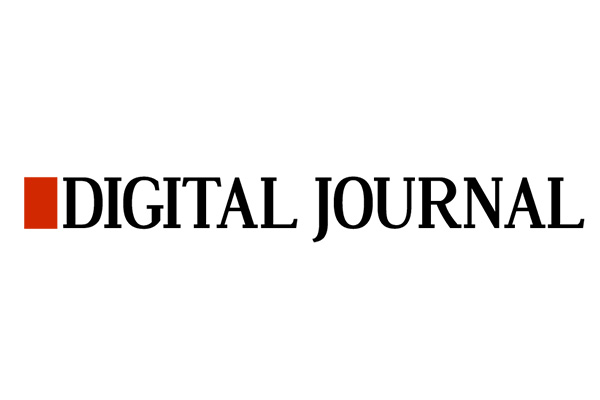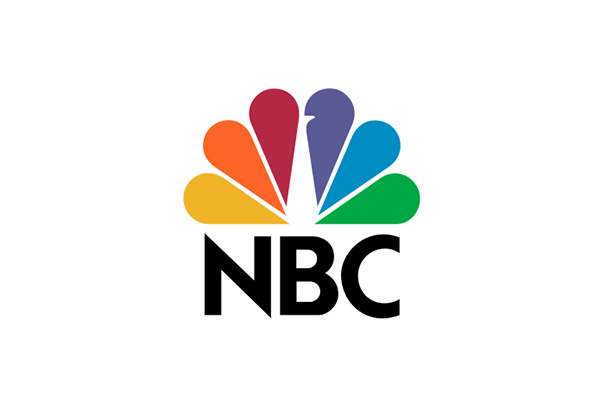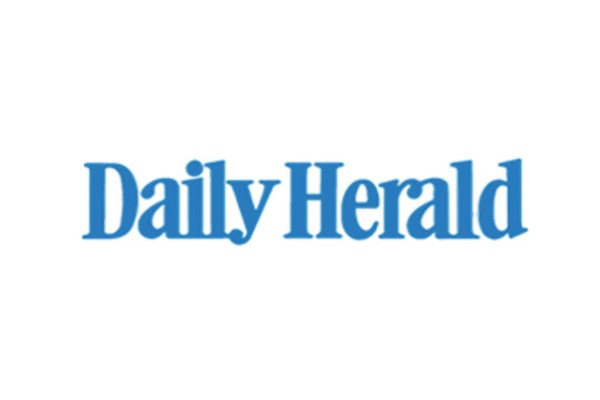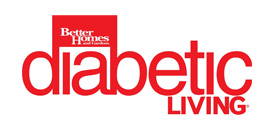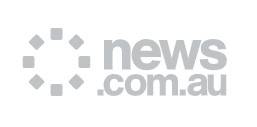 The KetoScan is an electronic ketone tester that measures ketones in breath, specifically, the acetone concentration in your breath. As the relationship between breath acetone concentration and ketosis are closely correlated, the KetoScan makes an excellent device for accurately measuring ketones in a convenient and reliable way.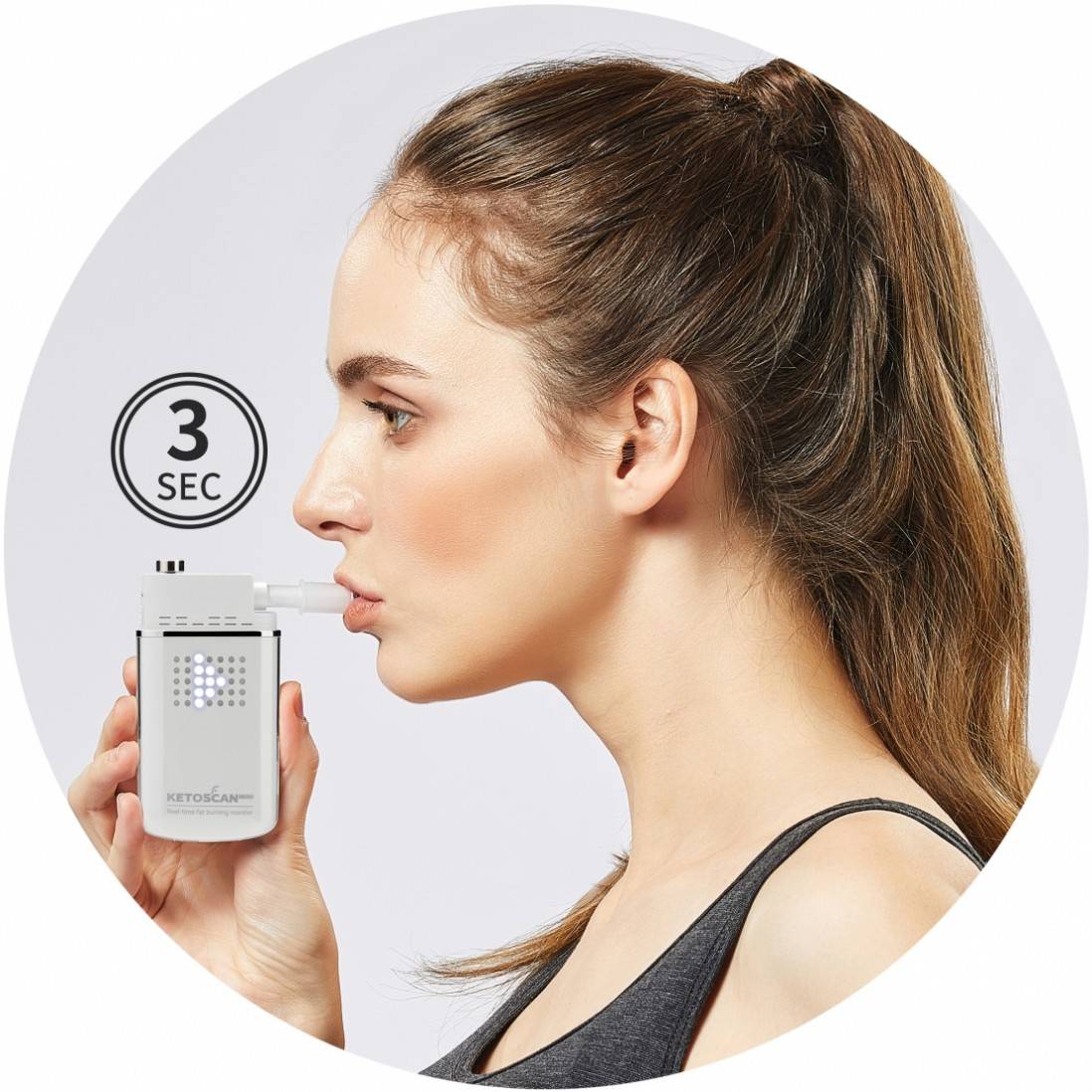 3-second breath ketone analyser
To use the KetoScan, simply take a breath, then breathe out into the device. The result is displayed after blowing into the ketone breath analyser for just 3 seconds. The KetoScan's highly sensitive flow-rate sensor ensures accurate results.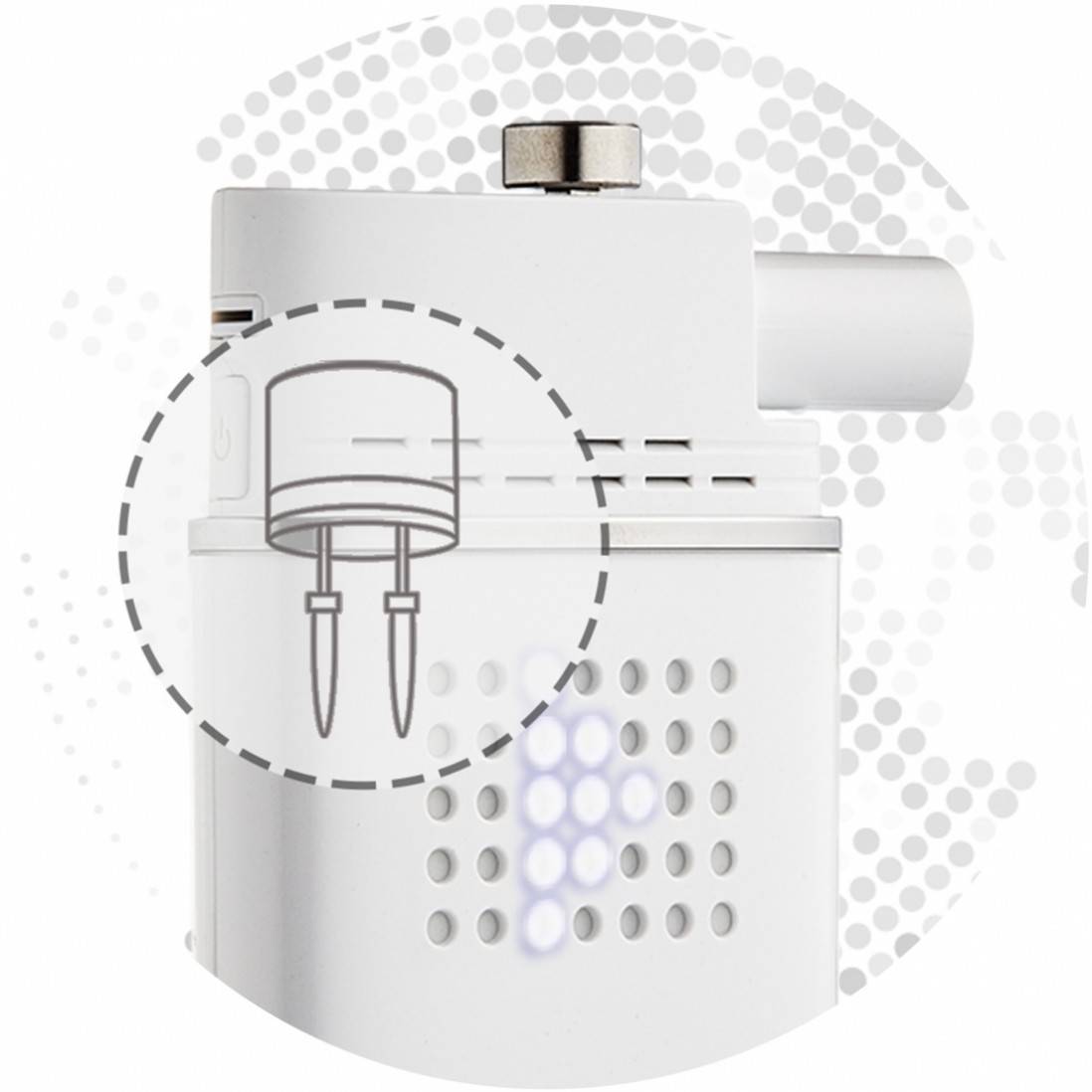 Highly sensitive ketone sensor
The highly precise acetone sensor of the Ketoscan Mini is unique to other breath sensors in that it is 10 times more sensitive to ethanol, and 50 times more sensitive to hydrogen (generated in the intestines) than other sensors are. It is designed to detect acetone, and ignore other gasses that could contaminate the results.
The more fat is metabolised into energy, the higher the levels of breath ketones there are. With the KetoScan Mini, you can monitor and track your progress in actual numbers and make improvements on fat loss. FDA-approved as well, the KetoScan Mini is the best ketone meter choice for anyone on a Paleo, Ketogenic or Low Carb diet wanting to monitor their fat burning progress with quantitative data!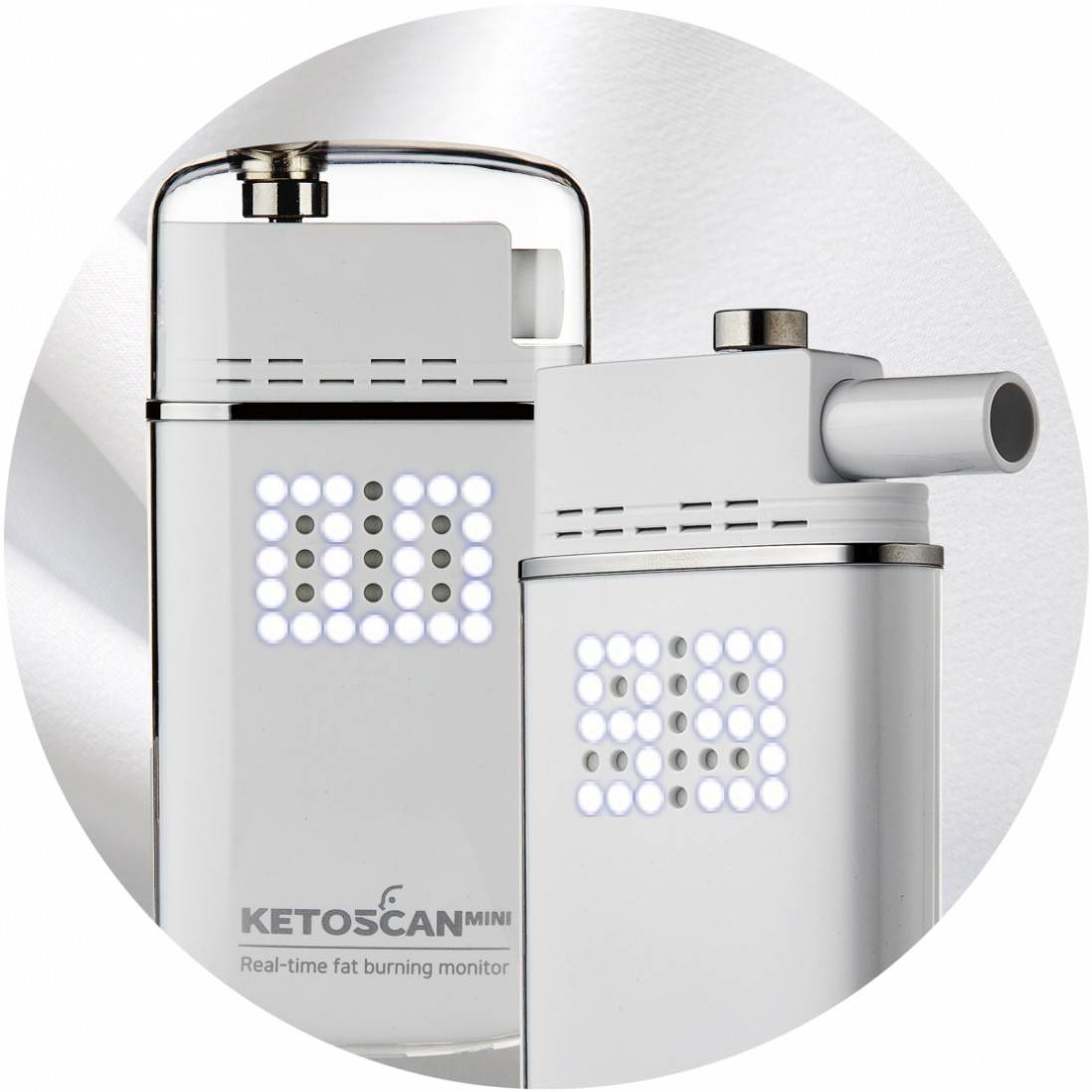 Measures up to 99 PPM
Accurately measures breath acetone concentration at 100 resolutions (0.0~99) using a PPM (Part Per Million) measurement. The KetoScan provides you with 13 levels of ketone test results that are simple and easy to understand.
Check out the Ketone Levels Chart at the bottom of this page.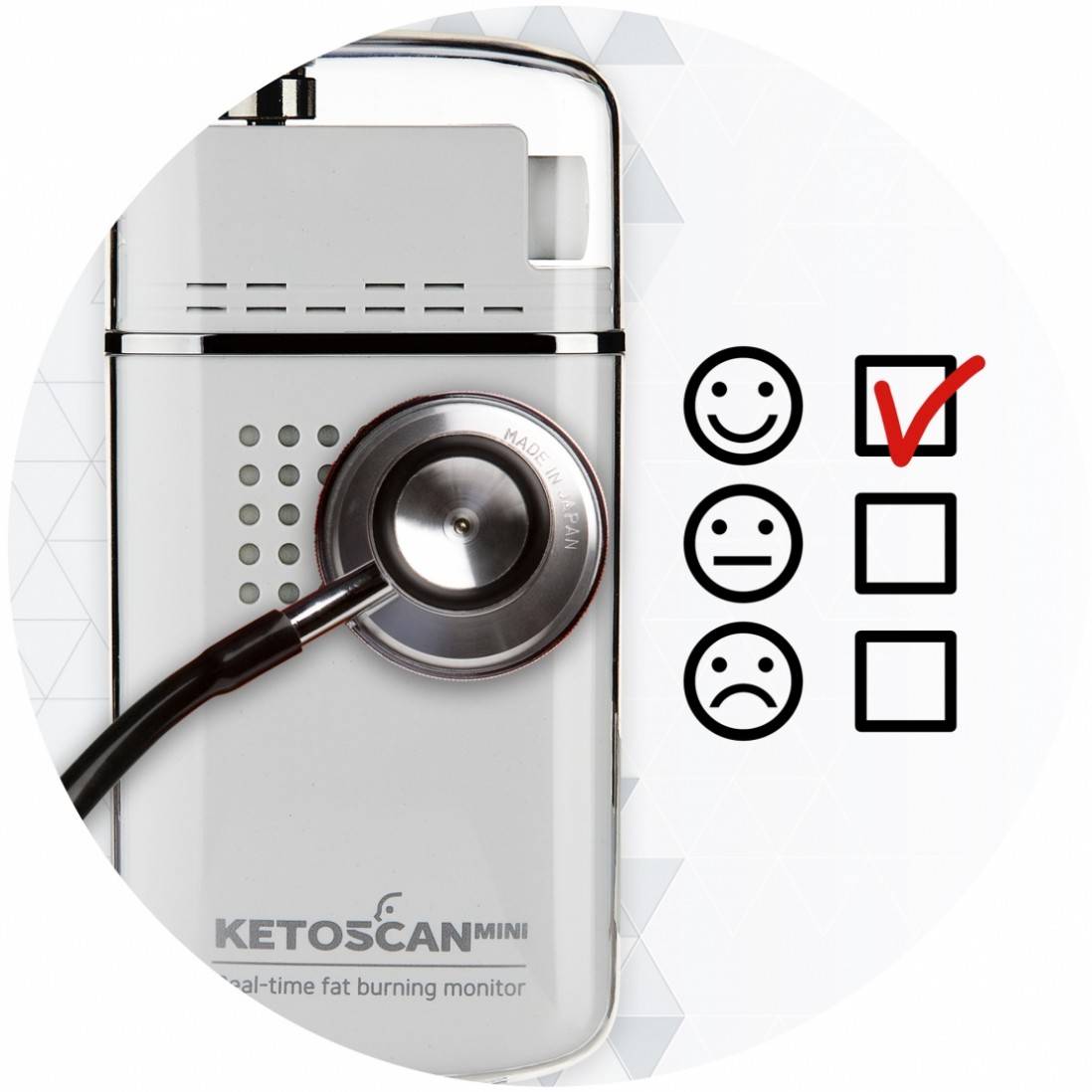 Smart self-diagnosis
The highly sensitive acetone sensor in the KetoScan is protected with self-diagnostics for sustainable, long term use. To maintain itself as an accurate ketone meter, the KetoScan Mini also notifies you when a calibration is required (after 300 tests). The device will lock after 320 tests to prevent itself from providing inaccurate results.
Read the KetoScan FAQs (tab) for more information on calibration.
The KetoScan Mini can be paired with its very own KetoScan mobile app, where all ketone test results from your ketone meter can be tracked daily, weekly and monthly right from your smartphone. Additionally, you can add your food consumption, track calorie intake and synchronise the app with iOS Health, Samsung Health and Google Fit - making it an excellent all-in-one health app to help you reach your fitness goals.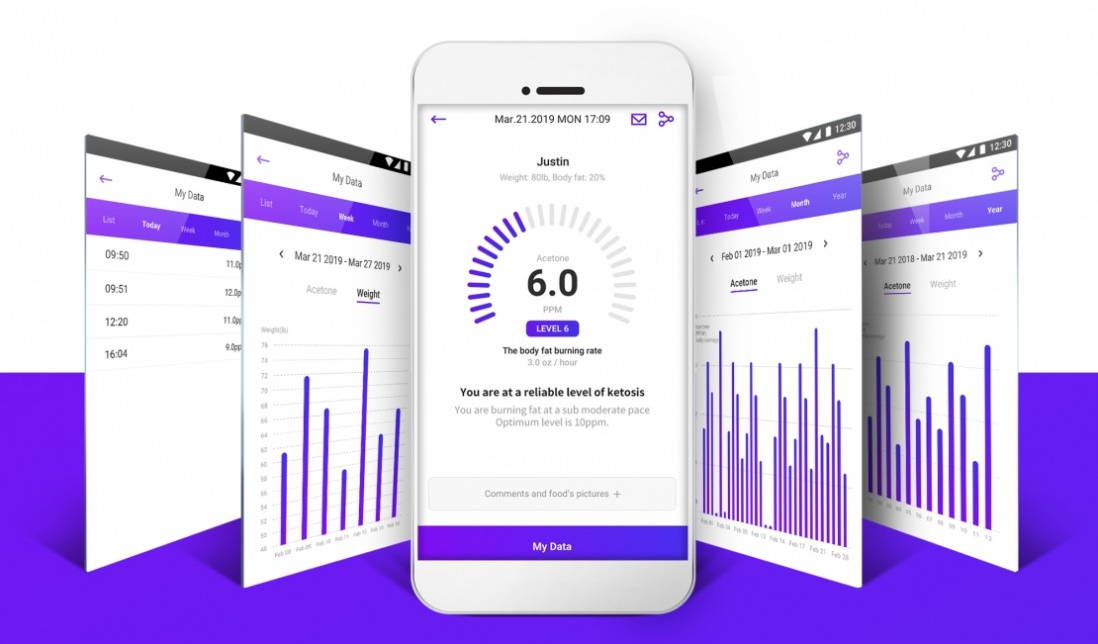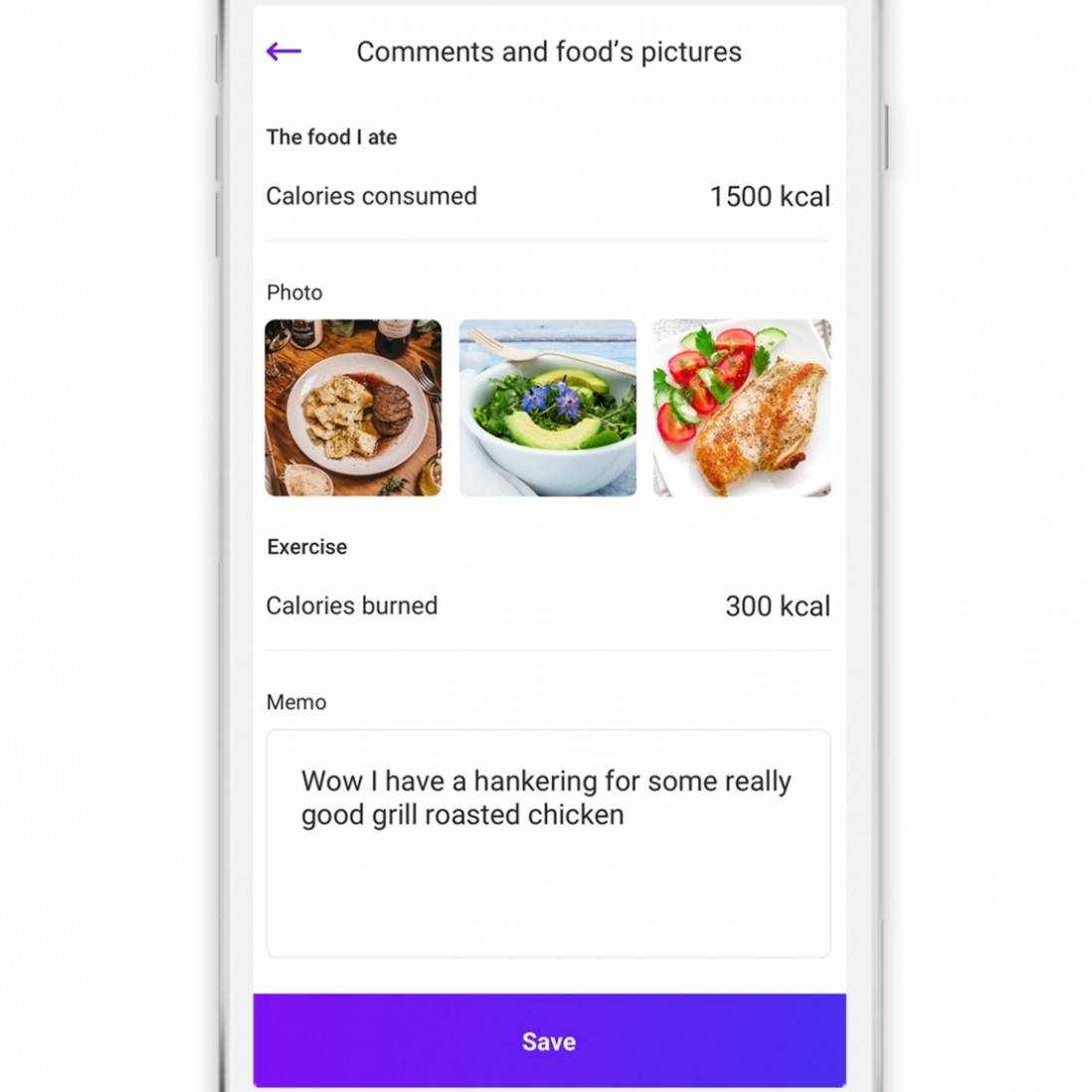 diet, health and ketone monitor app
No other diet apps are necessary to reach your fitness goals. Just blow into the ketone breath meter, get your score, leave comments, track calories, and take photos of what you ate - all within the KetoScan app.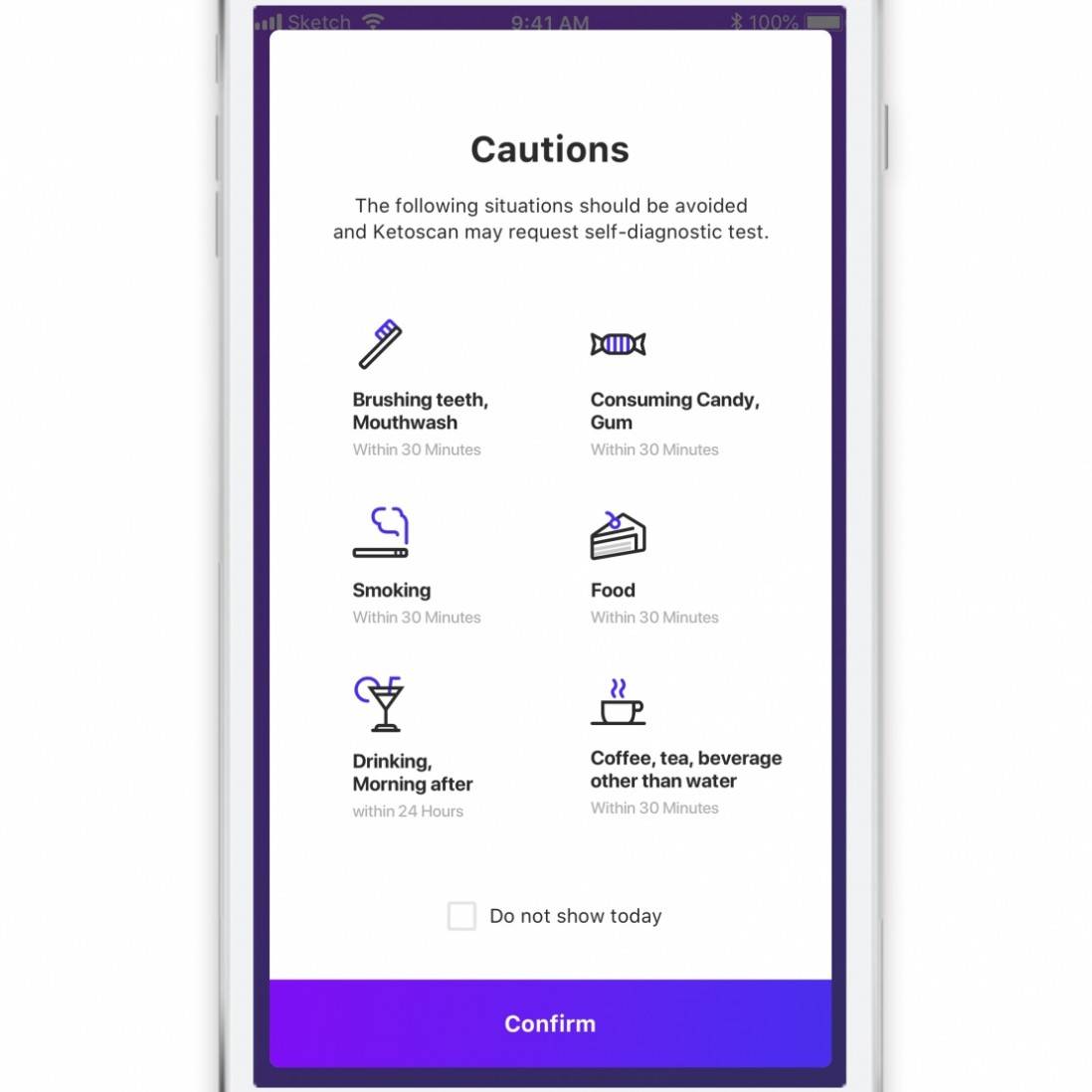 Cautions before measurement
The KetoScan app will remind you to be cautious of the various factors that can affect your ketone test results. For example, avoid brushing your teeth, smoking, and eating foods 30 minutes before taking a ketone test for a more accurate breath acetone concentration.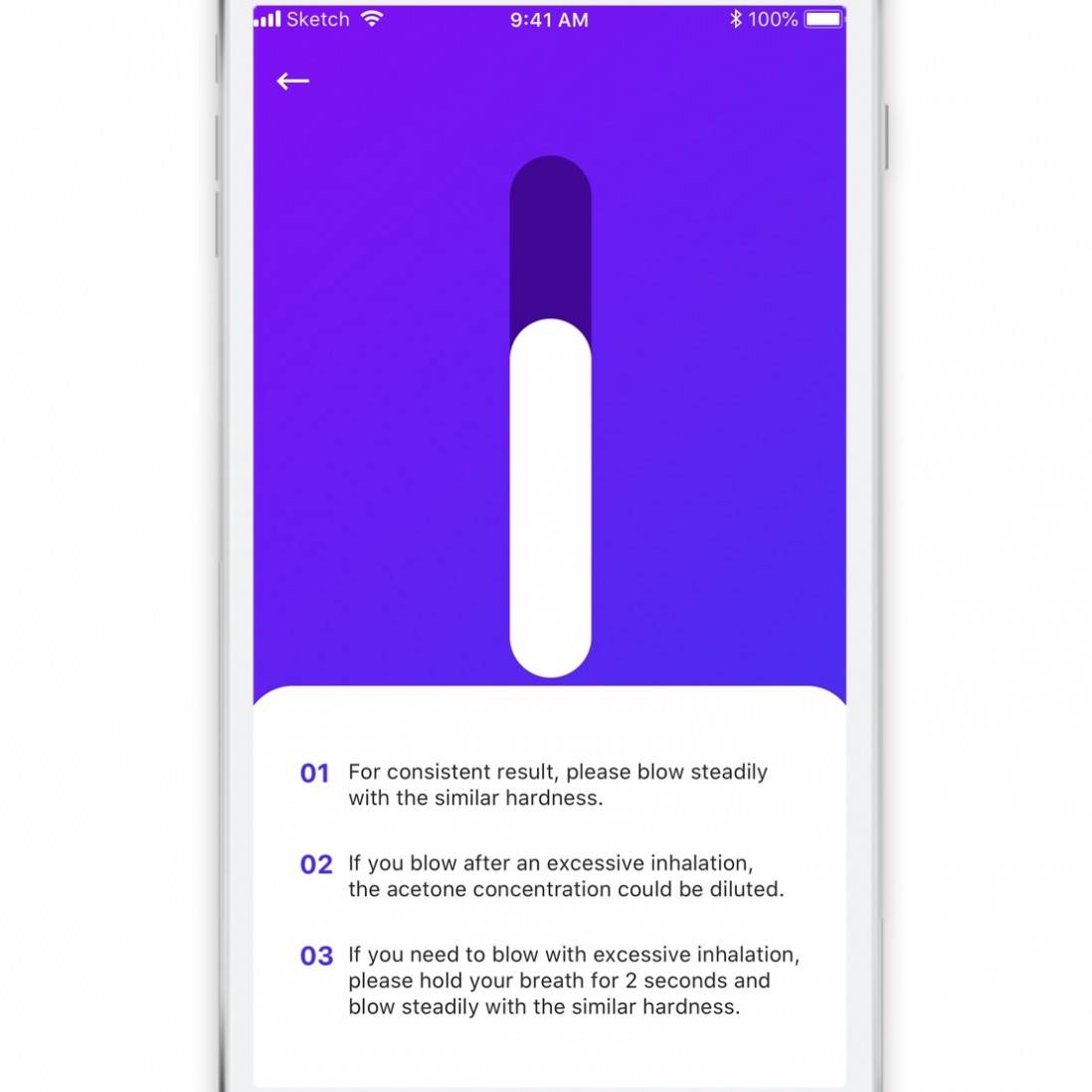 How to check your ketone levels easily
The KetoScan simply requires a strong and steady blow to analyse your breath for ketone levels. Follow the easy step-by-step instructions on the KetoScan mobile app for accurate and consistent test results.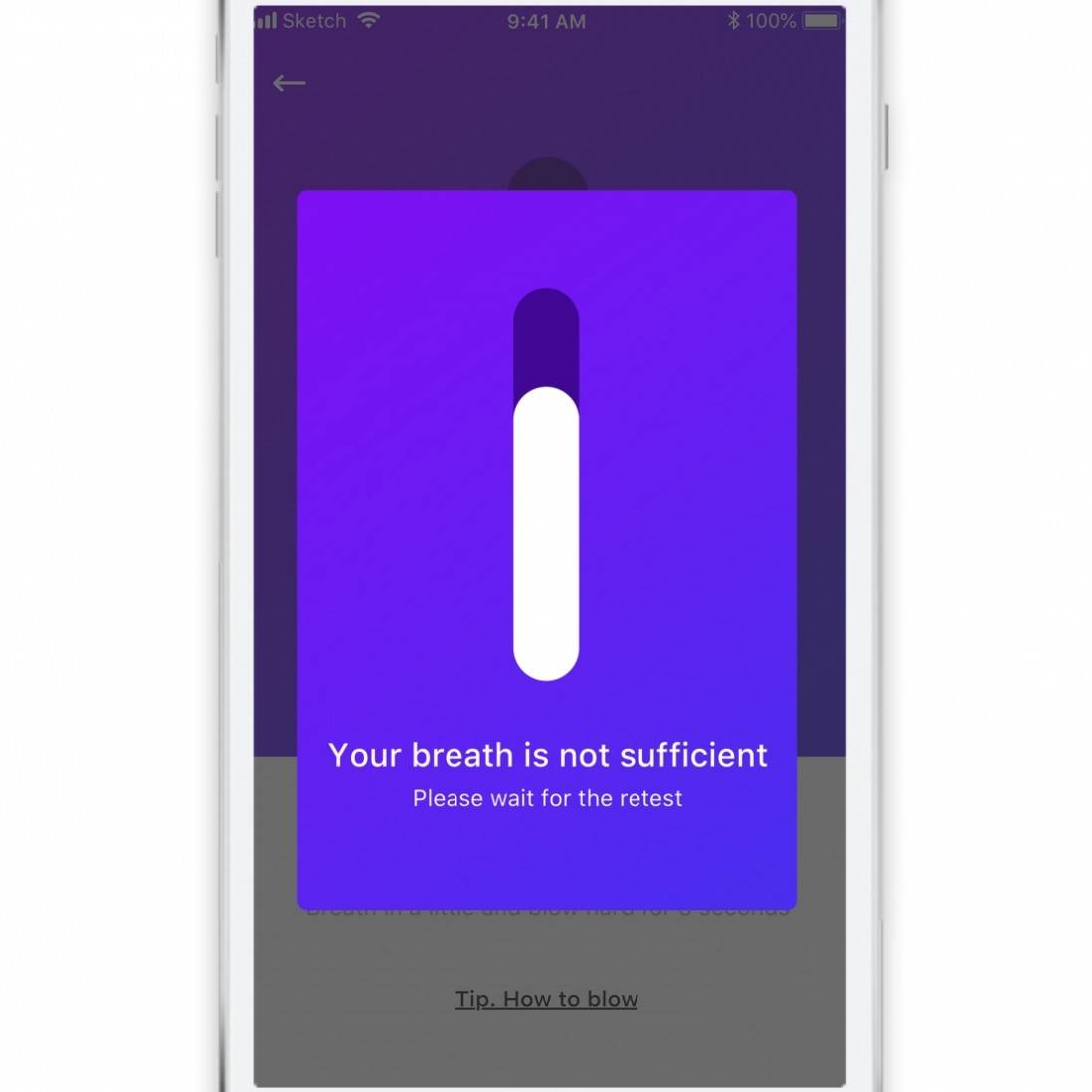 DetectS your breath flow-rate
The KetoScan ketone breath meter and the mobile app are connected seamlessly, so if your exhaled breath is insufficient, the mobile app will show a message and notify you when a re-test is needed.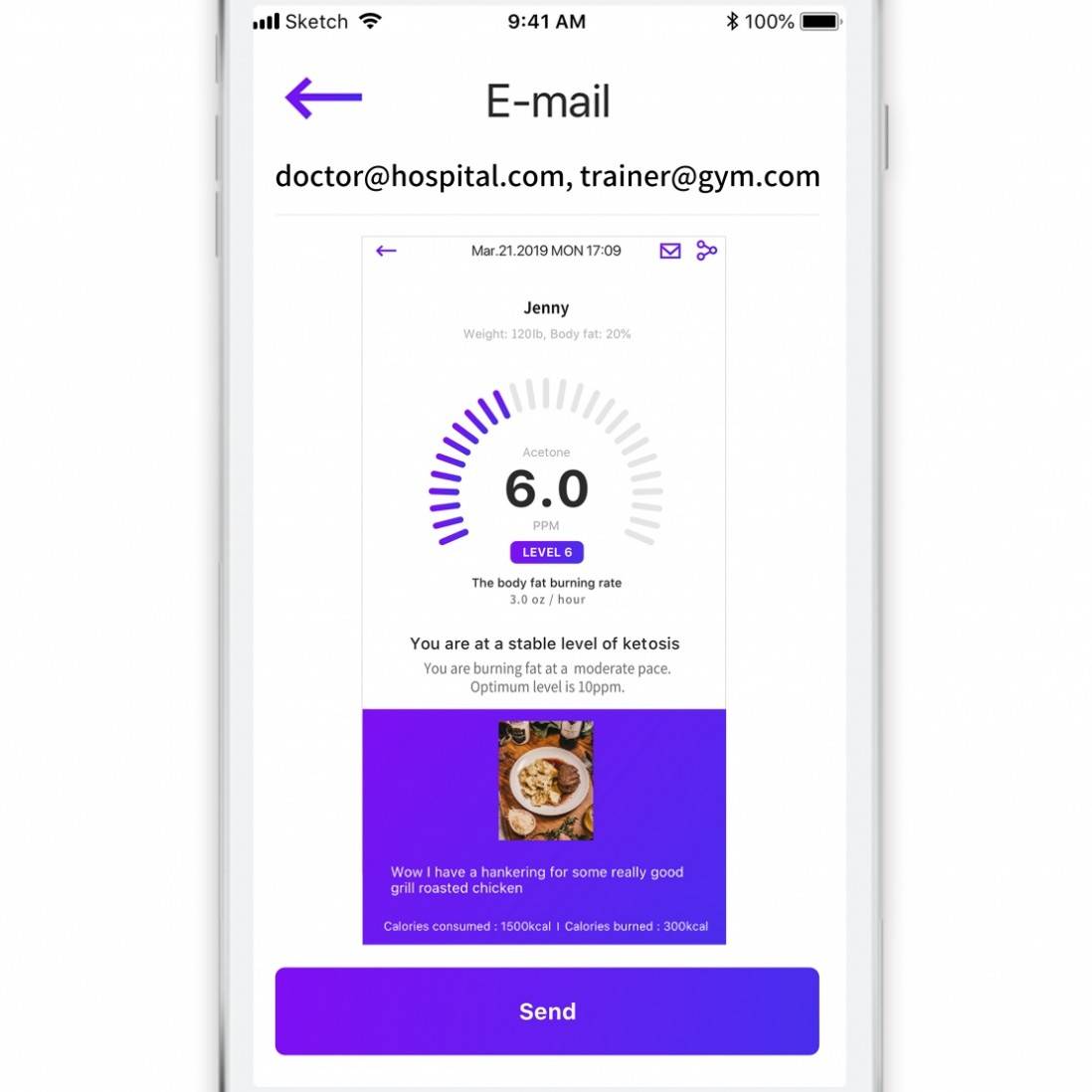 EMAIL YOUR KETONE TEST RESULTS EASILY
Are you on an exercise program, or being coached on your dietary intake? You can send your ketone test results to your dietary coach, personal trainer, and even your physician.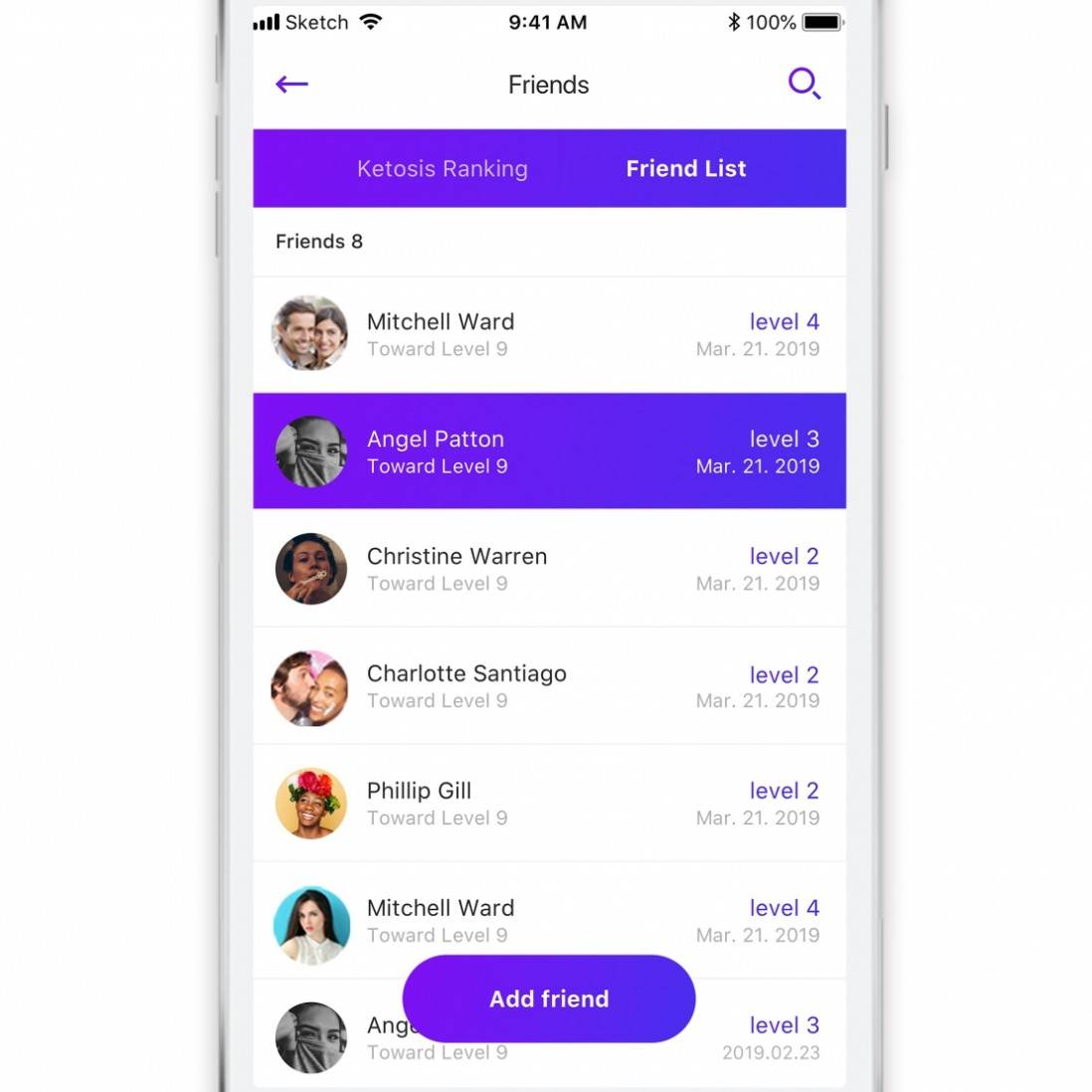 Share your ketone results with friends
Share your results and stay motivated with your diet or fitness buddies. The KetoScan app displays weekly rankings between you and your friends, so you can motivate and even compete with each other to reach your goals.
Why get the KetoScan breath ketone meter?



Reliable and affordable method of measuring ketones with a breathalyser breath test - fast and simple!

Check ketone levels in anytime and anywhere. All you need is to blow into the KetoScan Mini's electronic ketone tester for 3 seconds.


An excellent ketone monitoring device and app - Keep track of all results, historical data, and share results from your KetoScan mobile app.


Non-invasive ketone test - no need to pee onto a stick or prick your finger for blood! Measure ketones at home or in public easily.
Monitor ketosis and fat loss with valuable quantitative data while on a low carb or ketogenic diet.


Keep track of your fitness goals with food and calorie tracking via the KetoScan app! Stay motivated by adding friends and completing achievements.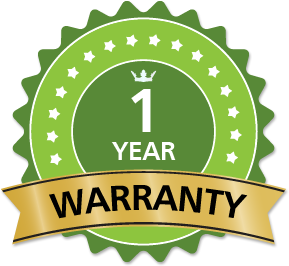 1 Year Australian Warranty
Get 1 year local warranty covered by Andatech Distribution - KetoScan's official authorised distributor in Australia
A Complete Ketone Test Kit for Anytime Use
Each KetoScan Mini Ketone Breath Test Kit comes with a user manual, carrying pouch, USB cable and 5 mouthpieces including a polythene pack for mouthpiece storage. A rechargeable battery is included with this ketone testing device so you can get started on taking a ketone breath test straight away.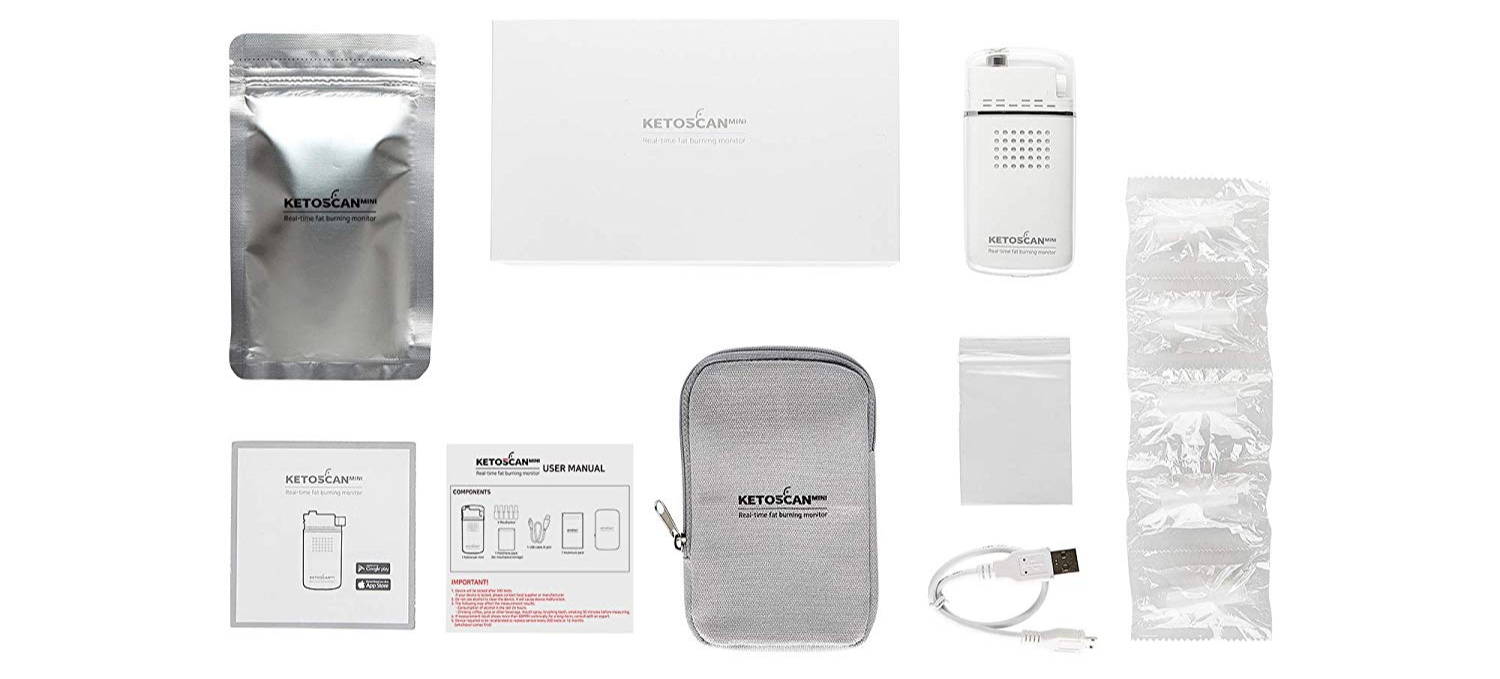 KetoScan Mini's Ketone Levels Chart
The KetoScan Mini will display results as Ketosis levels 0 to 10, based on the breath acetone concentration detected. The best ketone meter reading is Level 10, which is the optimum level of ketosis at 10ppm of breath acetone concentration. Level 0 shows that your body is not producing any breath acetone, and therefore your body is not in ketosis (early ketosis starts at 2ppm). On the other hand, if the KetoScan Mini shows up with levels "Caution" and "Danger", then it has detected an excessive level of ketosis, which can be dangerous. Refer to the KetoScan's Ketone Level Charts below for more information on how to understand your KetoScan ketone test readings.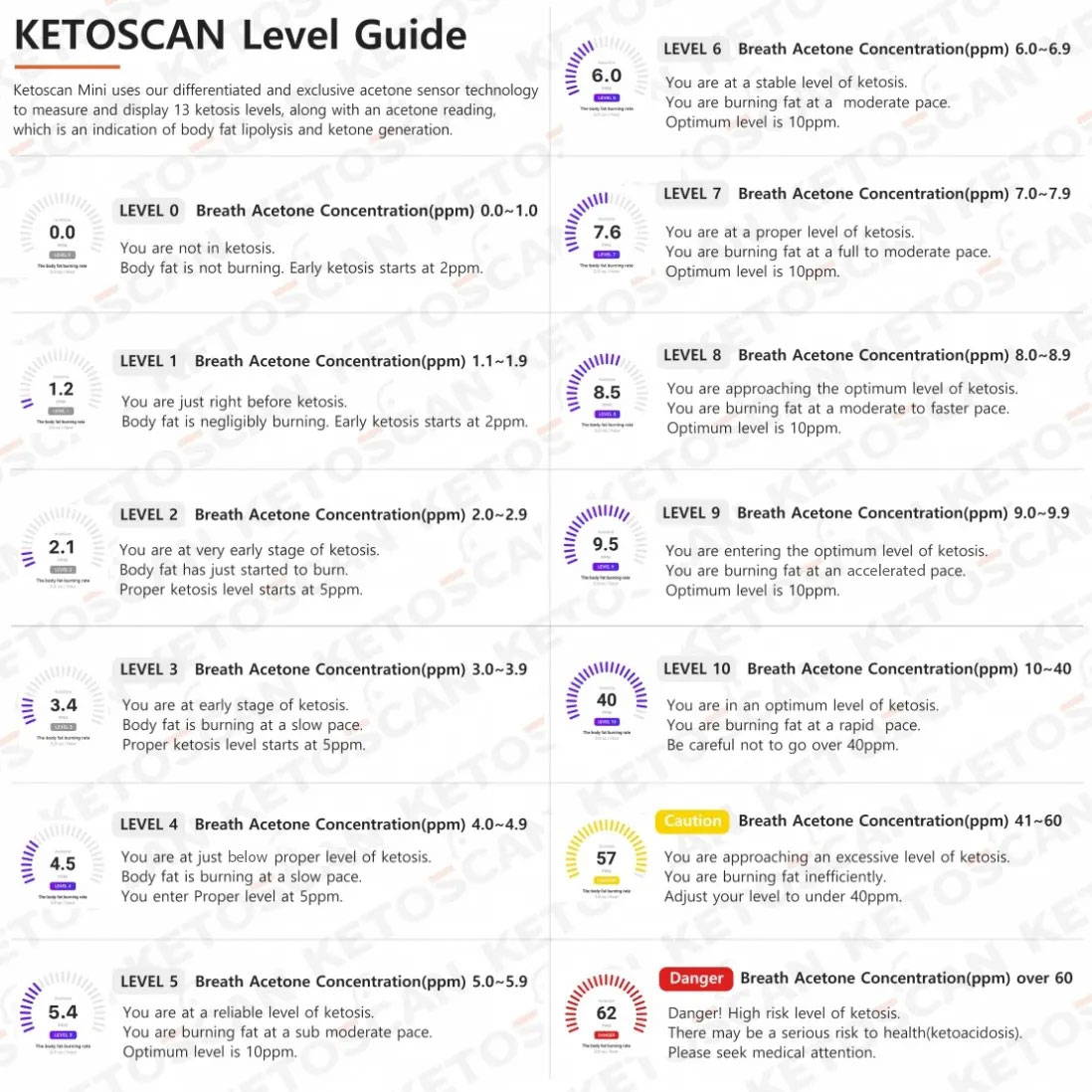 Sensor type: High resolution acetone gas sensor
Results indication: PPM (Parts per million)
Display resolution: 0.1 PPM until 10 PPM / 1 PPM above 10 PPM
Display range: 0.0 ~ 99 PPM
Accuracy range: +/- 0.5 PPM @ <5 PPM / +/0 10% @ > 5 PPM
Warm up time: 45 seconds
Results time: 5 seconds
Power source: Rechargeable lithium-polymer battery (included)
Number of tests on a full charge: At least 50 tests
Calibration interval: After 300 tests. The device will lock at 320 tests. Please read FAQs for more information
Mouthpiece: Built-in mouthpiece / disposable mouthpiece
Size: 54 x 110 x 18.5mm
Weight: 74g
Storage / Working temperature: 5~50°C / 10~40°C
Certification: FDA Class I
KetoScan Mini - User Manual
(Andatech Australia Version)
ketoscan maintenance / What is a CALIBRATION?
To measure ketone levels with acetone, the KetoScan needs to detect PPM levels at extremely low concentrations, so a very sensitive sensor is required. If you use the sensor frequently, it will be inevitably contaminated by foreign objects mixed in with the respiration, which requires readjustment of the precision of the device through the means of a calibration. The device will display a calibration message after usage of 300 times, and it will automatically lock the use of the device after 320 measurements.
Each calibration will be $75. To get your device calibrated, register your Ketoscan and make a booking online on Andatech Caltrace.
how often should i test myself with the ketoscan?
When and how often to test ketones will depend on what you're looking to find out.
If you're looking to compare whether you're keeping in ketosis from day to day or week to week, then it makes sense to test at the same time (or times) of day. This will ensure you get consistent results.
As ketones vary through the day, and are affected by different types of meal and exercise, you may want to test at different times through the day to see how your level of ketosis varies, in the beginning of your keto diet.
After you have a set the best time of the day to test yourself, if you want to check your urine ketones day-to-day, stick with that specific time, like in the morning or several hours after your last meal of the day, for best comparison.
We recommend that testing once a day would be good enough. Note also that the unit gets locked and will require calibration after 300 tests, so if you test too often, you will need to send your unit back for calibration more frequently.
What is the KetoScan's self diagnosis feature?
The KetoScan ketone machine utilises a patented self diagnosis technology. If the equipment has not been in use for a period of time, gas lingering around the house may enter the equipment, changing the zero-point (base line) of the sensor and as a result affecting the measurement accuracy. KetoScan's patented technology is able to perform a self check on the equipment status during the measurement preparation stage, and if it decides that the zero-point is incorrect, it does not show the measurement after a blow by the user, but uses respiration gas of the user for zero-point adjustment and requires another measurement again. Self-diagnosis operates automatically and according to the situation, so even if it occurs frequently, it is not that the equipment function has degraded, but rather it is for more precise measurements.
How do I replace the disposable mouthpieces? How many times can I use one disposable mouthpiece?
The KetoScan comes with 5 disposable mouthpieces. You can purchase additional mouthpieces from Andatech.
There is a sliding built-in mouthpiece for personal use. However, if multiple users use the same device, then it is highly recommended to use the disposable mouthpieces for hygienic purposes.
The disposable mouthpieces are designed for one-time use only but can be re-used if you rinse it with running water and dry it thoroughly before re-using them. Make sure they are clean and dry before use, otherwise you will damage the KetoScan's sensor.
Do I get different results on a ketone blood test versus a ketone breath test?
The results will not be the same. The main reason is because blood testing measures BHB and it is expressed in mMol, whereas the Ketoscan mini's breath tester measures acetone concentration which is expressed in PPM (Parts Per Million). Two types of meters measure the two different ketone-bodies so it could not be compared 1:1. Breath testing result shows more precisely and is able to show a smaller amount of ketone state from your breath compare to blood testing.
If you have blood readings from 0.5 to 3.0 mMol, then Ketoscan mini will show from earlier state to optimal level of ketosis with PPM resolutions. For the detail of PPM level for each ketosis state, please check the our ketones level chart guide under the Product Description.
What are ketones and ketosis?
Ketones, also known as 'ketone bodies', are byproducts of the body breaking down fat for energy. Ketones and ketoacids are alternative fuels for the body that are made when glucose is in short supply. They are made in the liver from the breakdown of fats. Ketones are formed when there is not enough sugar or glucose to supply the body's fuel needs. This occurs overnight, and during dieting or fasting.
For a person without diabetes, this process of ketosis doesn't become an issue. In fact, ketosis is beneficial for those wanting to lose weight as if effectively helps to burn fat for energy. However, when you have diabetes, you can build up too many ketones in your blood -- and ketone levels that are too high can become life-threatening (a condition called ketoacidosis).
How do you measure ketones?
Ketone bodies are composed of 3 ingredients: acetone, β-hydroxybutyrate and acetoacetic acid.
There are three ways to measure ketones in your body:
1. Urine sticks – measures the levels of Acetoacetic acid - cheap and easy to use, but not very accurate.
2. Breath meters – measures the levels of acetone in breath - more accurate than urine sticks and affordable.
3. Blood ketone meter – measures β-hydroxybutyrate through blood - the most accurate method available but very expensive.
What are breath ketones?
Breath ketones are a helpful indicator of your body's level of ketosis.
When you are in ketosis or body fat lipolysis, acetone is released as a by-product and is detectable in your breath. As body fat lipolysis progresses faster, the amounts of ketone in your body increases. This allows us to find out how fast body fat lipolysis is occuring by measuring the amount of ketone bodies produced by our body. In the case of ketone breath meters, the amount of acetone in breath is measured.
Unlike other methods such as urine strips or blood tests, breath ketone levels do not depend on fluid logistics, minerals or vitamins. The more fat is metabolised into energy, the more breath ketones there are.
Which is the best ketone meter method?
There are various pros and cons of each method of measuring ketones. Here is a simple breakdown for each of them - we hope it helps!
Measuring Ketones in Urine
Pros:
Inexpensive
Widely available
Non-invasive
Cons:
Less accurate in measuring ketone production and breakdown
Accuracy can further decrease when the body adapts to excreting fewer ketones in urine
Does not quantify how "deep" you are in ketosis
Measuring Ketones in Breath
Pros:
Affordable
Free once you purchase the device (no consummables such as test strips)
Non-invasive and convenient
Cons:
Less accurate than blood testing in measuring ketone production and breakdown
Measures acetone, a metabolic waste product, providing readings that relate well only to low blood ketone levels (not suitable for diabetic users monitoring BHB levels)
Measuring Ketones in Blood
Pros:
Most accurate way to measure ketosis in mmol/L (mM)
Measures BHB, the preominant ketone in the body, rather than acetoacetate or acetone
Cons:
Expensive to purchase and keep using (test strips)
Invasive - must provide finger prick blood sample for each ketone test
Ketoscan Clinical Trial 1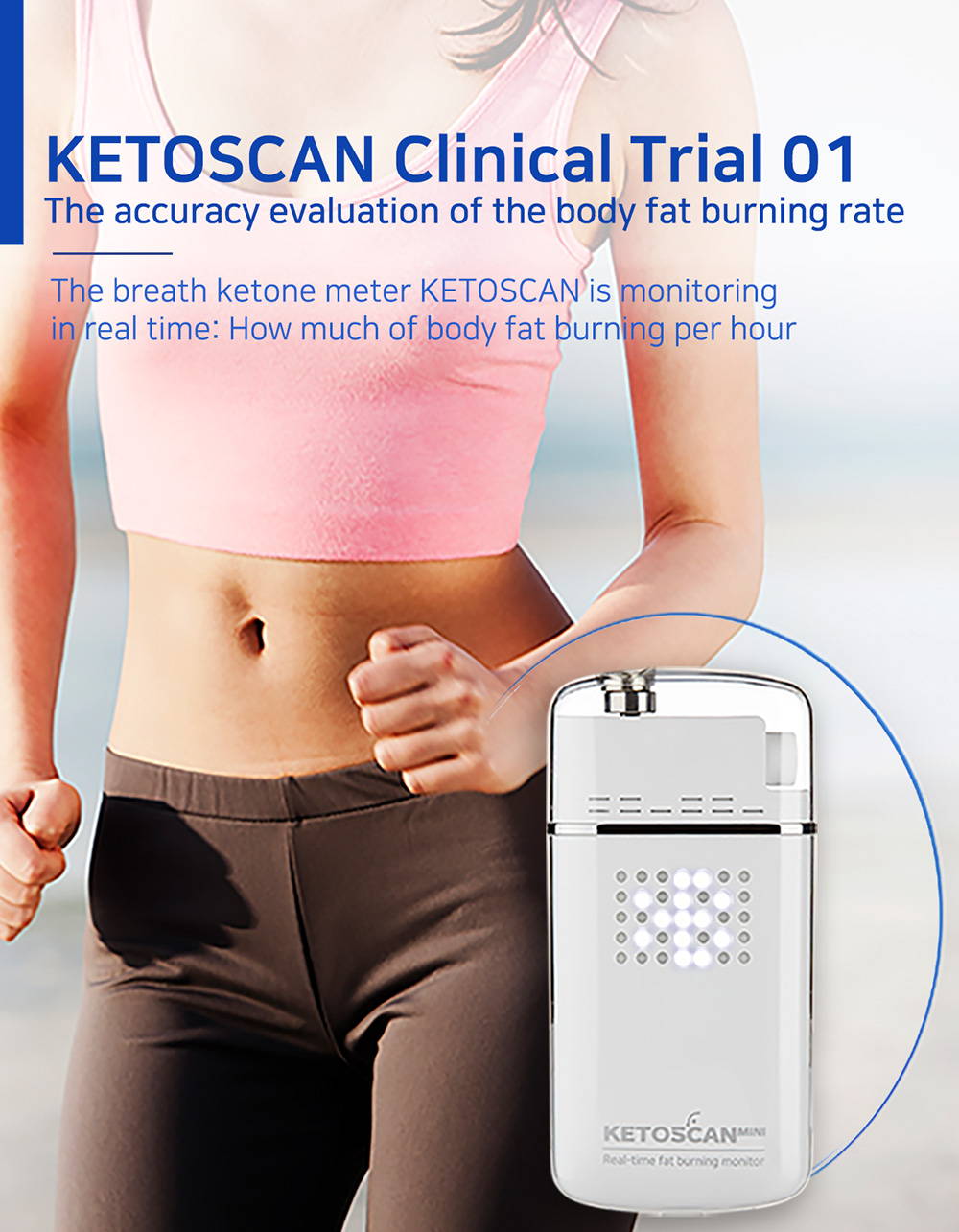 KETOSCAN is a breath ketone meter that monitors your body fat burning rate. The creators behind Ketoscan looked at how much body fat burning could be maximized on a regular low-calorie diet with exercise. A clinical trial was conducted on how accurately the KETOSCAN mini can measure body fat burning rate in a woman in her 30s.
Put to the test:
Accuracy of KETOSCAN's analysis of body fat burning rate in each level
Breath acetone level displayed by the KETOSCAN when meal and exercise are combined
The use of KETOSCAN for checking fat metabolism.
Clinical Trial Conditions:
| Location: Sentech's laboratory
| Subject: 1 Woman in her 30s
| Period: 28 Days
| Meal: Low caloric dietary meal (Consumed 70% of recommend calories + low carb)
| Exercise: No exercise Day 1~19 / 1H per day of treadmill exercise Day 20~30
| Experimental purpose: Evaluate the accuracy of KETOSCAN's body fat burning measurement
| Measurement: 3 times/day (at the same time every day), Brac measured by KETOSCAN, Body fat measured by Inbody
Results of the Ketoscan clinical trial: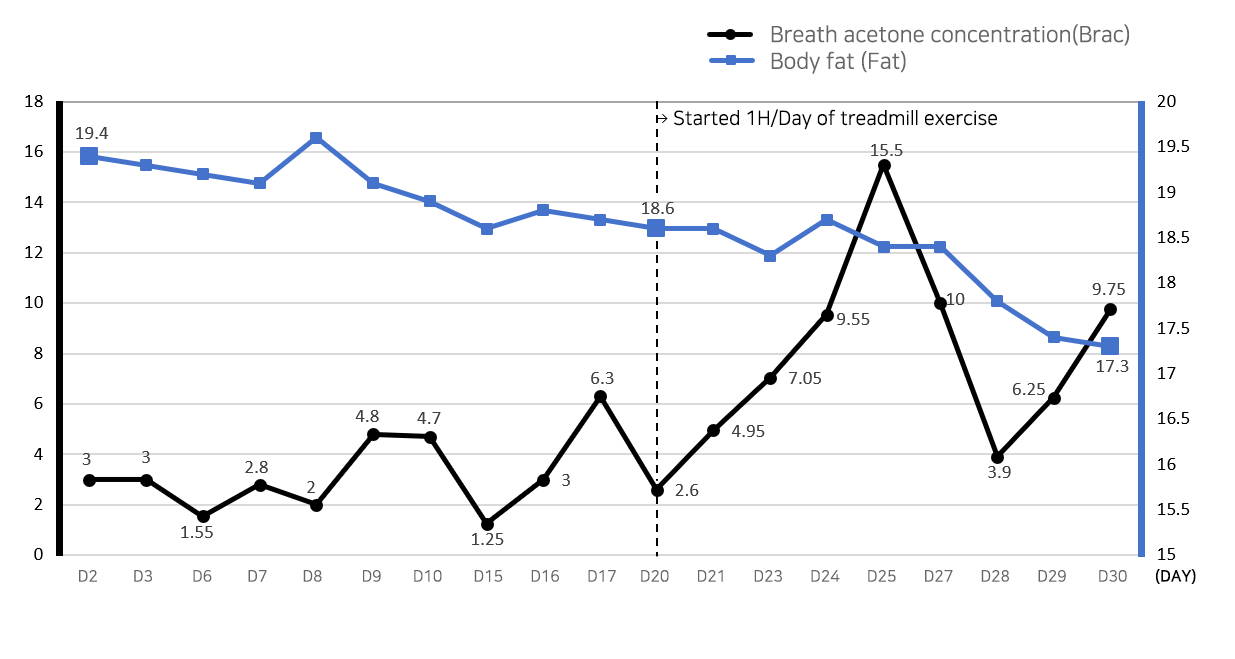 Subject's Result
- Average Brac during 30 days : 5.4ppm (LEVEL 5)
- Average Body fat burning rate during 30 days : 3.1gram /hour (75gram/day)
- Brac increased significantly on day 20 once exercise was introduced into the trial
KETOSCAN's calculation
LEVEL 5 on KETOSCAN means 3.8 gram of body fat is burning per hour
Actual body fat burning rate 3.1 g/h of subject and 3.8 g/h of KETOSCAN's pre-set value are about the same.
Ketoscan Clinical Trial 2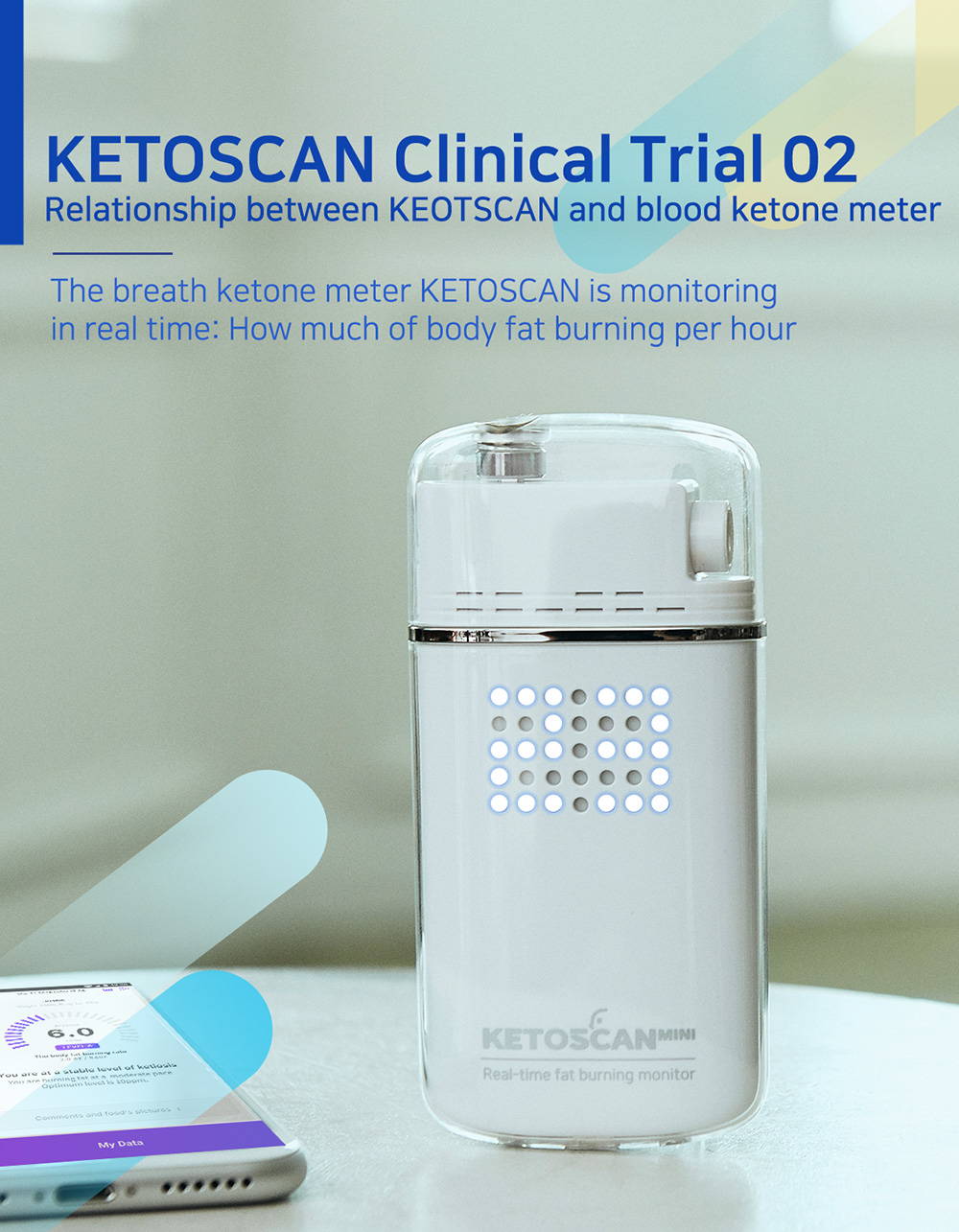 Ketone bodies are composed of 3 substances: acetone, BOHB (β-hydroxybutyrate), and ACAC (acetoacetate). The creators of Ketoscan conducted its own clinical trial on 5 men to prove the deep correlation between acetone and BOHB.
Put to the Test:
Breath acetone has a strong correlated with BOHB
KETOSCAN shows stable breath acetone concentration under ketosis state
From the KETOSCAN's result, the average value of blood meter over the past few hours can be calculated
Clinical Trial Conditions:
| Location: Sentech's laboratory
| Subject: 5 men (20s~50s)
| Meal: Ketogenic dietary meal (Low carb high fat)
| Experimental purpose: Analysis of the relationship between breath acetone measured by KETOSCAN and BOHB measured by blood ketone meter
| Measurement: 3 times/day (at the same time every day), Breath Acetone measured by KETOSCAN, BOHB measured by blood ketone meter
Results of the Ketoscan's clinical trial: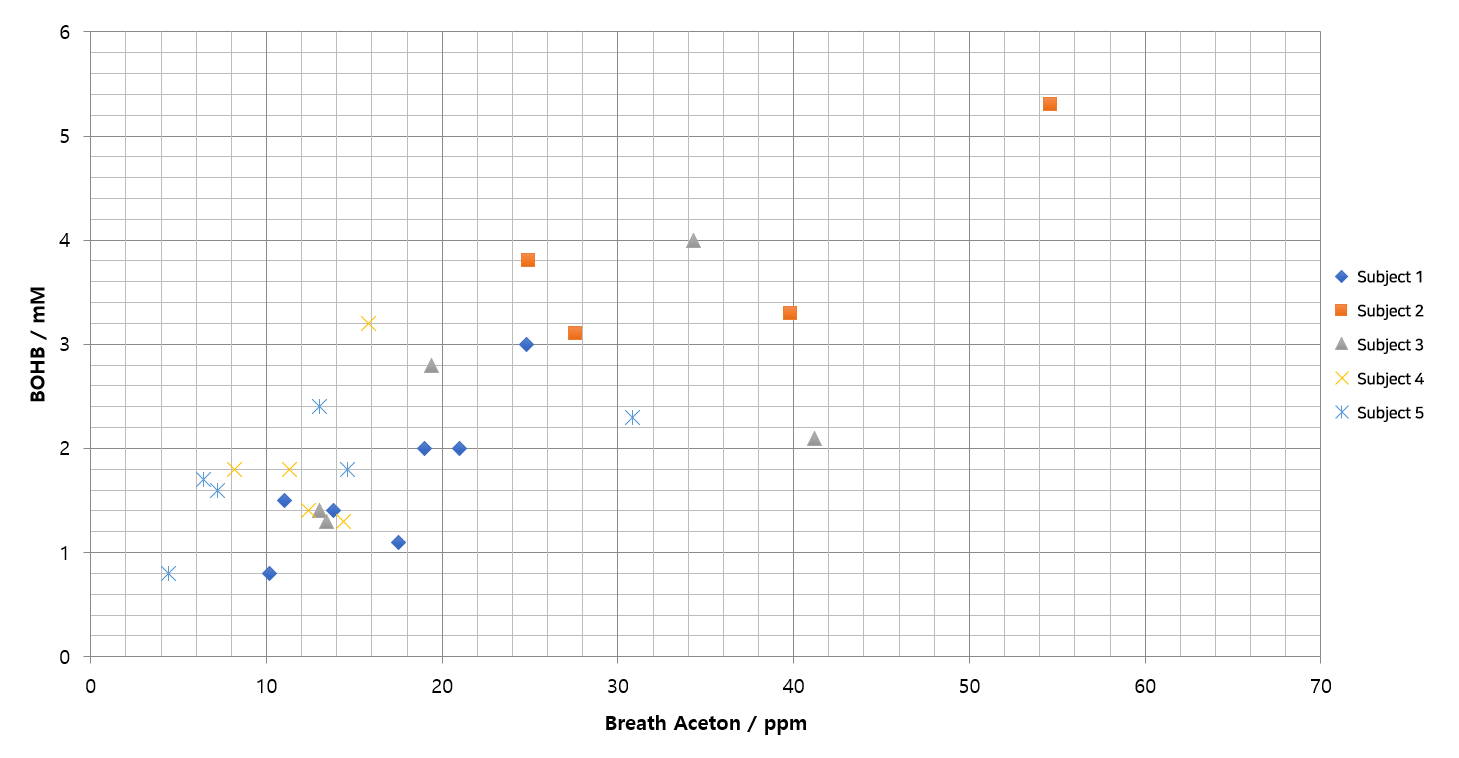 As shown in the chart above, the increase and fall of breath acetone and BOHB move in the same direction, and their very strong correlation is consistent with what was published in the previous scientific articles.
However, since the dispersion is large, it is difficult to present correct BOHB reading directly from the acetone level.
So, is there any way to predict blood meter readings from acetone levels?
There is. Although many variables exist, it is difficult to predict the absolute value, in conclusion, from the acetone level, the average value of the blood meter over the past few hours can be predicted.
The blood meter measures the concentration of BOHB. Since BOHB is a substance used as a fuel, its concentration tends to change rapidly from time to time depending on energy consumption activities. On the other hand, since acetone which is measured by KETOSCAN, is not an energy-based substance, only some of it is emitted through respiration and skin, while others are accumulated in the body, so the variation of the result is relatively small.
Therefore, even if the concentration of blood ketone meter (BOHB) decreases rapidly, KETOSCAN (acetone) has less variation in the number, and as a result, the current concentration of acetone can be considered as the average value of BOHB concentrations over the past few hours.
The stable result of KETOSCAN
Assuming that both the KETOSCAN and the blood meter have conducted a test at the same time every three hours, and both results initially correspond to the ketosis state but why does the blood meter suddenly drops to 0.1mM which is considered out of ketosis?
| | | | | | | | |
| --- | --- | --- | --- | --- | --- | --- | --- |
| | 00:00 | 03:00 | 06:00 | 09:00 | 12:00 | 15:00 | 18:00 |
| KETOSCAN mini | KETOSIS | KETOSIS | KETOSIS | KETOSIS | KETOSIS | KETOSIS | KETOSIS |
| Blood meter | KETOSIS | KETOSIS | KETOSIS | KETOSIS | KETOSIS | KETO OUT | KETO OUT |
① If the body consumes BOHB rapidly for various reasons, such as exercise, the blood meter reading drops sharply and becomes out of ketosis state.
② Since the acetone is not an energy source, the level of acetone is stable and keeps you in a ketosis state.
>>> Therefore, KETOSCAN levels remain at ketosis, but blood meter indicates that lower BOHB is a temporary result rather than a "keto-out" i.e. being out of ketosis. If you go on a continuous diet at this time, the BOHB on blood meter usually will be recovered soon.
The reason why blood meter readings change so much, even though my body remains in ketosis, can be found in Sentech GMI's clinical trials and scientific articles, as shown earlier. Therefore, acetone measurements may be better than blood measurements to ensure a stable understanding of the change in ketone status.
Check out our correlation data between your acetone levels and BOHB values.
With KETOSCAN, you'll be able to see the changes in ketone levels precisely and save money from not needing to buy expensive blood strips.
Ketoscan Mini Video Testimonials
What people are saying about the Ketoscan. Watch the video comparisons and testimonials for the Ketoscan Mini below: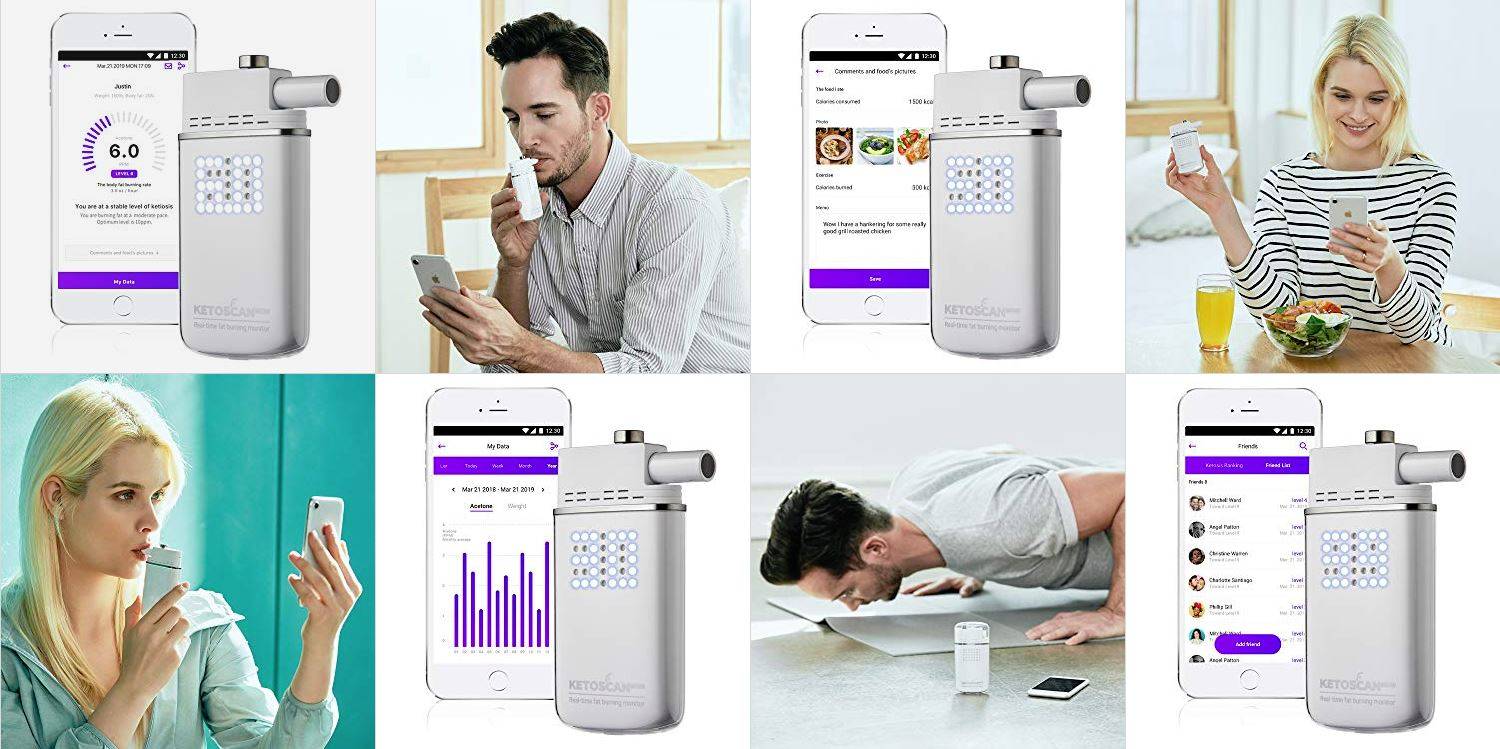 KETOSCAN Mini
This breath meter is excellent I'm using it daily, it's keeping me on track, and I can adjust what I eat to my results, quick delivery to NZ and very good communication, I see the KETOSCAN mini being in my kit on my keto journey for a long time thanks 😁
KetoScan Mini Ketone Breath Meter
Helping Measure my Ketones and Stay Disciplined with diet.
The Ketoscan Mini is very easy to use and helps me stay disciplined with my diet so I can reach my target weight. I use it religiously everyday and pinpoints the days where my diet has an adverse and a positive effect on ketosis. If you are serious about a keto diet and lifestyle then you cannot do it without measuring your progress with relevant metrics … Ketsocan Mini allows me to do this. Thanks so much for an awesome tool.
Really valuable tool
The Ketoscan Mini is key to fine tuning my diet to make sure I am in ketosis. I can monitor my macro intake and to get the optimal balance. It has been revolutionary for me. It is easy to use, reliable and a good way to record notes on my diet.
Brilliant Product
Good product, with the compact size which I like. The only thing is you need to blow once to analyse the device and get it work before it get the real blow,kind of annoying. Otherwise all good and effective
KetoScan Mini Ketone Breath Meter
Accurate
I am not shore how accurate it is I fast 24hours and have 1 meal and I never get past 10
Worth it for those new to Keto
jury still out
Very prompt delivery and the item is professionally packaged and connects easily to other devises via Bluetooth - I have had varying readings sometime within minutes of each usage - so I question its accuracy so I'm not 100% confident on the results - will continue to monitor and will test against urine strips for ketosis