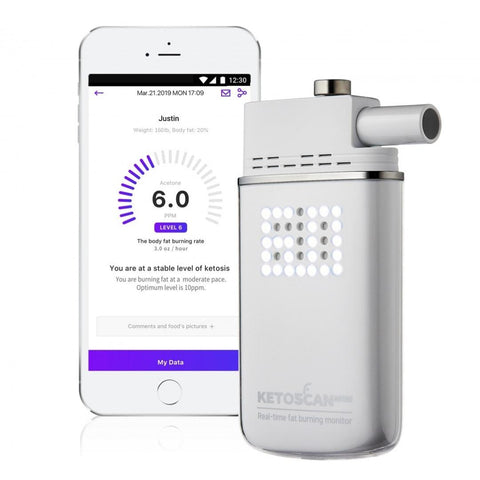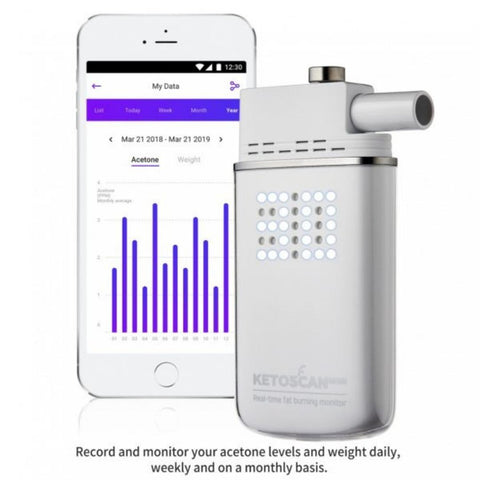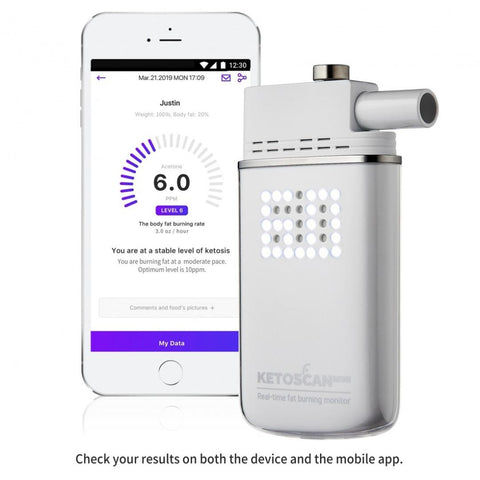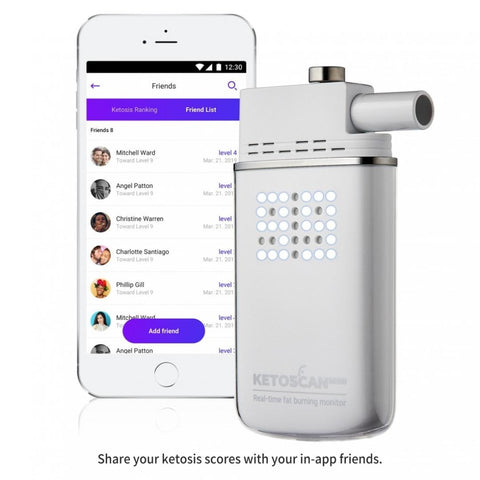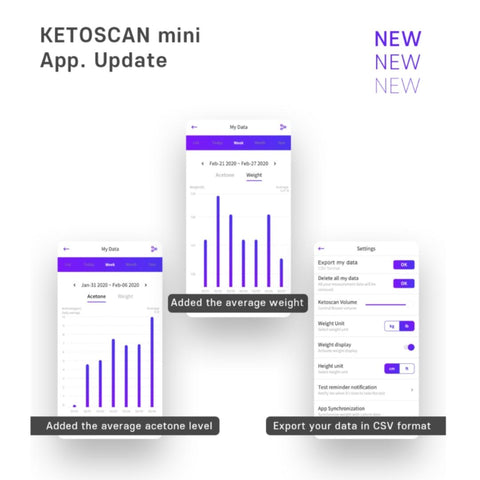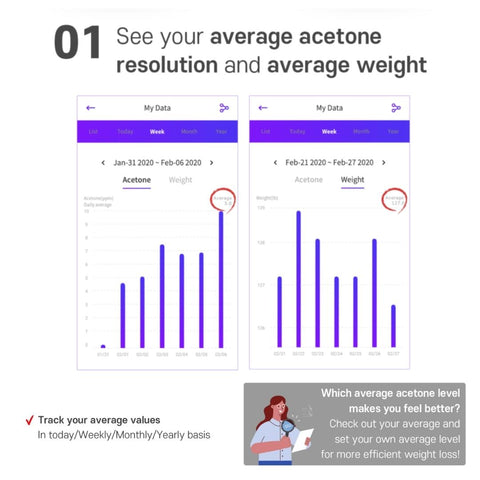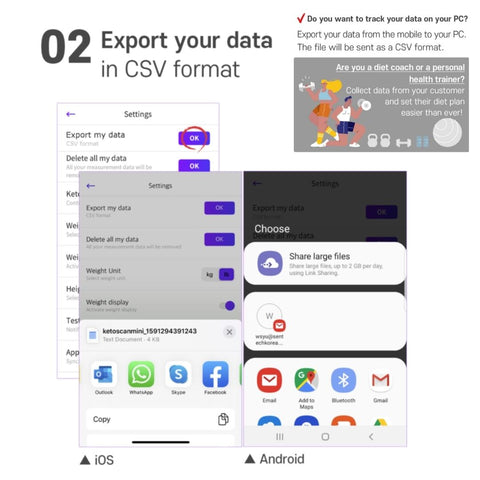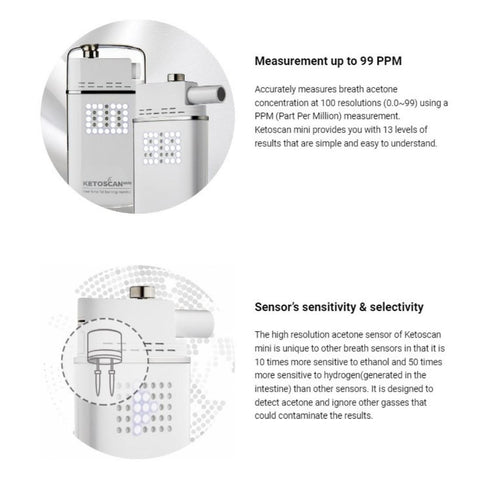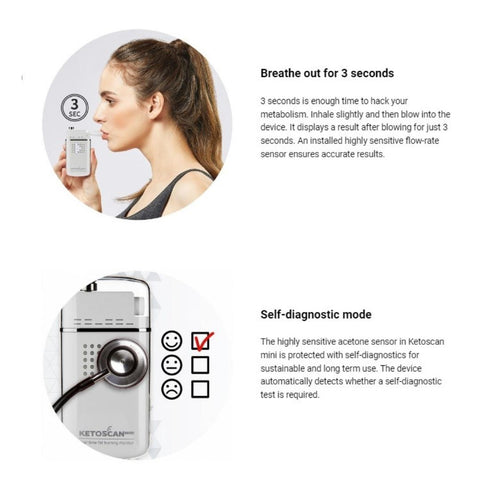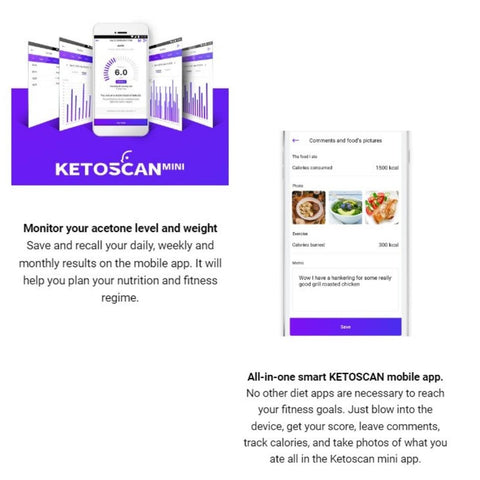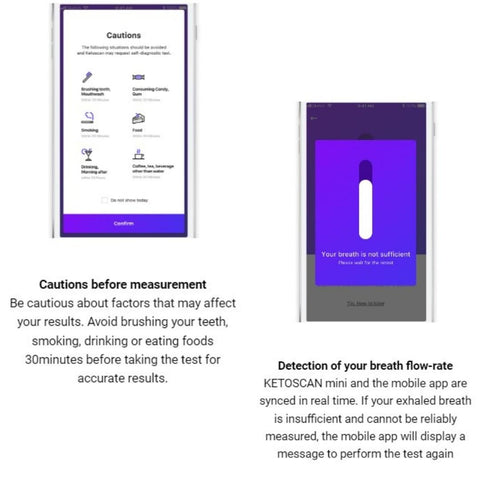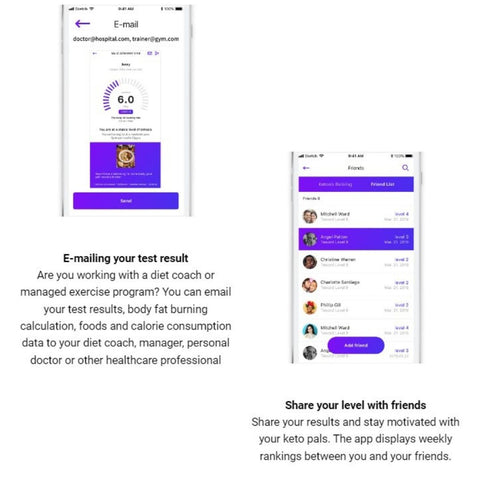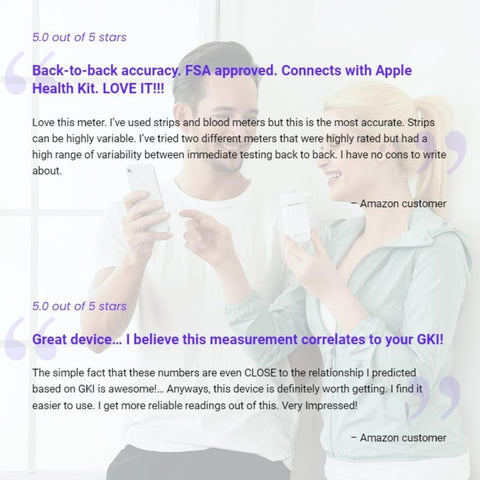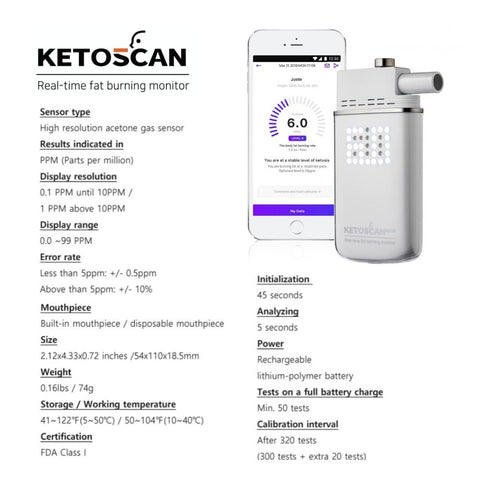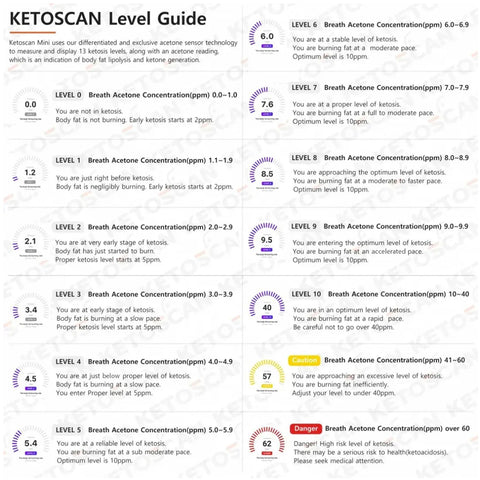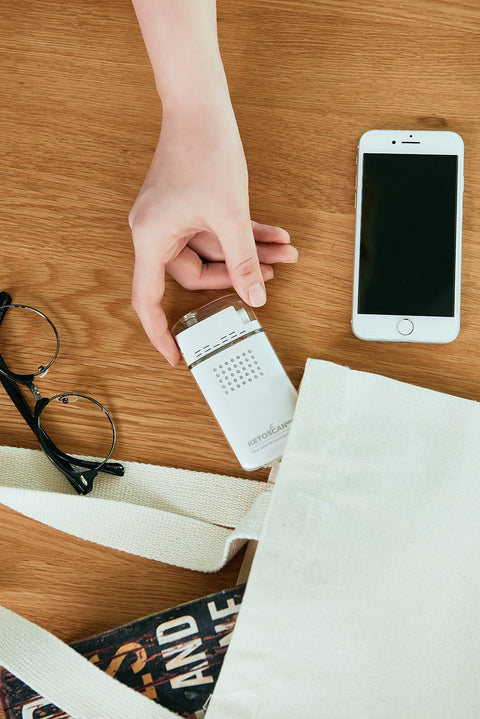 Ketoscan
KetoScan Mini Ketone Breath Meter
Checking local availability
The KetoScan Mini is a smart and portable ketone breath meter that measures the acetone levels in your breath to accurately inform you of your body's state of ketosis, or fat burning.  FDA-approved as well, the KetoScan Mini is the best ketone meter choice for anyone on a Paleo, Ketogenic or Low Carb diet wanting to monitor their fat-burning progress with quantitative data! Paired with the KetoScan mobile app, you can track your ketone test results and synchronise to iOS Health, Samsung Health, and Google Fit to better reach your fitness goals.

Features:
Reliable and affordable way of measuring ketones
Check ketone levels anytime and anywhere. Just blow into the device for 3 seconds.
Keep track of results, historical data, and share results from the mobile app (compatible with iOS and Android)
Non-invasive 
Highly sensitive sensor ensures accurate results
10 times more sensitive to ethanol, 50 times more sensitive to hydrogen (generated in the intestines) than other sensors 
Designed to detect acetone and ignore other gasses that could contaminate the results
Accurately measures breath acetone concentration at 100 resolutions (0.0~99) using a PPM (Part Per Million) measurement. 
Calibrate after 300 tests (locks after 320 tests) or 12 months, whichever comes first to maintain accurate results (calibration center in Vermont, VIC)
Specifications:
Sensor type: High-resolution acetone gas sensor
Results indication: PPM (Parts per million)
Display resolution: 0.1 PPM until 10 PPM / 1 PPM above 10 PPM
Display range: 0.0 ~ 99 PPM
Accuracy range: +/- 0.5 PPM at <5 PPM / +/0 10% at > 5 PPM
Warm-up time: 45 seconds
Results time: 5 seconds
Power source: Rechargeable lithium-polymer battery (included)
Number of tests on a full charge: At least 50 tests
Calibration interval: After 320 tests (300 tests + 20 before device is locked)
Mouthpiece: Built-in mouthpiece / disposable mouthpiece
Size: 54 x 110 x 18.5mm
Weight: 74g
Storage / Working temperature: 5~50°C / 10~40°C
Certification: FDA Class I

Read and download the user manual
A Keto Must Have
Getting in and staying in ketosis shouldn't be a guessing game. This takes the guess work out of the equation. Am able to see how hydration and exercising or the lack thereof effects the ketone levels. When the reading is too low or too high I was able to reflect back in real time and figure out what I did that affected the rapid change in the reading from one day compared to the last. This allows me to make small changes to get more stable consistent ketone levels. The app is great as it tracks weight as well as the ketone levels over time.
KETOSCAN Mini
This breath meter is excellent I'm using it daily, it's keeping me on track, and I can adjust what I eat to my results, quick delivery to NZ and very good communication, I see the KETOSCAN mini being in my kit on my keto journey for a long time thanks 😁
KetoScan Mini Ketone Breath Meter
Helping Measure my Ketones and Stay Disciplined with diet.
The Ketoscan Mini is very easy to use and helps me stay disciplined with my diet so I can reach my target weight. I use it religiously everyday and pinpoints the days where my diet has an adverse and a positive effect on ketosis. If you are serious about a keto diet and lifestyle then you cannot do it without measuring your progress with relevant metrics … Ketsocan Mini allows me to do this. Thanks so much for an awesome tool.
Really valuable tool
The Ketoscan Mini is key to fine tuning my diet to make sure I am in ketosis. I can monitor my macro intake and to get the optimal balance. It has been revolutionary for me. It is easy to use, reliable and a good way to record notes on my diet.
Brilliant Product
Good product, with the compact size which I like. The only thing is you need to blow once to analyse the device and get it work before it get the real blow,kind of annoying. Otherwise all good and effective
KetoScan Mini Ketone Breath Meter
Accurate
I am not shore how accurate it is I fast 24hours and have 1 meal and I never get past 10
Worth it for those new to Keto