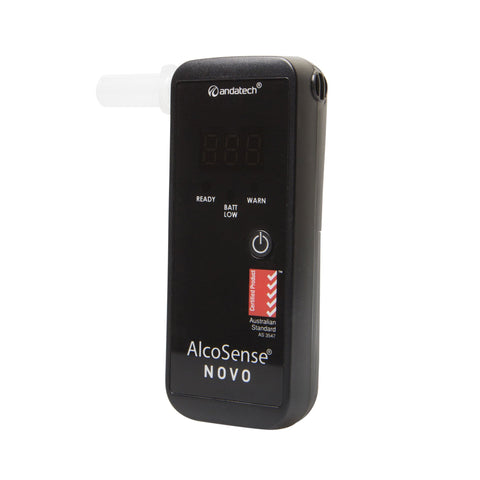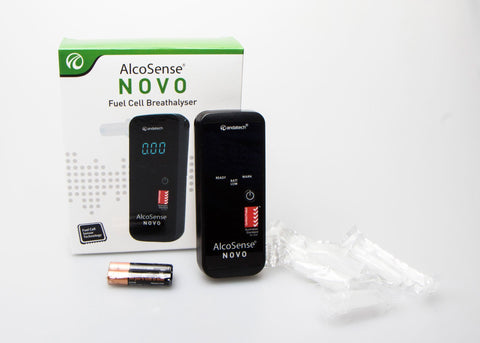 AlcoSense
AlcoSense Novo
Checking local availability
Our introductory breathalyser, the AlcoSense Novo, offers you the benefits of alcohol testing, but at a fraction of the price. The AlcoSense Novo Personal Breathalyser comes equipped with self-troubleshooting error messages that make it very easy to use for all users, young and old.
Features

Results in as fast as 3 seconds
Comes equipped with 3 easy-read LED lights: Ready, Batt Low, and Warn.
Electro-Chemical Fuel Cell Sensor for alcohol specific readings
User-friendly features such as flow control indicator, battery low indicator, and auto-power off
Calibration reminder
Australian Standards AS3547 Certified

Specifications:

MODEL NO.: ALS-NOVO
BAC RANGE: 0.00% - 0.40%BAC
SENSOR TYPE: FxCell1
ACCURACY: ±0.01%BAC at 0.10%BAC
WARM UP TIME: Within 35 seconds
RESPONSE TIME: Within 22 seconds
RECYCLE TIME: Within 2 minutes
WORKING TEMPERATURE: 5 – 40°C
POWER SUPPLY: 2 x AAA Batteries (Alkaline Only)
MOUTHPIECES: 5 mouthpieces supplied (please note this unit is only compatible with AlcoSense mouthpieces)
MEMORY CAPACITY: None
RESULT READING: 0.000% to 0.400%BAC
CERTIFICATION: Australian Standard AS3547
CALIBRATION FREQUENCY: Australian Standards Requirement: Every 6 months
DISPLAY: Back-lit LCD
FEATURES: 2 decimal place reading, auto power-off, 3 LED lights, error notifications
INCLUDES: User manual, mouthpieces, batteries
PRODUCT WEIGHT: 84g including batteries
DIMENSIONS: H: 114mm, W: 47mm, D: 24mm

3 year warranty up to a Lifetime (Andatech Guarantee)
Covered in Australia
Read and download the user manual
Lifetime Guarantee
Calibrate your breathalyser every 6 months from the date of purchase to extend its manufacturer's warranty up to a lifetime.
A trusted Australian brand since 2004
Reviewed & featured on
Alco tested, use it all the time, Brillant thanks
Bought my son one for xmas to keep him safe, as myself, well really bought the first one for my husband but he doesn't use it .
Excellent Product
Brilliant product. easy to use, simple to use and as far as im aware very accurate. best for peace of mind