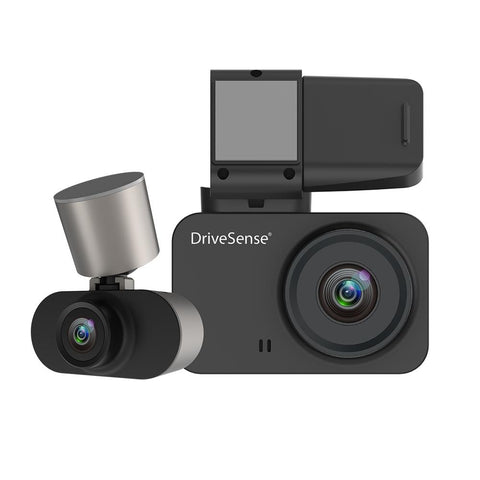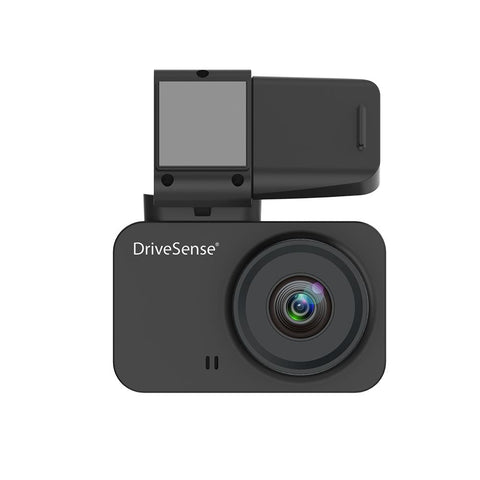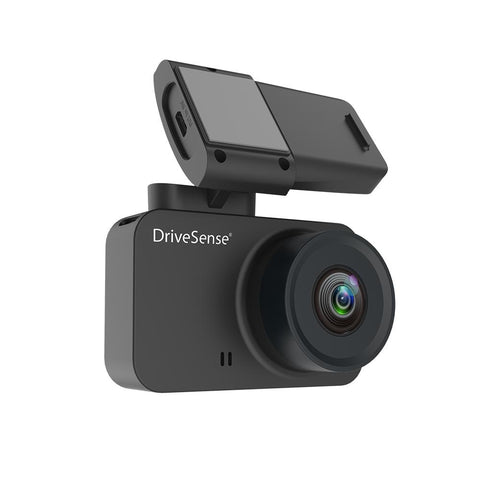 DriveSense
DriveSense Ranger Duo Dash Cam
Checking local availability
The DriveSense Ranger Duo Dash Cam provides high quality, clear video recording in all light and weather conditions - day and night. Its front camera offers a wide 150-degree field of view also provides an excellent view of large intersections or road crossings and up to 5 lanes of traffic. Its rear cam quality is just as good, offering a wide 135-degree wide angle that provides a clear view of vehicles behind you.
Features:
Full HD 1080 30fps
Built-in GPS provides speed and location data
Excellent Night Performance - Vivid recordings under low light conditions
Wide Dynamic Range (WDR) - Balances dark and light areas to enhance image quality 
150° Wide Angle - Excellent field of view, covering up to 5 lanes of traffic.
Insert microSD card to computer to view, download and delete files 
Secure adhesive mount with 3M sticker
Strong magnetic holder 
2" LCD Colour Screen
H.264 / MOV
Built-in Microphone
1 / 2 / 3 / 5 / 10 Minute or Continuous Recording
Loop Recording
Gravity Sensor (G-Sensor) - Protects a recording in the event of a collision
File lock / protection
Auto On/Off and Save
Auto Start Up and Shut Down
Motion Detection
Specifications:
Model No.: DVS-RANGERDUO
Sensor: Front Dash Cam: SONY imx307 | Rear Dash Cam: RG321
Lens: Front Dash Cam: ?17.5 F1.6 150° wide angle 6G+IR | Rear Dash Cam: ?14 F1.6 135° wide angle 5G+IR
LCD: 2.0" IPS 240 x 320 dots (tempered glass)
GPS: External GPS module (magnetic connection)
Resolution / FPS: Front Dash Cam: 1080p 30fps / 720p 30fps | Rear Dash Cam: 720p 30fps
Battery: Super Capacitor, 2.5F, 5.5V
Power In: 5V 1A 3P POGOPIN
Speaker: 8? 0.5W
Storage Capacity: up to 64GB microSD card (not included)
Image Technology: H.264 / MOV / WDR
Video Protection: G-Sensor / Motion Detection
Video Length: off / 1 / 2 / 3 / 5 / 10 minutes loop recording
Working Temperature: -20 - 70°C
Weight: Front Dash Cam: 63g | Rear Dash Cam: 25g
Dimensions: Front Dash Cam: 70 x 44 x 34.55mm | Rear Dash Cam: 50 x 24 x 25.35mm

Read and download the user manual
A+
Works well. Thank you. Would recommend.
It's great how it's hidden behind my rear vision mirror and isn't in my way when I'm driving.
DriveSense Ranger Duo Dash Cam
I am using the dash cam in a Nissan Navara ute. I could not mount the rear facing camera on the vertical rear window.
Excellent Dashcam
The new front and rear dashcams work very well.
Top dashcam -
Purchased Drivesense Ranger Duo dashcam several months ago and very impressed. Easily fitted and removed if vehicle unattended in high crime area. Good clear footage front and rear, even in low light. Saved files downloaded into files for easy access. 64gb microcard allows 11.5 hours run time then records over all but saved files. Playback video function handy. Initially had problems setting GMT time zone - my fault as I didn't allow sufficient time for satellite to connect. There are cheaper units on market but my observation is that they are generally of inferior quality and have less functions. Outlay gives you peace of mind and uses of dashcams are well documented. Front and rear cameras adhere to windows. I haven't tested adhesiveness in really hot weather yet, shouldnt be a problem if it is same standard as the unit. Information pamphlet comes with unit. Being a new model, I initially contacted Beverly at Andatech and found her very friendly, helpful (and patient). Recommend both Andatech as a company and Drivesense Ranger as a product.
Good value for money
Good quality and handy to have. I have this in me and my husbands cars and thankfully we have not needed to use either of them yet for any 'incidents' but they have been easy to use and provides a good peace of mind for whenever the need arises. The back camera quality is not the best especially when it rains but it is fine if your car has a back windshield wiper. However we did try out other models of dash cams in the past and found this drivesense dash cam to be the best in terms of ease of use and quality so far. No regrets and great price especially for RAA members.
Best dash cam
Purchased from RAA last month and have been very happy with it. It is easy to install and very easy to use. Hard to find another front and rear dash cam at such a good price and image quality.