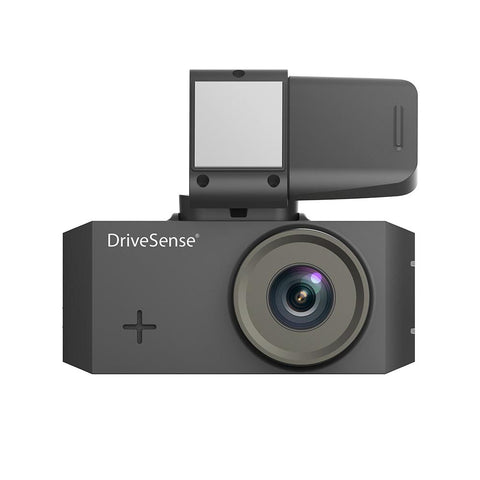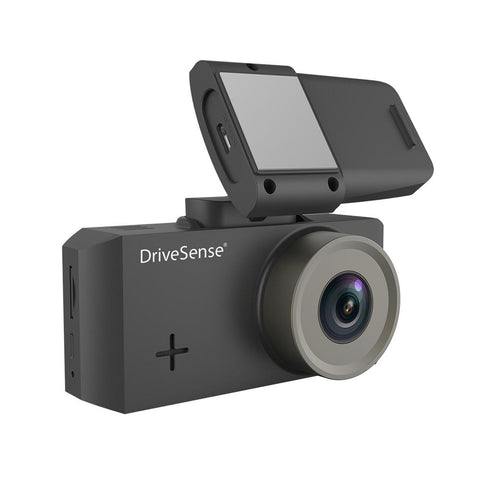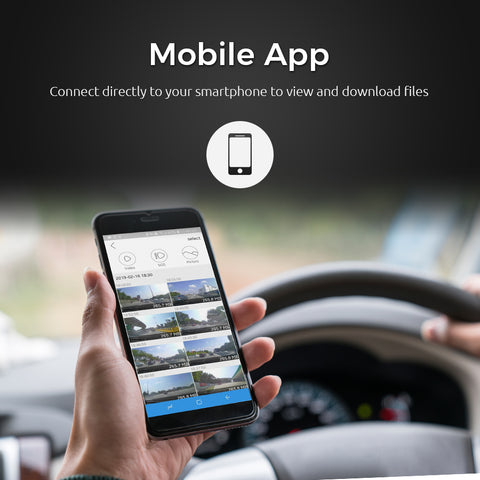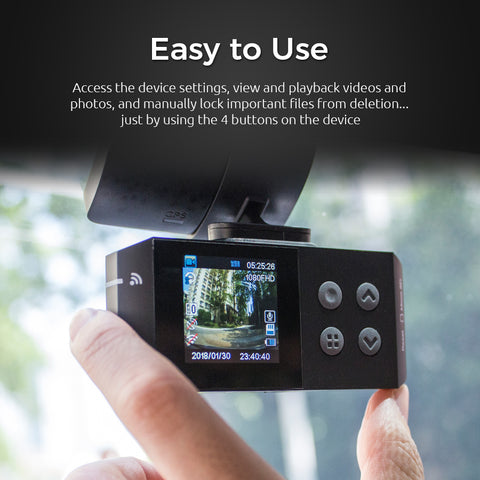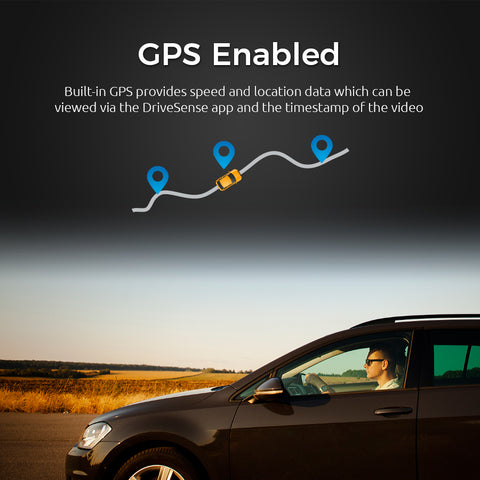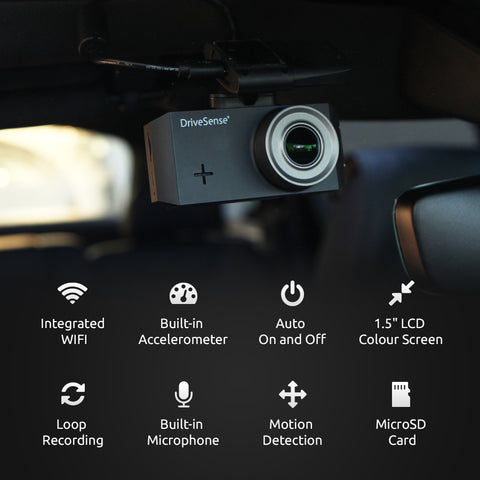 DriveSense
DriveSense Ranger Dash Cam
Checking local availability
The DriveSense Ranger Dash Cam provides high quality, clear video recording in all light and weather conditions - day and night. Its wide 150-degree field of view also provides an excellent view of large intersections or road crossings and up to 5 lanes of traffic. Check out its full features below.
Features:
Full HD 1080 30fps
Built-in GPS provides speed and location data
Excellent Night Performance - Large f/2.0 aperture provides vivid recordings under low light conditions and clear images even at night.
Wide Dynamic Range (WDR) - Balances dark and light areas automatically for higher image quality under difficult lighting conditions
150° Wide Angle - 6 layer glass with Infrared Vision provides an excellent field of view, comfortably covering up to 5 lanes of traffic.
Integrated WIFI - Connect to DriveSense mobile app (compatible with iOS and Android). Easily access and playback files while connected.
Insert microSD card to computer to easily view, download and delete files 
Built-in accelerometer 
Secure adhesive mount with 3M sticker
Strong magnetic holder 
1.5" LCD Colour Screen
H.264 / MP4
4x Digital Zoom
Built-in Microphone
3 / 5 / 10 Minute or Continuous Recording
Loop Recording
Gravity Sensor (G-Sensor) - Protects a file recorded in the event of a collision
File lock / protection
Auto On/Off and Save
Auto Start Up and Shut Down
Motion Detection
Parking Monitor
Specifications:
Model No.: DVS-RANGER
Sensor: SONY imx323
Lens: F2.0 150° Diagonal Wide Angle 6 layer glass+IR
LCD: 1.5" IPS 480 x 240 dots
GPS: External GPS module (magnetic connection)
Resolution / FPS: 1080/30fps, 720/30fps
Battery: Built-in Polymer Li-ion Battery 3.7V 250mAH
Power In: 5V 1A 3P POGOPIN
Speaker: 8? 0.5W
Storage Capacity: up to 32GB microSD card (not included)
Image Technology: H.264 / MP4 / WDR / 4x digital zoom
Video Protection: G-Sensor / Motion Detection / Parking Mode
Video Length: off / 3 / 5 / 10 minutes loop recording
Working Temperature: -20 - 70°C
Weight: 64g
Dimensions: 89.4 x 40.95 x 32.35 mm

Read and download the user manual
Average
The battery does not charge, so you can't work with it unless plugged into car with car running. Video is okay, but jerky and often pixelates. No decent instructions on how to work it, have had mine for quite some time, it sits on the windscreen looking pretty as I've never been able to work out how to work it, save videos, or download. The app has never worked on the wifi, and in fact the app won't even open anymore. Disappointing, as I expected a lot more for the money. It took a lot of time to find an sd card that would even work, as it accepts very few types. I need to format it, but can't because I can't work out how, and the unit does not stay powered on so I can do anything. Sadly, I wasted a lot of money on something that is just an ornament.
Needs a manual!
Frustrating to have to work it all out yourself. Even inserting the micro SD card was a hassle as the icon is the wrong way about. The formatting the sd? how are you supposed to know that?
I'm pretty tech savvy and it was a pain. Now its working I hope it is hassle free! I don't want to find out its not working, if forbid, I have a collision.
working your way about the menu seems random.
Come on it cannot be hard to write a manual!!!
manual
Good dashcam. I had problems with the very brief manual. There is no advice on how to properly seat the dashcam and there is none on how to take still photos. Otherwise quite happy. You need to state the obvious, such as, the dashcam needs to be in the mount to access the menu. I assumed you could do this having removed it.
fantasitic design dash cam