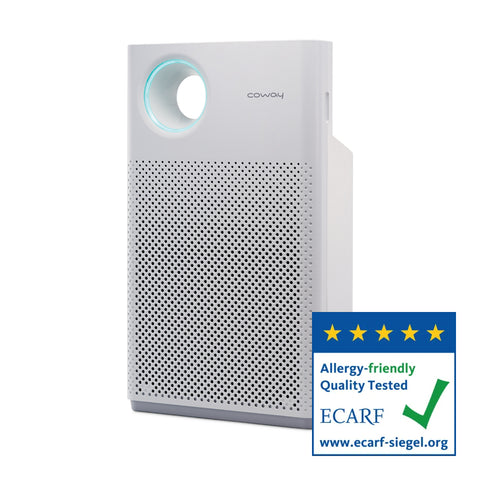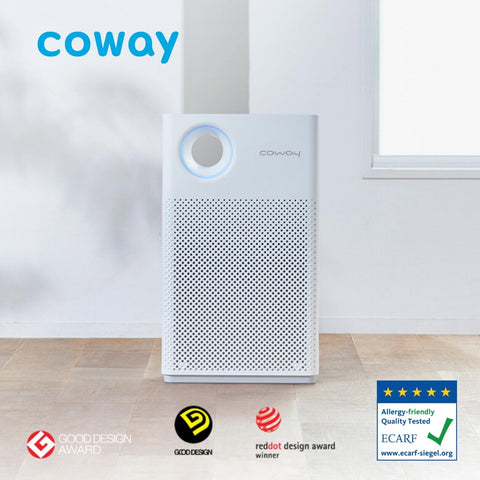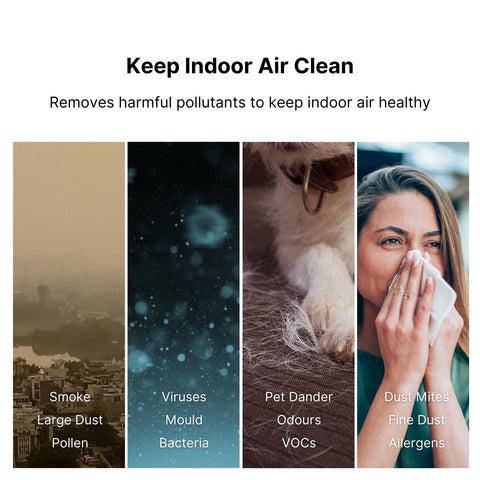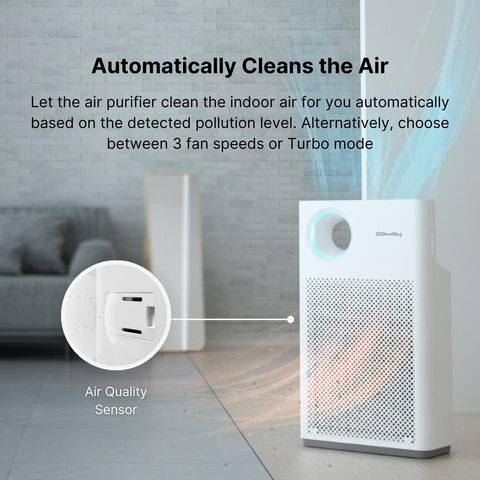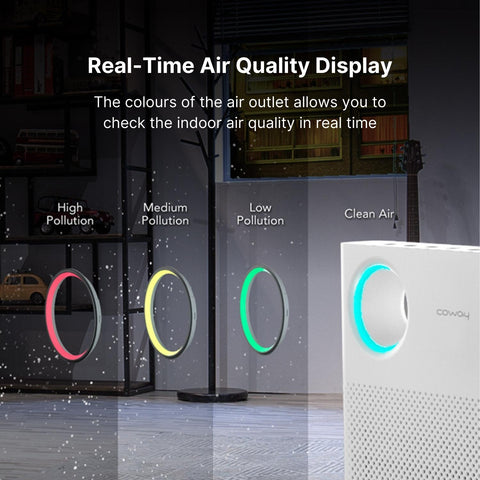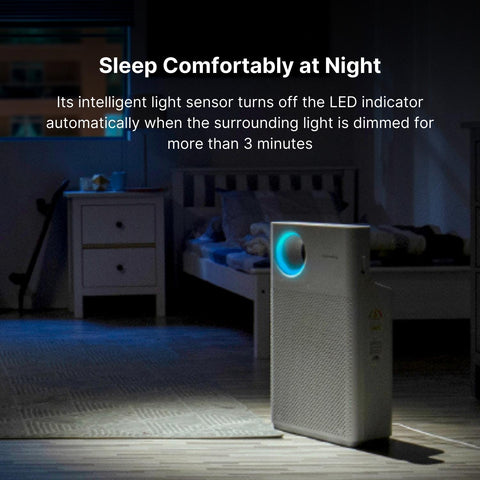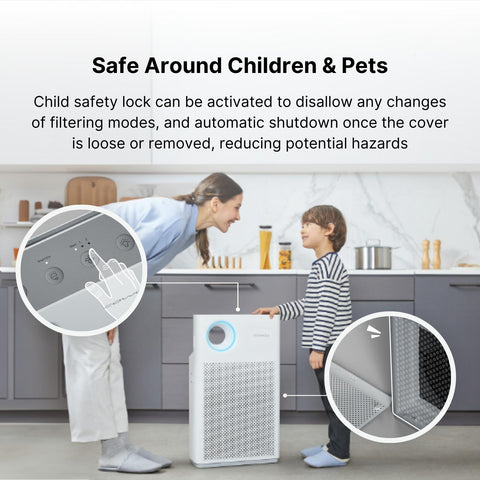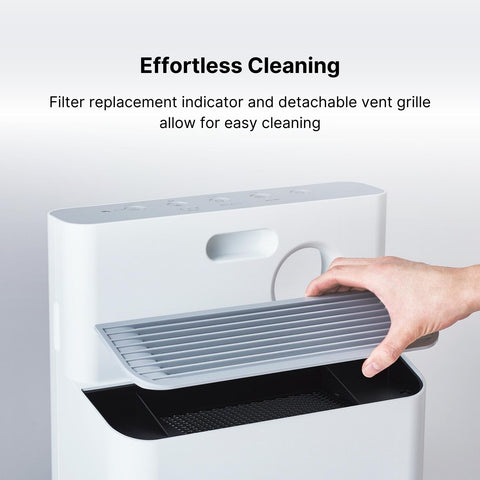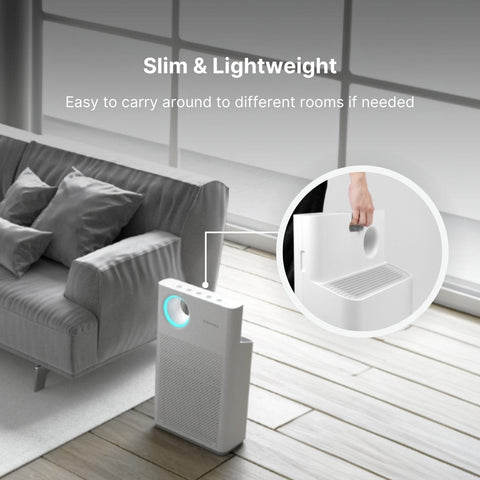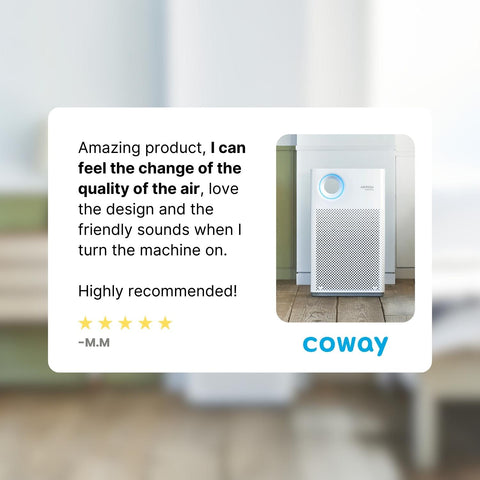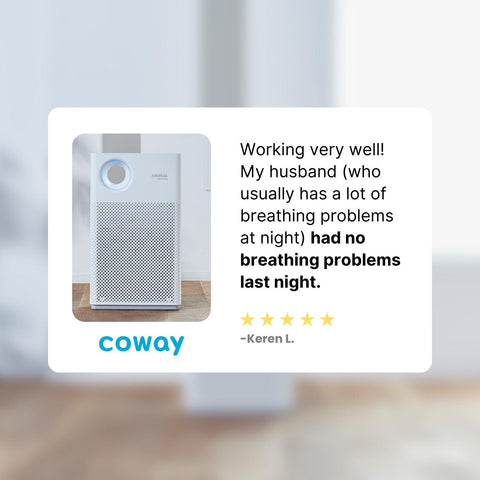 Coway
Coway 1018F Classic Air Purifier
Checking local availability
Elevate the air quality in your Australian home with the Coway 1018F air purifier, a compact yet formidable solution. This sleek and slim purifying marvel, designed to complement your living spaces, covers an ample area of 33.9 sqm, making it an ideal addition to living rooms and bedrooms. Its unobtrusive design allows you to discreetly place it anywhere you like while benefitting from its exceptional fine dust filtration performance.
The Coway 1018F boasts an impressive four-tier filtration system, which includes a pre-filter, fine dust filter, deodorisation filter, and HEPA filter. This powerful combination effectively removes 99.9% of ultra-fine 0.02 µm particles, ensuring that your indoor air is free from harmful contaminants.
It's certified by ECARF, a testament to its allergy-friendly quality, making it a top choice for individuals with sensitivities or allergies. The 1018F is not just a purifier; it's an intelligent device that features automatic and turbo modes, smart eco mode for power savings, and three fan speeds. The dust sensor and air pollution indicators adapt the purifier's operation according to the air quality, ensuring your environment stays fresh and clean.
Additionally, the Coway 1018F fine dust air purifier offers convenient features such as a light sensor that turns off the LED indicator in dimmed surroundings for a peaceful sleeping environment, a child safety lock, and a detachable air grille vent for easy cleaning. This fine dust air purifier is not just a practical choice; it's a lifestyle upgrade, ensuring your home remains a sanctuary of fresh, pure air.
Features:

99.9% removal of 0.02 µm fine particles
Allergy-friendly air purifier - ECARF Certified
4 tier filtration system with pre-filter, fine dust filter, deodorisation filter and HEPA filter
Automatic and Turbo mode
Smart Eco mode power saving feature
3 fan speeds
Dust sensor effectively senses the level of air pollution in the air and adjusts the unit's air purification mode accordingly.

Light sensor turns off the LED indicator automatically when the surrounding light is dimmed for more than 3 minutes for a more comfortable sleeping environment.
Air pollution indicators show the surrounding conditions by means of a coloured LED light indicator
Child safety lock to ensure the safety of your child and home
Slim and light enough to be carried around the home
Detachable air grille vent for easier cleaning

Specifications:

MODEL NO.: AP-1018F
COVERAGE AREA: Up to 33.9 sqm
CADR: 4.4 cubic meters per minute
NOISE LEVEL: Low: 21.6dB, Medium: 37dB, High: 44.3dB
FILTER LIFE:

Pre-Filter: Every 2-4 weeks (Clean and wash)

Fine Dust Filter: Every 4 months (Replace)
Deodorisation Filter: Every 24 months (Replace)
HEPA Filter: Every 12 months (Replace)

INPUT VOLTAGE: 220-240V, 50Hz

POWER CONSUMPTION: 38W
DIMENSIONS: H: 641mm, D: 183mm, W: 376mm
PRODUCT WEIGHT: 7.25 kg
Made in Korea

*Tested by Kimm (Korea Institute of Machinery and materials) 99.9% removal of 0.02 µm micro particle (*at maximum air flow in the airtight chamber for more than 60 minutes) (2018.07.20 by KIMM report)

1. Performance tested by KIMM (Korea Institute of Machinery and Materials), to measure how long it takes to remove 99.9% of the 0.02µm fine particles when operating the air purifier, Operated to measure the particle reduction rate over time (according to the internal standard of the KIMM) of the AP-1018F model (recommended coverage area 33m2 with filters), in chamber and under environmental conditions of the Korea Air cleaning Association (SPS-KACA 002-132, Indoor air purifier performance Test) after providing 20nm (0.02µm) of particles into the chamber.
2. Particle removal rate by an air purifier operation is tested until the background concentration of 0.02µm particles reaches 1 X 105/cm3 in the test chamber (30.4 m3) at temperature (℃) 20 ±1 / Relative Humidity (%) 48 ± 1 %
3. Fine particle removal rate is tested in an airtight laboratory environment by a specific model of an air purifying device. Actual performance and test are subjected to change depending on the region and product specification.

*As a result of testing CA certification standards, the removal rate of removal of harmful gases is 93%. (30 minutes of operation in the chamber), (Based on 2018.05.03 CA Certificate)

1.Harmful gases removal test is based on CA certification by the Korea Air Cleaning Association (SPS_KACA 002-132:2018, indoor air purifier removal test), AP-1018F model (recommended coverage area 33 m2 with filters) for Ammonia, Acetic acid, Acetaldehyde, Toluene, Formaldehyde
2. Tested in the chamber (8.0 m3) at temperature (℃) 23 ±5 / Relative Humidity (%) 55 ±15, and for deodorization test. The initial concentration of gas for testing is 10 ppm and the tolerance for concentration is 10%.
3. The harmful gases removal rate is tested in an airtight chamber laboratory environment by a specific mode of an air purifying device based on a test standard of the Air Cleaning Association. The test is subject to change depending on the region and product specifications.

Read and download the user manual
Mrs
Amazing product,I can feel the change of the quality of the air,love the design and the friendly sounds when I turn the machine on.Highly recommended!
Air Filter
Have only used one night as delay in delivery from Australia Post. So far is working very well, with my husband had no breathing problems last night, usually has a lot of breathing problems at night.