Built-in GPS provides speed and location data which is embedded in the video timestamp and can be viewed on the GPS player.
Records the speed of your vehicle while driving. The speed (in km/h) is displayed in every video recording as well.
The front cam magnetic holder and the rear cam comes with 3M stickers. Simply peel and stick to the desired location on your windscreen and rear screen for a secure application.
Lightweight and compact front dash cam provides ideal screen viewing without blocking your field of view.
Super compact rear dash cam that doesn't obscure your vision in the rear view mirror.
The camera and GPS module connect easily and securely to the holder using strong magnetic connection modules. Just click into place to connect and plug in the rear cam cable. The Ranger Duo front and rear cams will start up and shut off at the same time as your car engine.
The DriveSense Ranger Duo Dash Cam provides high quality, clear video recording in all light and weather conditions - day and night. View up to 5 lanes of traffic thanks to its wide 150-degree angle field of view.
Features a large f/1.6 aperture, which provides vivid recordings under low light conditions and clear images even at night.
The dash cam balances dark and light areas automatically to give you an ideal image even under difficult lighting conditions, so you are more likely to be able to capture fine details such as lettering on a license plate.
150° Wide Angle Front Dash Cam
6 layer glass with Infrared Vision provides an excellent field of view, comfortably covering up to 5 lanes of traffic.
The Ranger Duo front dash cam records in high resolution super HD 1080p at 30 frames per second, so you can be assured that it will pick up details such as license plate numbers.
With H.264 high compression ratio coding technology, it can effectively reduce the load and latency on the memory to easily store high resolution videos.
Enable or disable the microphone, which provides internal car audio recording. For privacy reasons, do inform your passengers that they are being recorded.
1 / 2 / 3 / 5 / 10 Minute Recording
You can record videos in segments of 1, 2, 3, 5 or 10 minutes, or continuously (off). As the recording reaches the end of the programmed time, it will start over.
With loop recording, you don't have to worry about the memory card filling up or unable to record. Once the memory is full, the dash cam will start writing over older files seamlessly (excluding locked files).
DriveSense Ranger Duo Dash Cam Video Quality
The DriveSense Ranger Duo Dash Cam provides high quality, clear video recording in all light and weather conditions - day and night. Its front camera offers a wide 150-degree field of view also provides an excellent view of large intersections or road crossings and up to 5 lanes of traffic. Its rear cam quality is just as good, offering a wide 135-degree wide angle that provides a clear view of vehicles behind you.
Front Dash Cam - Daytime Recording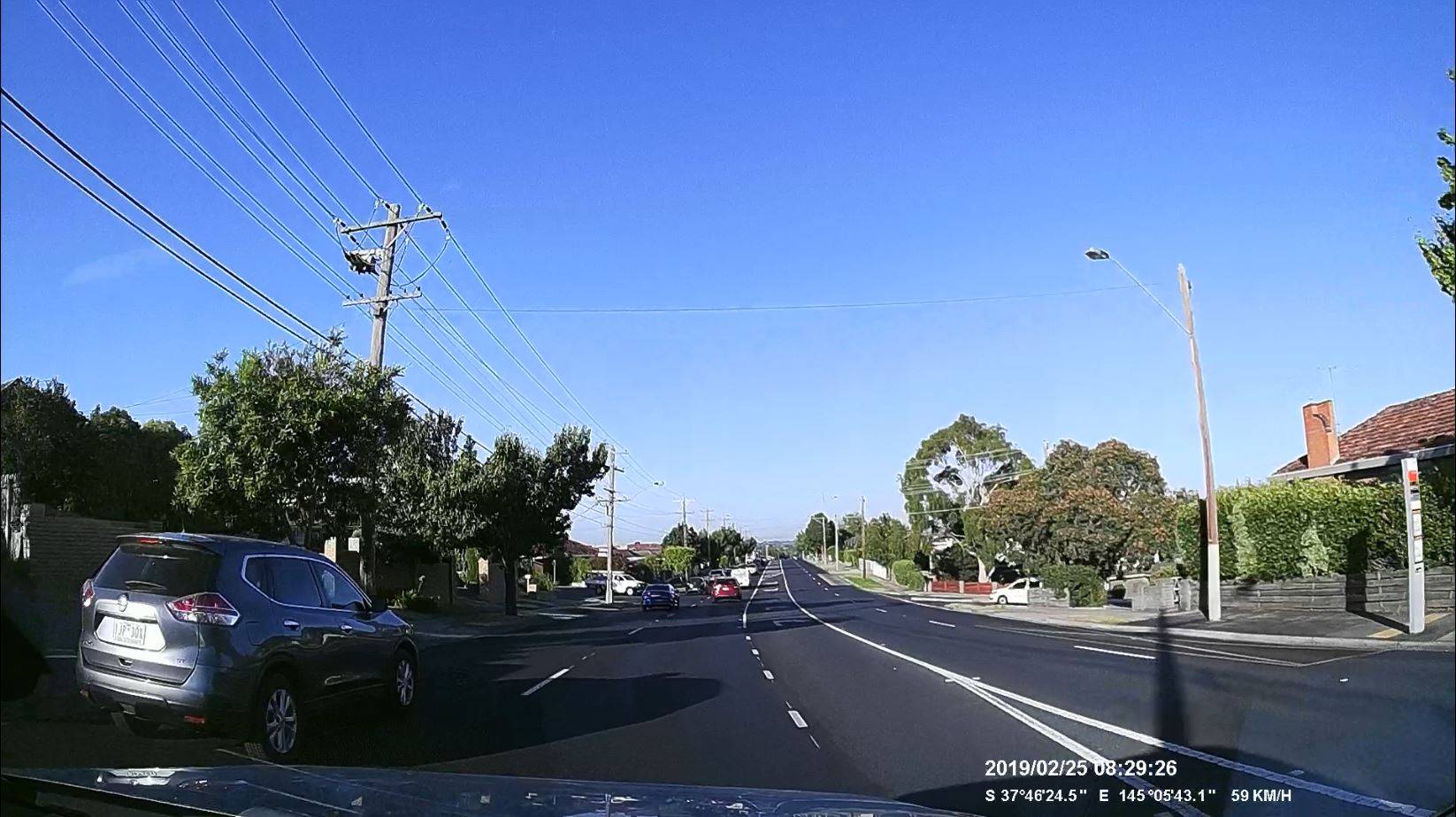 Rear Dash Cam - Daytime Recording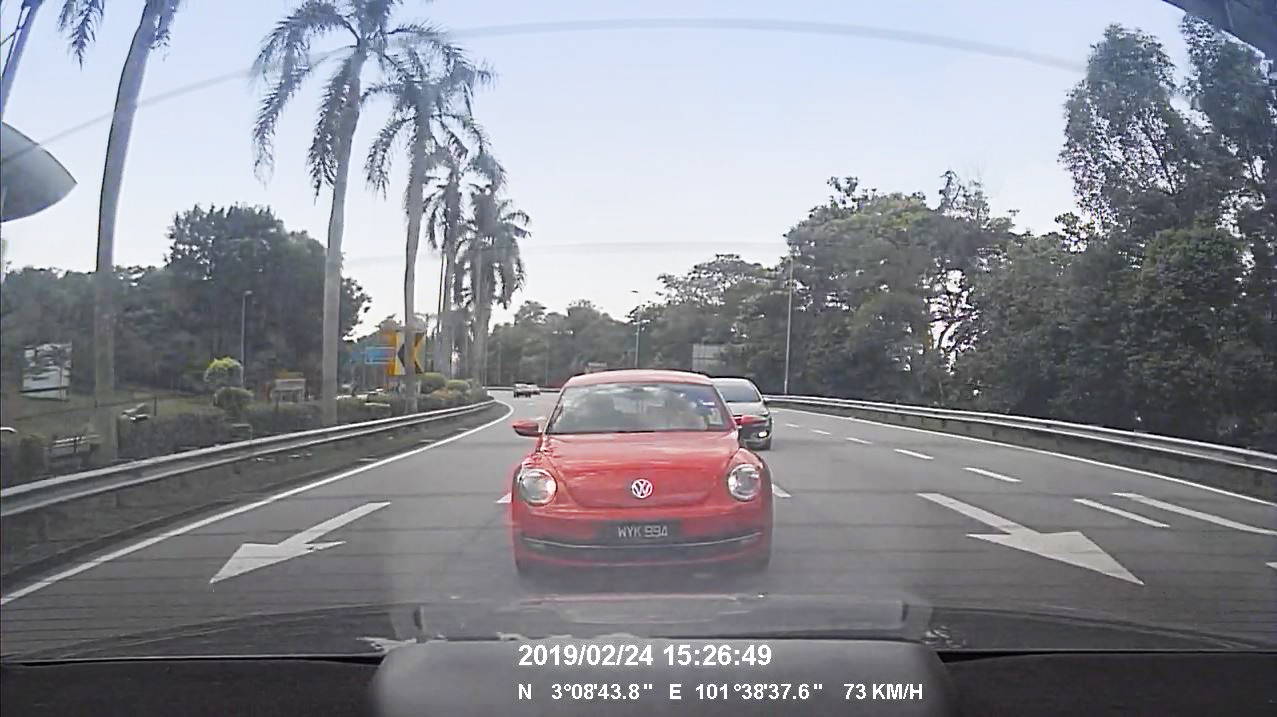 Front Dash Cam - Dim Light Recording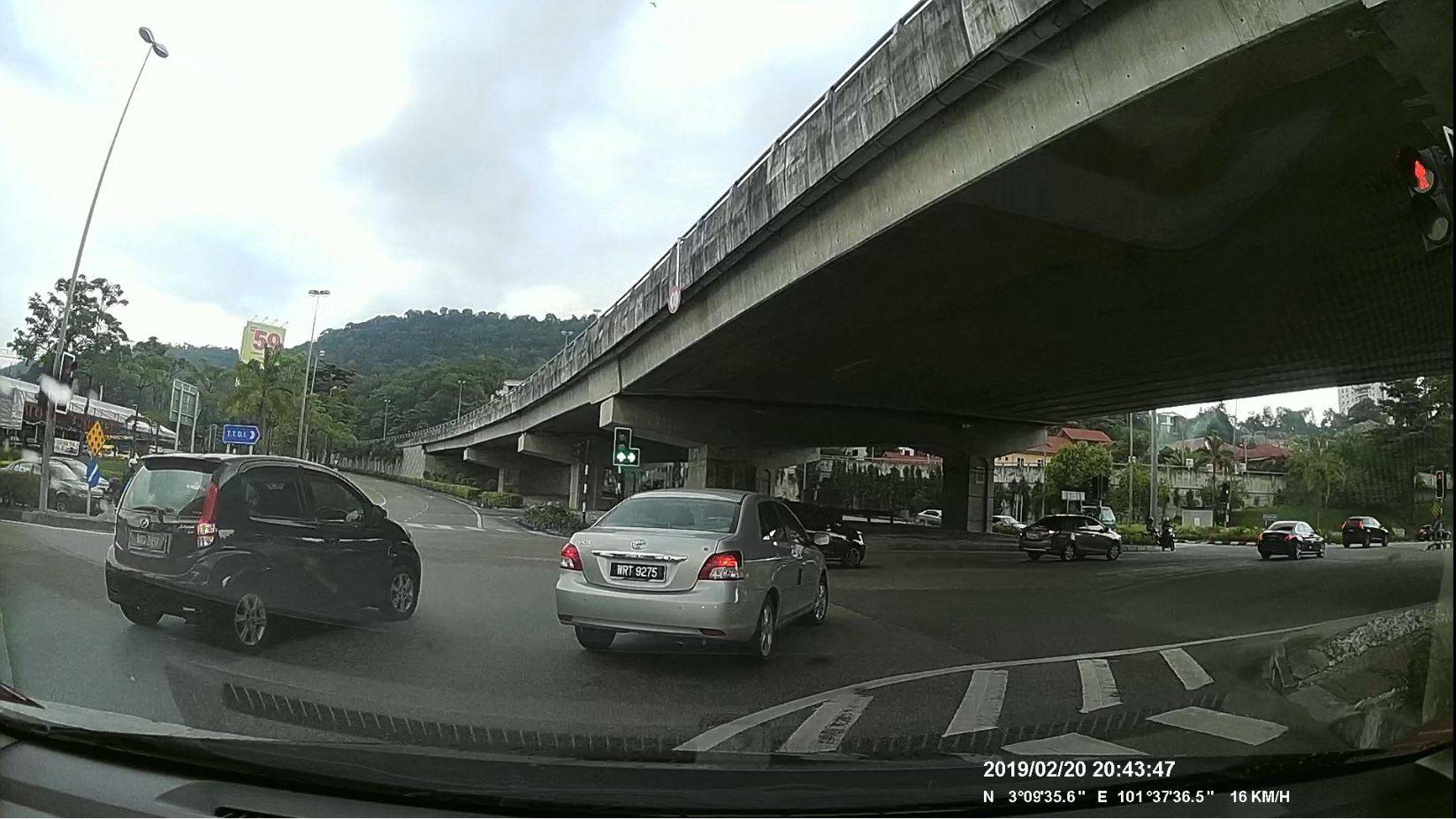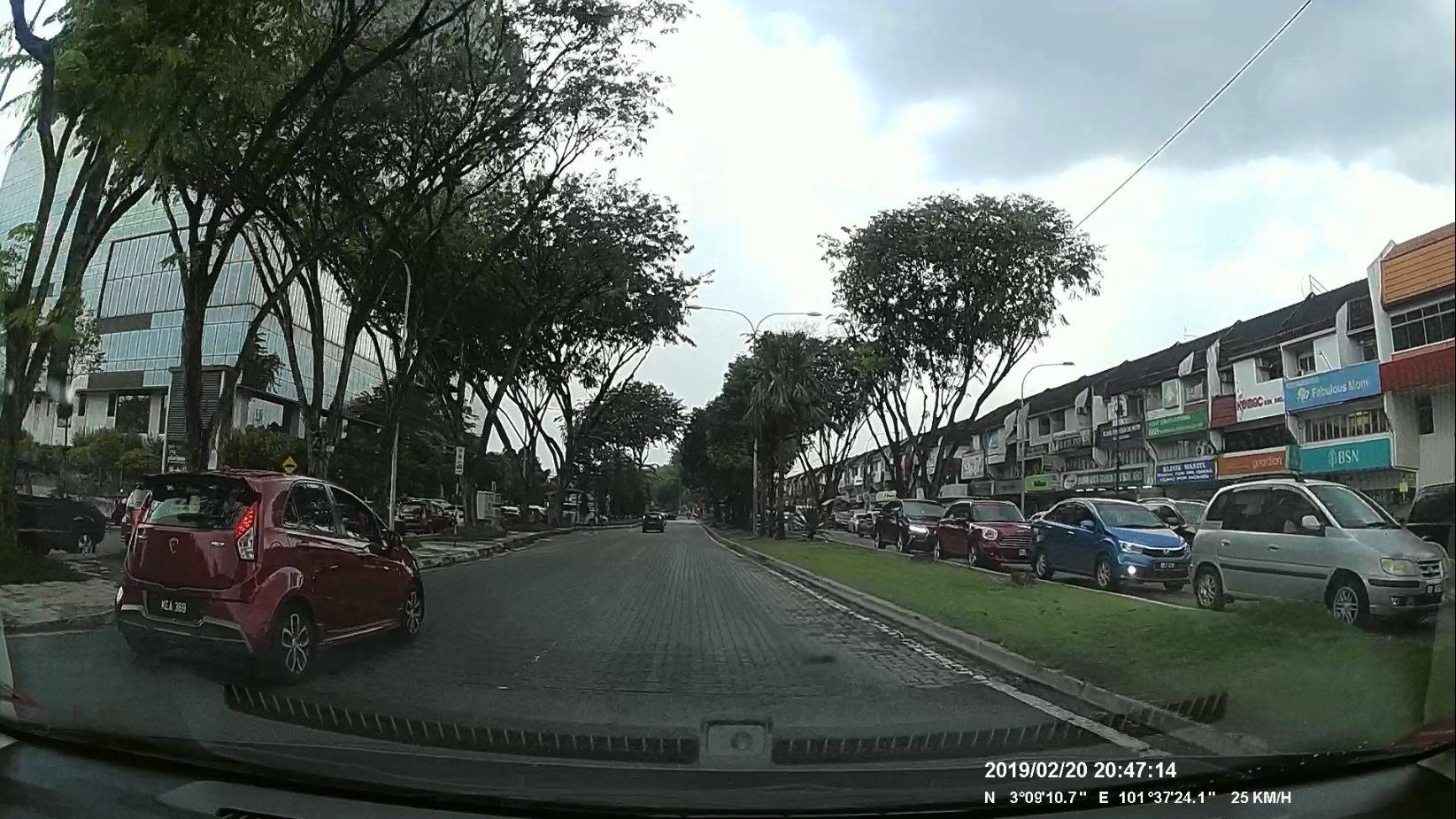 Rear Dash Cam - Dim Light Recording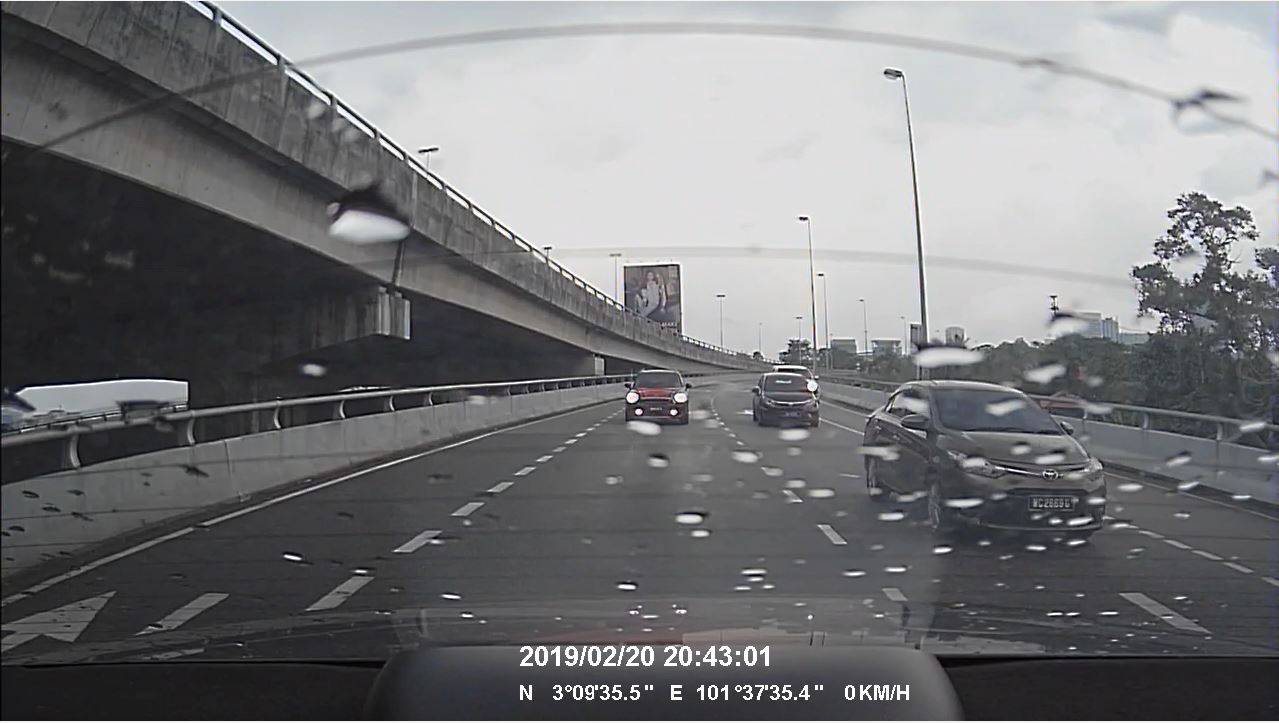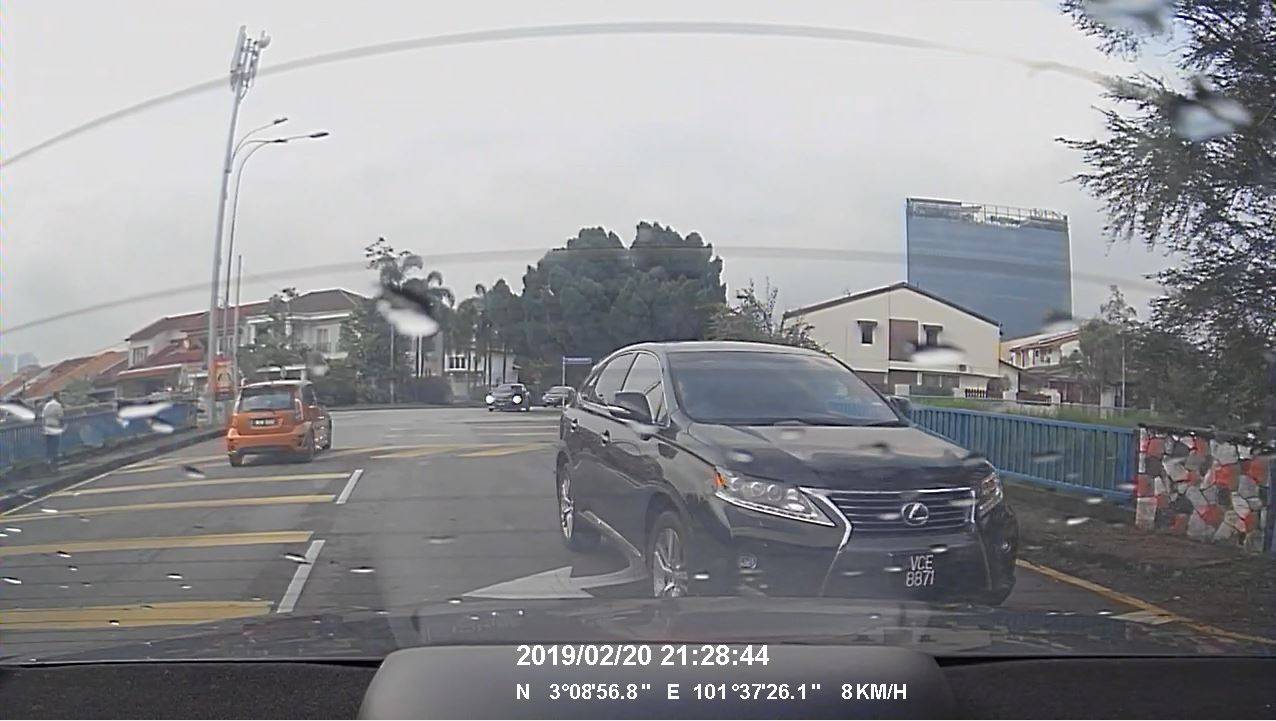 Front Dash Cam - Nighttime Recording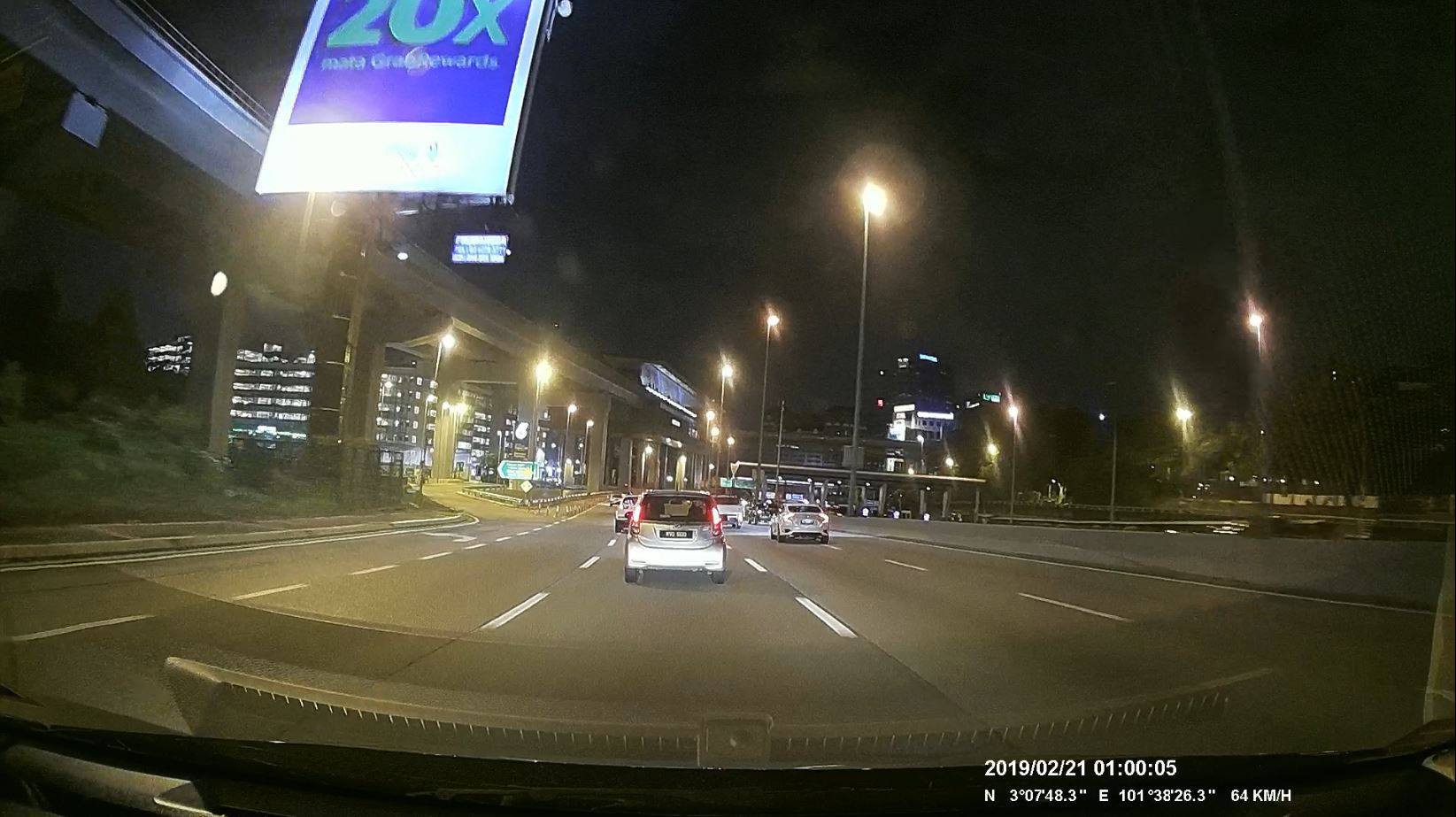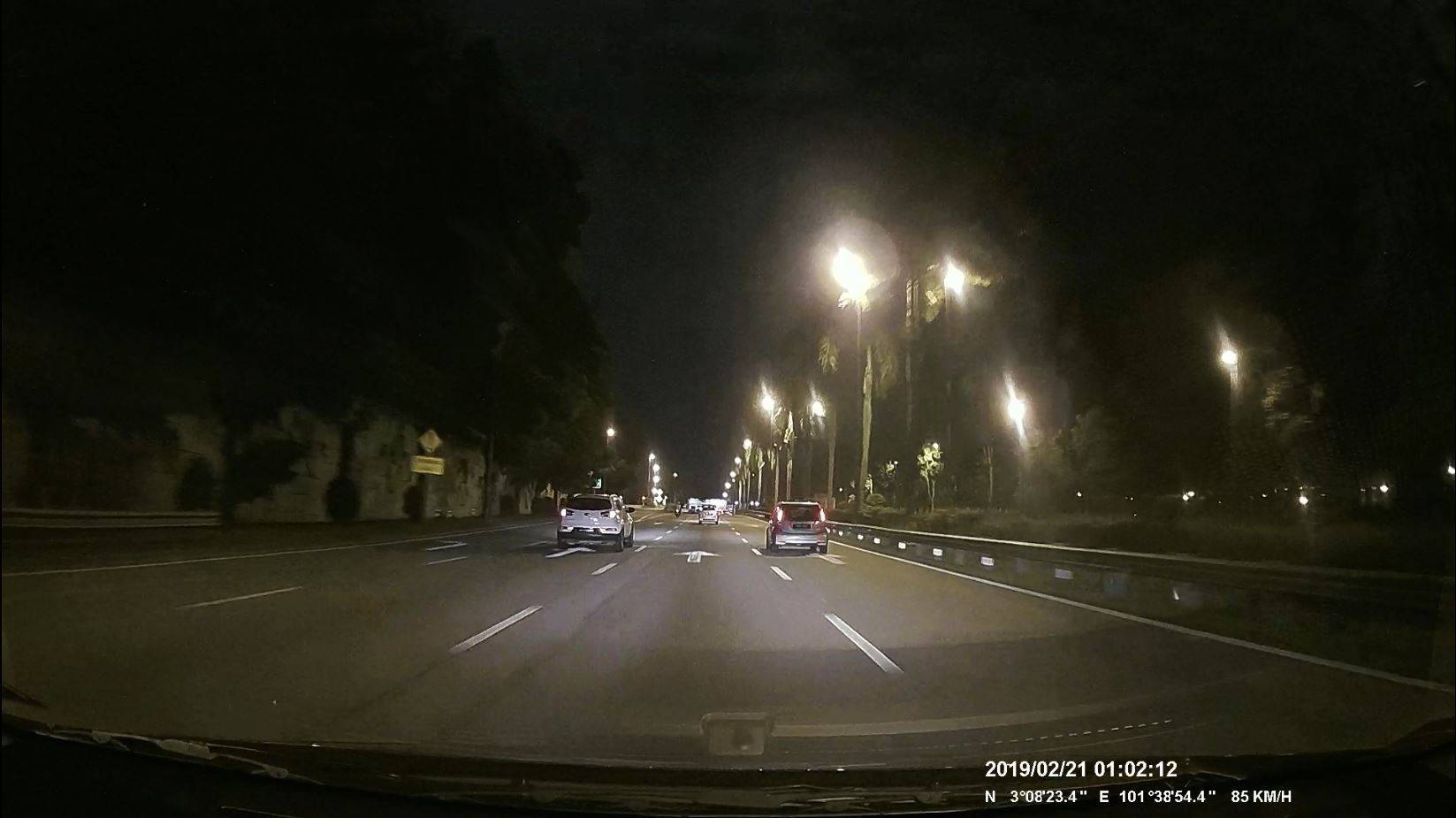 Rear Dash Cam - Nighttime Recording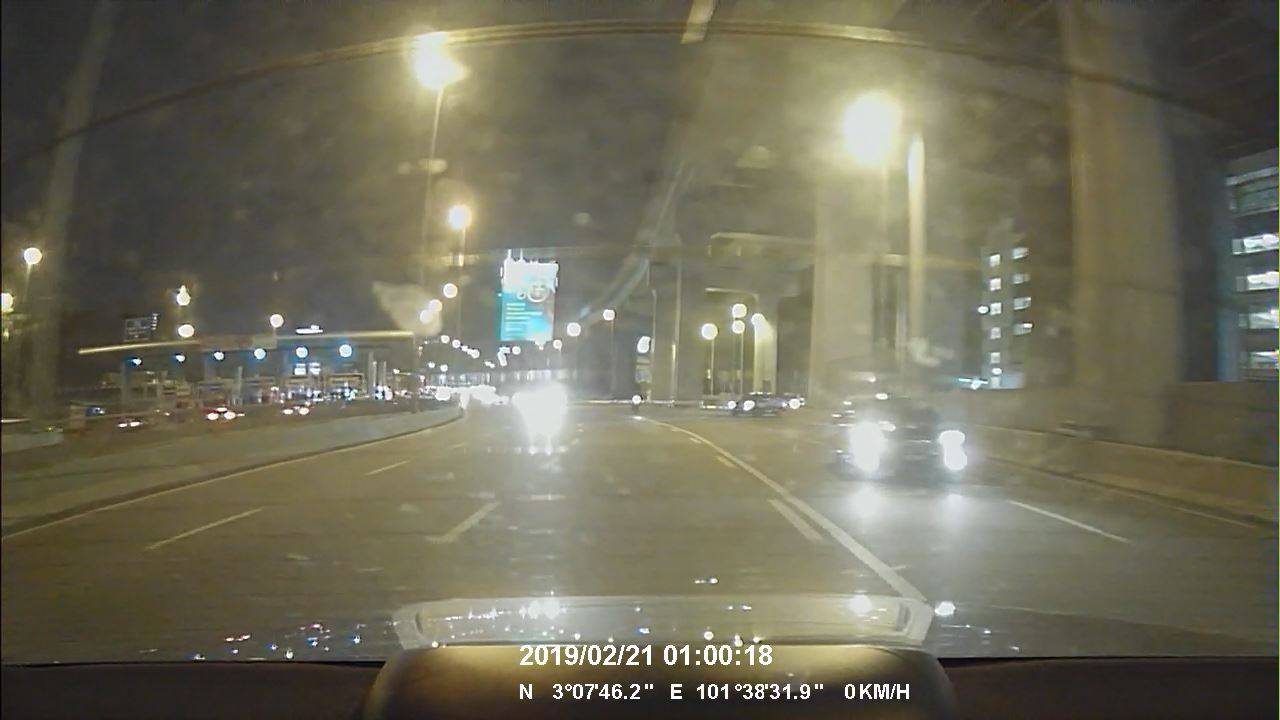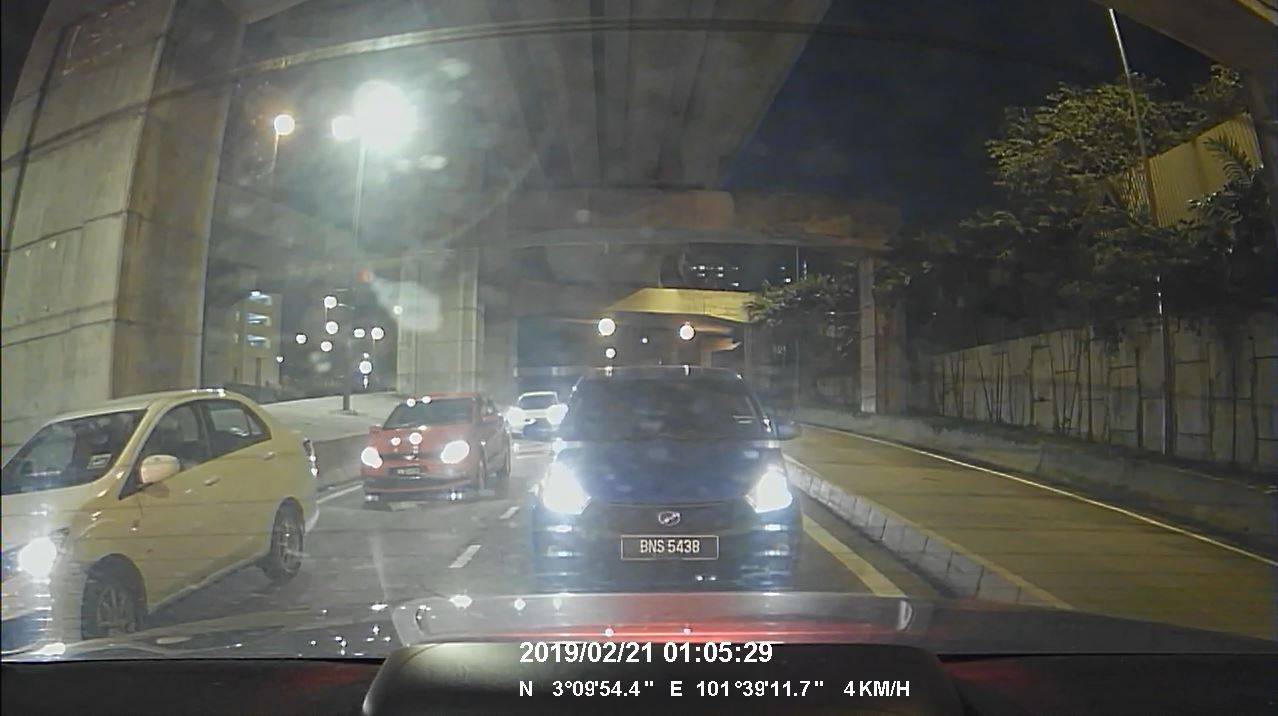 Gravity Sensor (G-Sensor)
Protects a file recorded in the event of a collision
The DriveSense Ranger Duo Dash Cam has a built-in gravity sensor that detects a collision and locks the recorded file to protect it from being deleted or overwritten. Using indicators such as vibrations and sudden, jolting motions, the Ranger Duo's G-Sensors is prompted to protect the recorded file so it cannot be deleted from the device. The G-Sensor sensitivity can be set to Low, Medium, High, or switched off completely.
The G-Sensor function is important to prevent the loss of important supporting evidence that may help investigators determine what happened during an incident. With a GPS-enabled automatic recording of footage after an impact (such as when you are in a collision with another vehicle), you can feel secure that video evidence of the incident will be preserved, no matter how chaotic the events are.
On the dash cam, you can also manually select a file to lock or protect. These protected recordings are saved in a separate folder in the microSD card and cannot be deleted from the dash cam itself. These protected files will also not be deleted when the microSD card is full.

The Ranger Duo dash cam's mount is super sturdy to keep it securely in place even on the bumpiest rides. Using strong magnets, the holder keeps the front dash cam and its external GPS module in place and ensures they won't get easily detached during a bumpy ride or collision.
The magents also make it very easy to attach and detach the dash cam and GPS module from the mount! You can opt to leave the camera in place when you park, but if you'd prefer it can be pulled off from the magnetic mount and easily stowed in your glovebox, or taken away in a pocket.
Auto Start Up and Shut Down
While the Ranger Duo Front and Rear Dash Cam is connected to your car, the front and rear dash cams will start up and shut down whenever you start the car or switch off the engine.
The Ranger Duo also has a motion detection function that can be enabled or disabled. With motion detection enabled, the Ranger Duo Dash Cam will only start recording when motion is detected. This means that while the dash cam may power on when you start the car ignition, it won't start recording if the car isn't moving. This saves you on recording memory when you're still in parked position after starting the engine.

The Ranger Duo front and rear dashcam is built to be user friendly and intuitive to use. The menu and device settings can be easily accessed on the device itself using the 2 buttons. You can short press or long press (hold) the buttons to quickly access menu settings or enter different modes. From the device, you can view and playback videos and photos, and also choose to manually lock important files from deletion.

View, download and delete files easily from your computer.
No special cable or software required.
Connect the microSD card to a computer to download and delete files easily. All you need is a microSD card reader on your computer or laptop. Simply preview or play using any MOV player on your computer. You don't need any extra cables to connect it to your computer, or any additional software. As such, there are no compatibility issues on either PC or MAC. Too easy!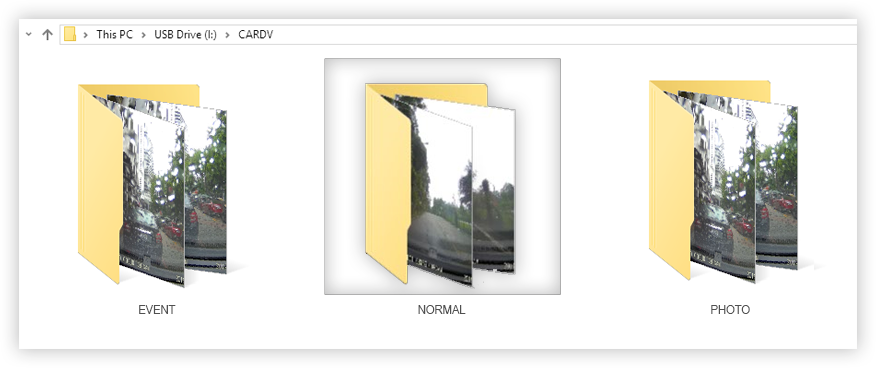 The footage is also automatically divided into subfolders for easy viewing and organisation. The memory card automatically partitions the files into 3 folders for normal recordings ("NORMAL"), locked videos ("EVENT") and photos. Each folder is also neatly organised into 2 subfolders, 1 each for the front cam ("F") and the rear cam ("R"), making it much easier for you to locate important footage.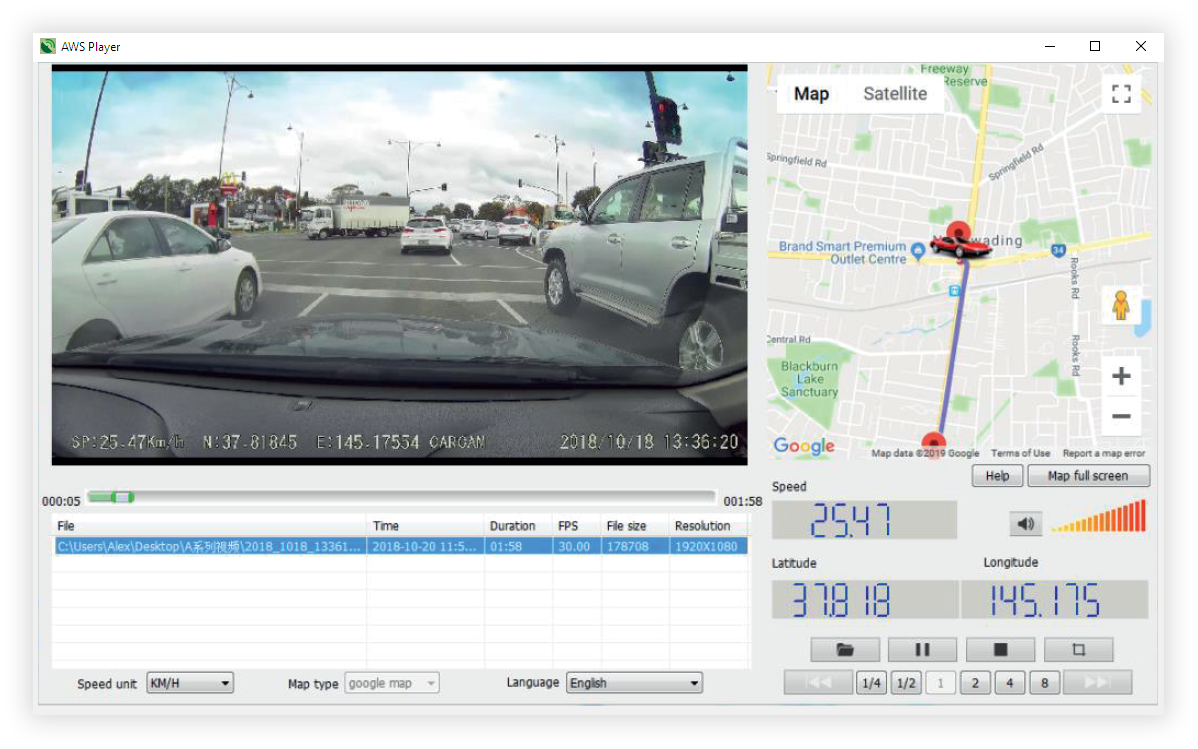 Optional: Download the GPS player to view
Additionally, you can download the GPS video player to view the videos in more detail, including the map, speed, latitude and longitude, while the video is playing. With the player, you can also change the playback speed, language (Chinese, Russian, Japanese), and change the speed unit to miles per hour.

The DriveSense Ranger Duo dashcam comes with everything you need to install it into your car. This includes a super long cable for installing the rear dash cam at the back of your car. The cable is long enough to fit normal sedans up to MPVs. It also includes a car charger with one USB slot for the dash cam and an additional USB slot for your own use.


Long enough to fit normal sedans and MPVs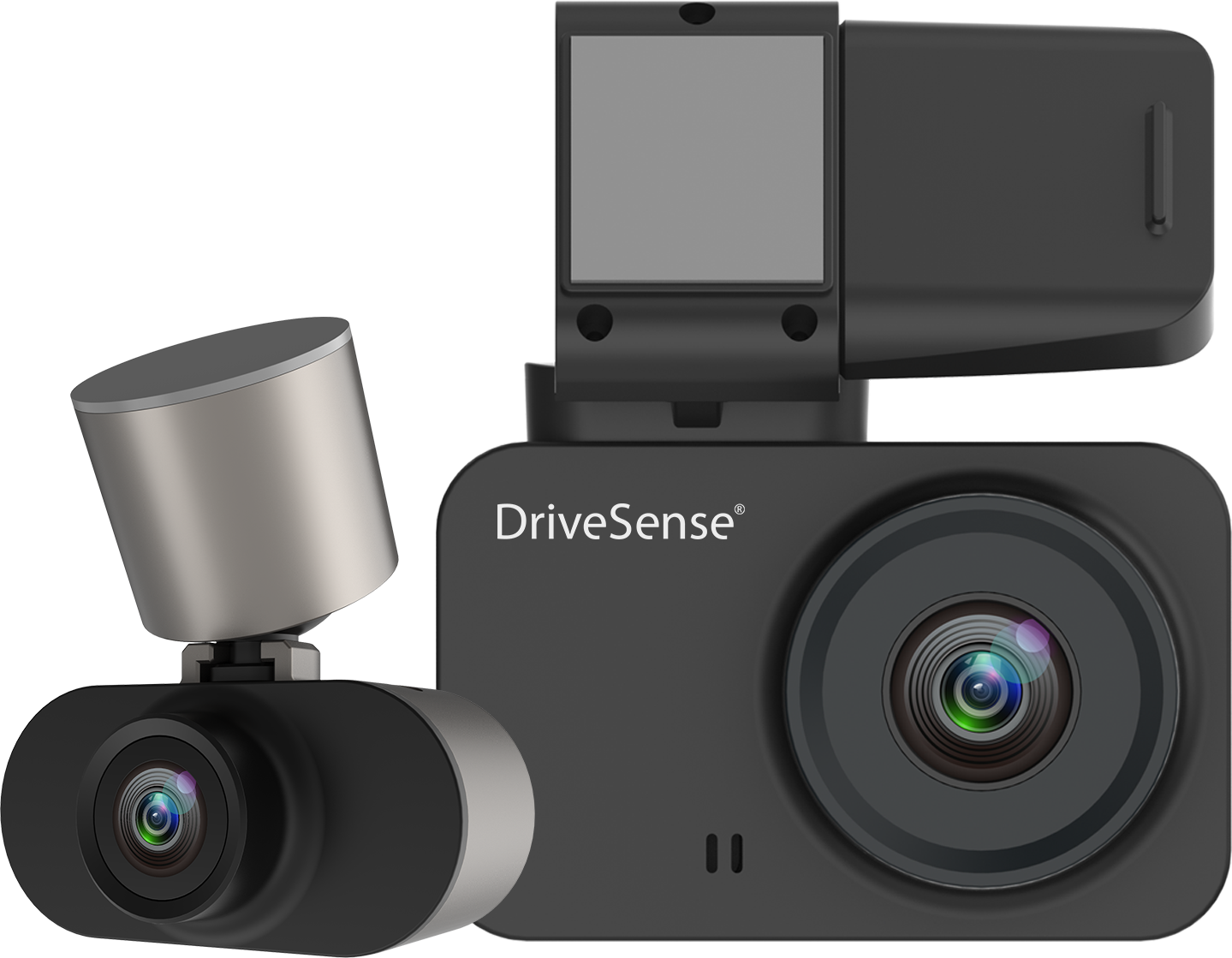 Model No.
DVS-RANGERDUO

Front Dash Cam: SONY imx307

Rear Dash Cam: RG321

Front Dash Cam: ⌀17.5 F1.6 150° wide angle 6G+IR

Rear Dash Cam: ⌀14 F1.6 135° wide angle 5G+IR

2.0" IPS 240 x 320 dots (tempered glass)

External GPS module (magnetic connection)

Front Dash Cam: 1080p 30fps / 720p 30fps

Rear Dash Cam: 720p 30fps

Super Capacitor, 2.5F, 5.5V

up to 64GB microSD card (not included)

G-Sensor / Motion Detection

off / 1 / 2 / 3 / 5 / 10 minutes loop recording

Front Dash Cam: 63g

Rear Dash Cam: 25g

Front Dash Cam: 70 x 44 x 34.55mm

Rear Dash Cam: 50 x 24 x 25.35mm
DriveSense Ranger Duo Dash Cam
User Manual

DriveSense GPS Video Player
(AWS Player)

How to install the Ranger Duo Dash Cam in your car
How to install the Ranger Duo Dash Cam in your car (Step-by-step)
Wipe the windshield area with a clean, soft cloth
Peel off the adhesive sticker on the holder and attach it to your windshield
Attach the USB cable to the holder
Tuck cable underneath the headliner
Continue tucking cable into the rubber door seals or down the windshield corner
Tape the cable to the dashboard or run it under the floormat towards the car cigarette lighter
Insert the microSD card to the Ranger Duo dash cam and attach the dash cam and GPS module to the magnetic holder.
Attach the rear cam cable to the dash cam and tuck it under the headliner
Continue tucking the cable in to rubber door seals until it reaches the back of the car
Peel sticker off the rear dash cam and stick it into place on the rear windscreen
Connect the cables on the rear dash cam and the rear cable, using the arrows as a guide
Hide the remaining cable under the headliner and rubber door seals
You can use tape or clips to secure any loose wires in the car
Ensure the dashcam USB cables are connected to the camera and the car cigarette lighter. Now, every time you start the car engine, both the front and the rear dash cam will start up as well.
How to hide the extra cables / wires from your dash cam
without any tools

If you have a smaller car or a sedan, it's likely that you'll have tons of the rear cam cable left over that won't fit under the headliner of your car. Follow the steps below to neatly hide the extra cables in your car. All you need to do is to pull out the rubber door seals (weatherstrip) from the car body and hide the cables underneath. This is the easiest and fastest way to hide the wires or cables without needing any extra tools.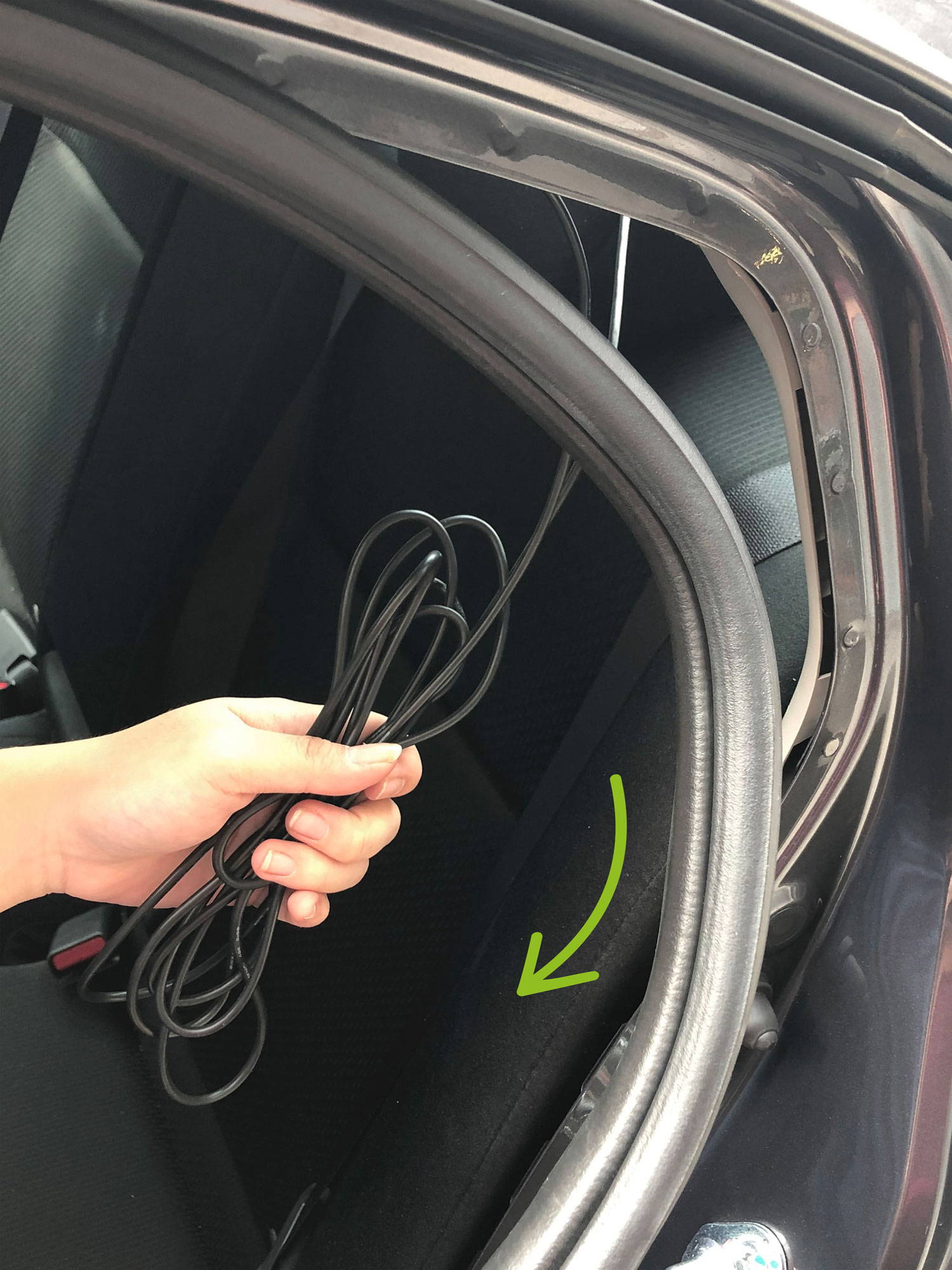 Pull out the rubber door seals from your car (don't worry, they'll re-attach easily!)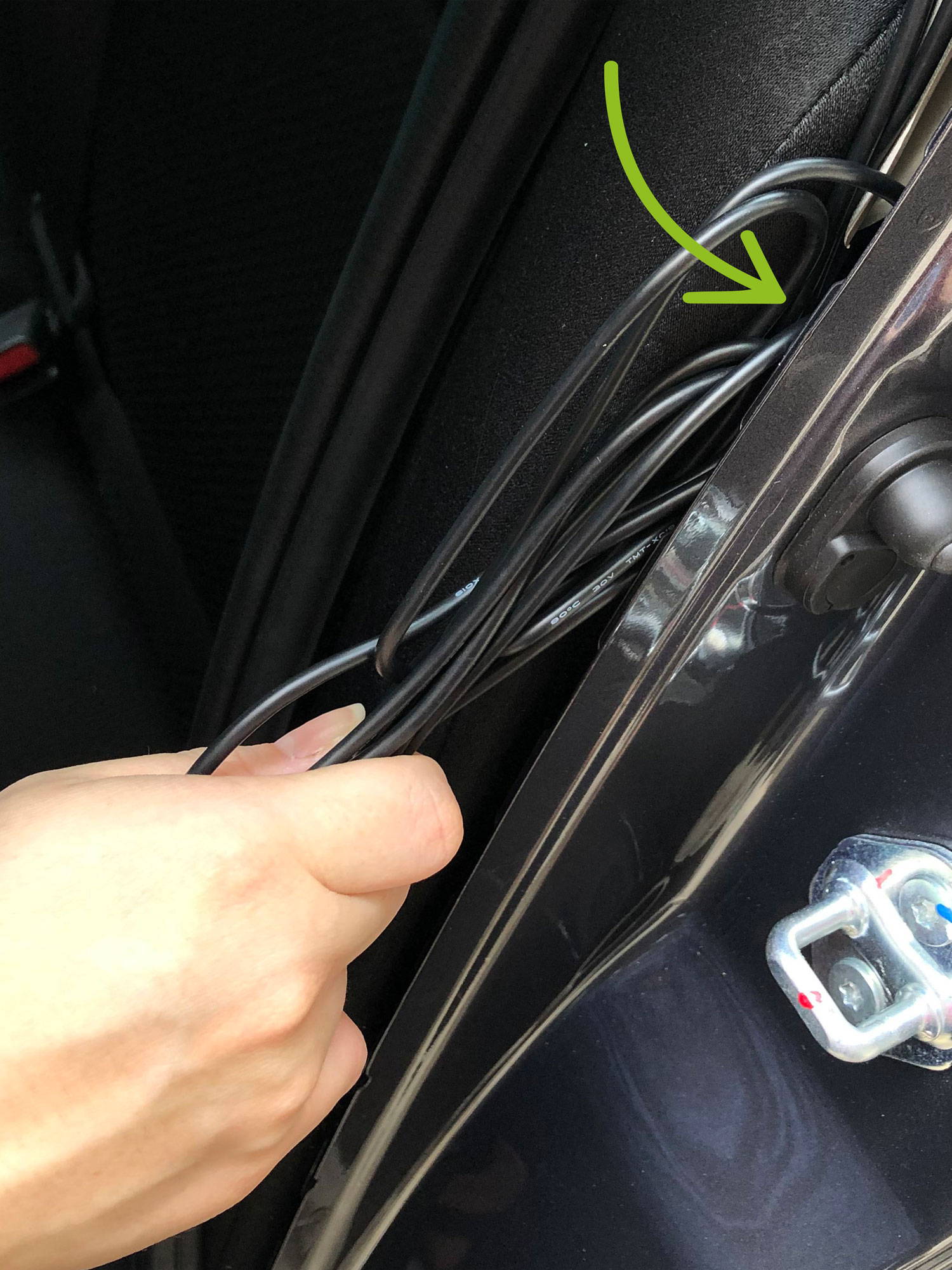 Wrap up the extra cables neatly and tuck them into the empty space in the car body.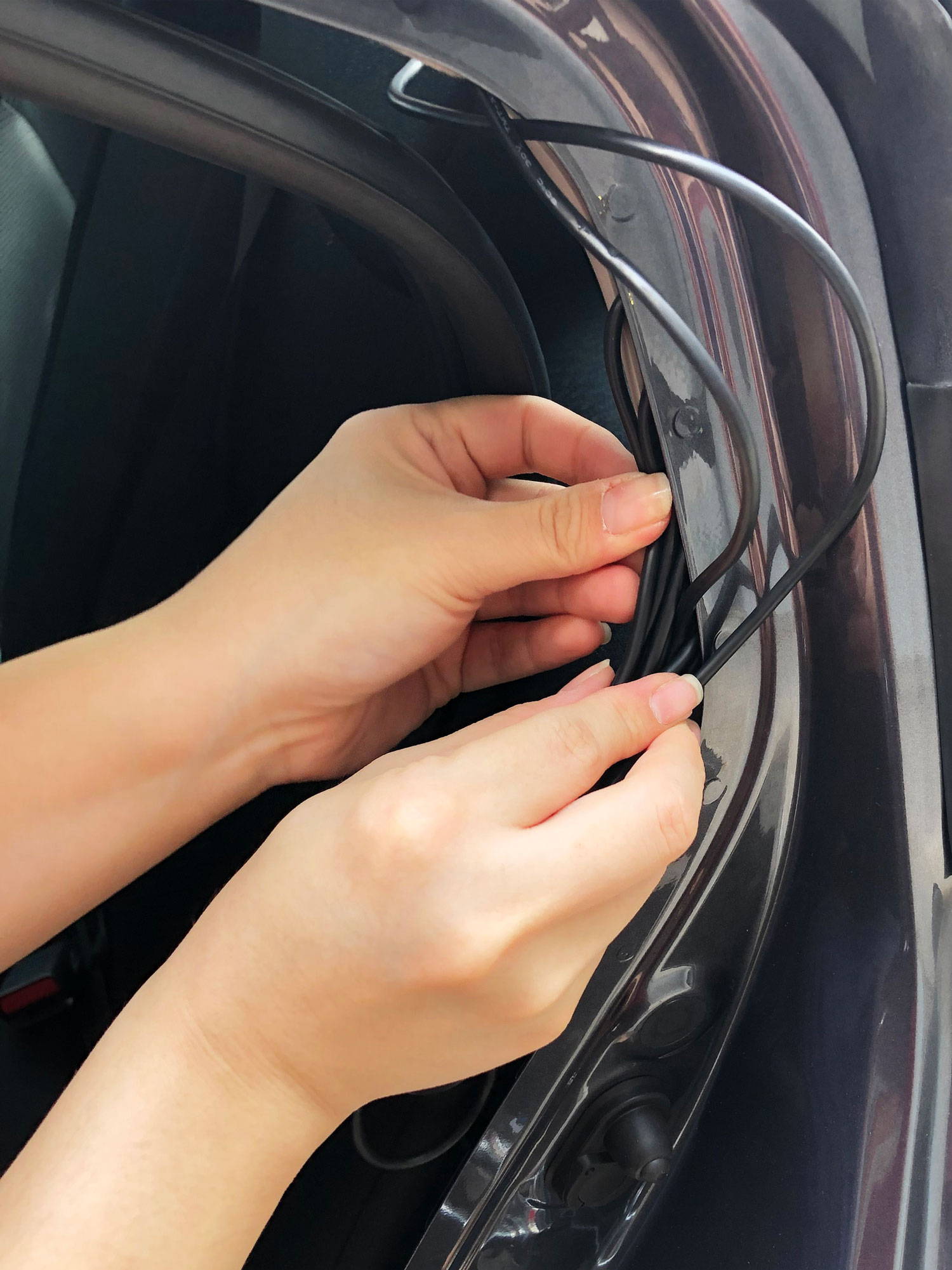 Continue tucking the cables in until all the cables are hidden.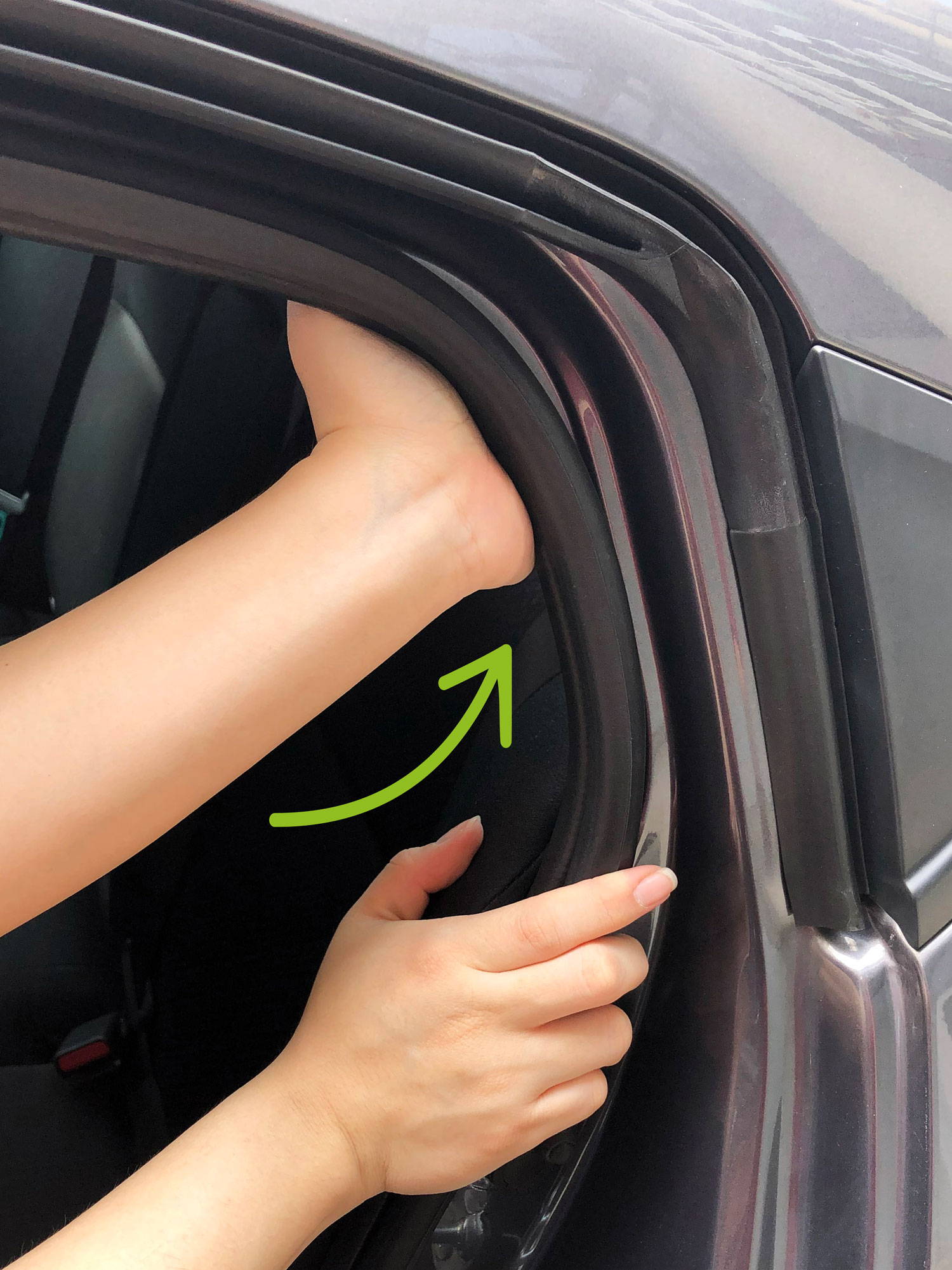 Push the rubber door seals back into place to hide the cables completely.
Note, if you have a hatchback, you should be able to pull out the rubber seal from the back door to hide the cables under it, too.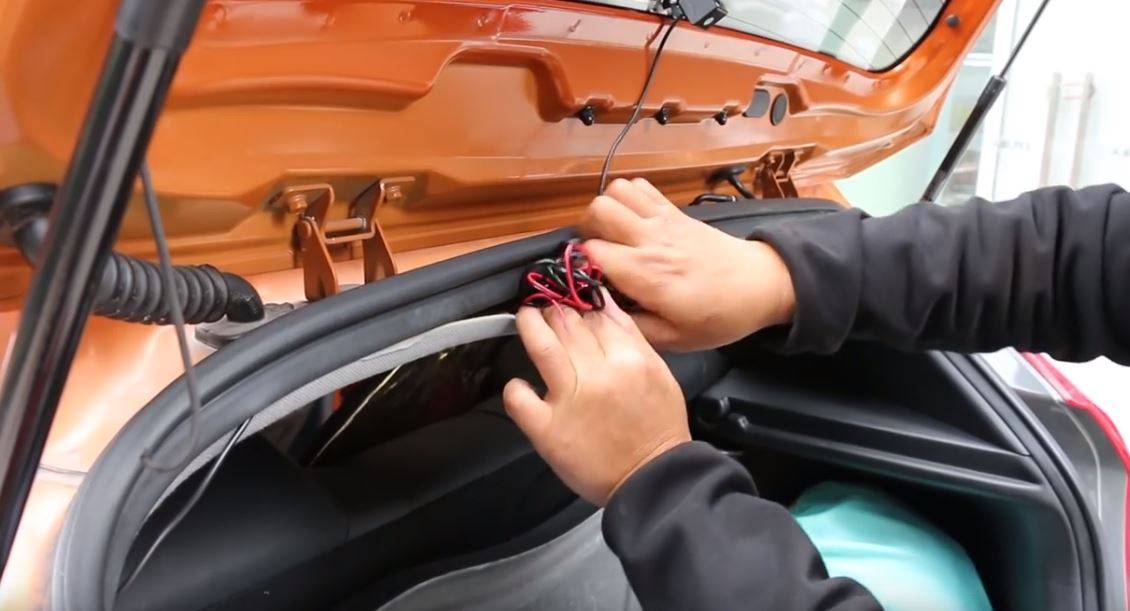 DriveSense Ranger Duo Dash Cam - Video Sample

The DriveSense Ranger Duo...is a solid choice for those who want to record both front and rear windscreen footage while still being easy to install.
As Seen On Channel 7 - Sunrise
DriveSense Ranger Duo Dash Cam Reviews
This is a review section, this text will be automatically hidden when loading the live page.
If you are going to buy a dash cam, go for quality. And for that, I don't think you can go wrong with the DriveSense Ranger Duo.

Get a dashcam and seriously consider the Ranger Duo for its price and high quality video.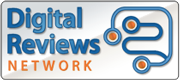 A+
Works well. Thank you. Would recommend.
It's great how it's hidden behind my rear vision mirror and isn't in my way when I'm driving.
DriveSense Ranger Duo Dash Cam
I am using the dash cam in a Nissan Navara ute. I could not mount the rear facing camera on the vertical rear window.
Excellent Dashcam
The new front and rear dashcams work very well.
Top dashcam -
Purchased Drivesense Ranger Duo dashcam several months ago and very impressed. Easily fitted and removed if vehicle unattended in high crime area. Good clear footage front and rear, even in low light. Saved files downloaded into files for easy access. 64gb microcard allows 11.5 hours run time then records over all but saved files. Playback video function handy. Initially had problems setting GMT time zone - my fault as I didn't allow sufficient time for satellite to connect. There are cheaper units on market but my observation is that they are generally of inferior quality and have less functions. Outlay gives you peace of mind and uses of dashcams are well documented. Front and rear cameras adhere to windows. I haven't tested adhesiveness in really hot weather yet, shouldnt be a problem if it is same standard as the unit. Information pamphlet comes with unit. Being a new model, I initially contacted Beverly at Andatech and found her very friendly, helpful (and patient). Recommend both Andatech as a company and Drivesense Ranger as a product.
Good value for money
Good quality and handy to have. I have this in me and my husbands cars and thankfully we have not needed to use either of them yet for any 'incidents' but they have been easy to use and provides a good peace of mind for whenever the need arises. The back camera quality is not the best especially when it rains but it is fine if your car has a back windshield wiper. However we did try out other models of dash cams in the past and found this drivesense dash cam to be the best in terms of ease of use and quality so far. No regrets and great price especially for RAA members.
Best dash cam
Purchased from RAA last month and have been very happy with it. It is easy to install and very easy to use. Hard to find another front and rear dash cam at such a good price and image quality.