Mobileye
Mobileye
has a rating of
5.0
stars based on
2
reviews.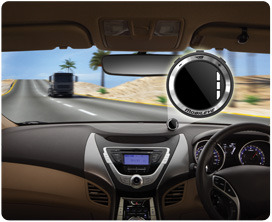 LANE DEPARTURE WARNING (LDW)

Mobileye issues a Lane Departure Warning (LDW) when it detects that the host vehicle has unintentionally deviated from the road towards the lane boundary or marking. Unintended lane departure may result in rollovers or run-off-road crashes that account for 60% of all road incident fatalities.
Mobileye generates an audible and visual alert approximately 0.5 seconds before the unintended lane departure only under conditions where the respective direction indicator is not turned on. The system achieves this by constantly monitoring the distance from the vehicle's wheels to the lane markings on both sides.
FORWARD COLLISION WARNING (FCW), INCLUDING MOTORCYCLE DETECTION

The Forward Collision Warning (FCW) alerts the driver of an imminent rear-end collision with the vehicle ahead. Mobileye calculates the Time To Collision based on the distance and the relative speed between the two vehicles. FCW alerts the driver up to 2.7 seconds before a collision occurs, allowing the driver enough time to take preventative action.
Mobileye also provides low speed 'bumper-to-bumper' collision alerts, called Forward Collision Warnings (FCW). These alerts occur most frequently at traffic lights, junctions, traffic queues and roundabouts. FCW is described as a 'virtual bumper' extending about 2 metres in front of your vehicle.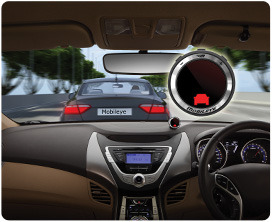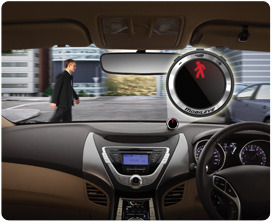 PEDESTRIAN COLLISION WARNING (PCW) INCLUDING BICYCLE DETECTION

The Pedestrian Collision Warning alerts you to the danger of an impending collision with a Pedestrian ahead. The Mobileye C2-270 calculates the expected Time to Collision (TTC) with the Pedestrian in front and when the TTC drops to a dangerous threshold, it immediately generates an PCW alert.
The PCW alert is a series of loud, high-pitched beeps which effectively draw your attention to the imminent collision.
HEADWAY MONITORING & WARNING (HMW)

Research has shown that drivers overestimate headway. They forget that as their speed increases, the effective headway decreases, often leaving insufficient response time to avoid collision. Headway Monitoring Warning (HMW) assists the driver in keeping a safe driving distance from the vehicle ahead, reducing the chances of a rear-end collision.
The HMW feature prompts the driver to adopt better driving habits by improving awareness of insufficient headway using a clear digital display showing their range in seconds. Should the driver fail to keep a safe distance, the HMW will engage causing the vehicle icon on the digital display to change colour from green to red and a chime to sound, alerting the driver of an impending risk.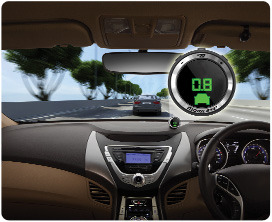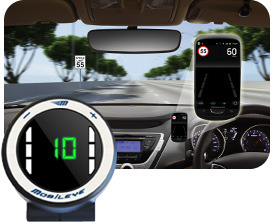 SPEED LIMIT INDICATION (SLI)

Detects and classifies various speed signs and notifies the driver if the vehicle's speed exceeds the allowed speed detected on the sign. Available only when no other warning is present.

Mobileye SLI encourages safe driving and prevents speeding by keeping the driver aware of speed limits.
INTELLIGENT HIGH-BEAM CONTROL (IHC)*
Controls a vehicle's driving lights on dark roads by automatically switching them from low beam to high beam when there's no nearby traffic, and switching to low beam when oncoming traffic is detected.
*optional feature, not included in RRP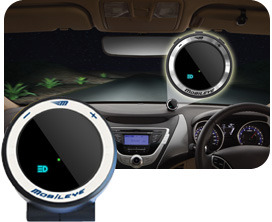 ---
PLUS:
Based on Mobileye's acclaimed vehicle, lane and pedestrian detection technologies, adopted by leading vehicle companies.
Optional connectivity to Fleet Management and Telematic systems.
High intensity visual indications via Eye Watch display, offering:

Vehicle detection indication
Gauge for headway monitoring
Color coded alerts for all warnings

Fits all types of passenger cars, trucks, buses, RVs and fleet vehicles.
High availability: operating day and night in almost every weather condition.
---
Mobileye Collision Prevention Systems are functionally effective. They detect reliably and warn the driver when necessary.
(TNO report, 2009).
BENEFITS
The latest innovation in Advanced Driver Assistance Systems, the Mobileye C2-270 acts as your "third eye" on the road and always
watches the road ahead even when you're not. The Mobileye:
Effectively alerts drivers of impending collisions and car accidents up to 2.7 seconds before it happens
Keeps drivers, passengers and our environment safe
Improves driving patterns
Reduces fuel consumption
Reduces collision related costs
Improves driving habits
Provides a tool for driver evaluation and training
Operates day and night under almost all weather conditions
Model No.
MOBILEYE
Specifications
- A windshield-mounted vision sensor unit with a compact High Dynamic Range CMOS (HDRC) camera and Mobileye's SeeQ2® image processing board
- High-quality audio alert buzzer
- User-friendly, high visibility Eye Watch Display and control unit, for visual directional warnings and numerical headway measurement display, with customizing options
This is a review section, this text will be automatically hidden when loading the live page.
This is a review section, this text will be automatically hidden when loading the live page.