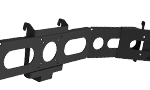 VERSATILE MONITOR MOUNT
The Emperor monitor mount allows the use of a single monitor up to 30 inches in size or triple monitor setups up to 3 x 24 inches (VESA standard required).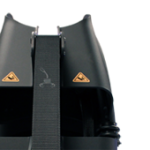 HOMEMADE CANADIAN STEEL FRAME
The Emperor 1510 is made of robust and stylishly shaped frames built from 3/16″ thick Canadian steel. All frames have a highly resistant powder coating finish.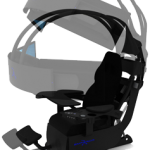 UPPER SECTION LIFTING/LOWERING, TILTING CAPABILITY AND ADJUSTABLE SEAT/LEG REST
To get in and out of the workstation easily and to adjust the height of the monitor(s), use the electrical upper section lifting and lowering controls. For the utmost comfort and to partially relieve back pressure, the Emperor will tilt backward up to 25 degrees (multiple seat and leg rest adjustments are also possible).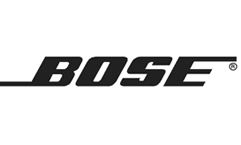 BREATHTAKING SOUND
Bose® multimedia speakers and under seat Acoustimass® provide quality stereo performance for all your computer entertainment. Enjoy clarity and depth from music, movies and games, MP3 or Internet sources.
Handy control pod houses volume control, single-touch mute, headphone jack and connection for a second audio source such as an MP3 player.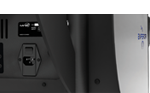 PLUG IT IN
Connect your Mac, PC or game console using the Emperor's selection of built-in inputs and outputs.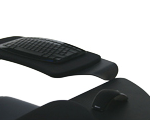 ADJUSTABLE KEYBOARD TRAY.
Position the mouse and keyboard tray to your liking and comfort.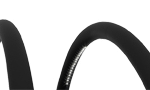 LED LIGHTS ON
Multiple LED lights, positioned on the upper section of the structure, provide soft lighting without glaring the displays.
Power - Operating Voltage

100-240V~50/60Hz

Power Consumption

100~300 Watts

Monitor Mount

Single monitor configuration: 19" to 30"
Triple monitor configuration: 3 x 19" to 3 x 24"
3 x HDMI to HDMI cables
Maximum monitor mount weight capacity: 35,2lbs (16kg)

Audio

Bose® 2.1 audio system with Acoustimass® module

Connectivity - Rear

3 HDMI-Females
1 x 1/8" Stereo audio connector
1 USB B (for upper section mounted web cam)
1 USB B (for arm rest mounted USB hub)
1 100-240V input

Connectivity - Front

4 ports USB HUB 2.0
1 USB A female (upper section for web cam)
1 100-240V output

Ergonomic tuning- Adjustments

Adjustable seat (back section)
Adjustable keyboard and leg rest
Adjustable monitor height
Tilting capability for the entire workstation up to 15 degrees to reduce back pressure
Total reclining degrees: 25° (including seat back section adjustment)

Capacity

User: 250 lbs max. (113 kg)

Material, colour and finish

Metal frame
High quality Canadian steel with black sand texture powder coated paint
Available Colors
Carbon black
Mac white

Seat

High end micro-fiber fabric
Steel frame

Electric actuators

Actuator A (for backward tilting)
IP43 12V Linear actuator
Duty cycle 10%

Actuator B (for upper section lifting and lowering)
IP43 12V Linear actuator
Duty cycle 10%

Dimensions and Weight

Emperor 1510 Dimensions:
Length: 60 ½" (154cm)
Width: 46 ¼" (117cm)
Height (down): 62 ½" (159cm)
Height (up): 76" (193cm)
Net Weight: 225 lbs (110kg)

Emperor 1510 Crate Dimensions:
Length: 63" (160cm)
Width: 35" (89cm)
Height: 63" (160cm)
Weight: 325 lbs (147kg)

In the box

Pre-assembled Emperor workstation
Lateral wings, tools
User manual
3 x HDMI to HDMI cables
2 x USB A to USB B cables
Power cable
Power cable splitter (1 input to 3 outputs)
Emperor 1510 Workstation Reviews
This is a review section, this text will be automatically hidden when loading the live page.
Price is high ( no surprise )
5 out of 5
It's on my wish list as well. JOE will buy me one!!! haha
From looks…
I have read alot about this but i cant afford it, its on my wish list