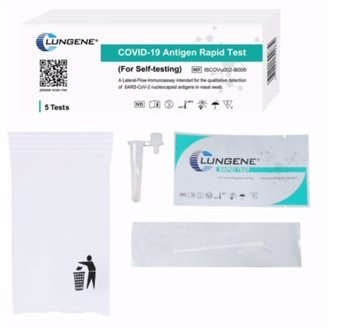 Clungene
Clungene® COVID-19 Antigen Rapid Test (5 Test Kits Pack)
Clungene® COVID-19 antigen rapid test for the screening of active COVID-19 infection. 5 tests per box. Results in 15 minutes. ARTG number: 333341. Expiry end of Dec 2023.
Easy 3-step nasal swap. Get yourself and your employees tested with self-test kits to minimise the risk of a local COVID-19 outbreak at your workplace.

For screening at home or at the workplace. Confirmatory PCR test is required if a positive test result is obtained from self-testing.

Simple procedure. Comes with pre-filled sealed buffer.
Fast results in 15 minutes.

Each self-test kit contains 1 instructions for use, 5 test cassettes, 5 extraction reagent tubes, 5 swabs, and 5 waste bags.

Note: Negative test results do not exclude infection with SARS-CoV-2 (COVID-19). Positive test results or symptomatic persons require immediate confirmatory testing with a polymerase chain reaction (PCR) test.
How to use Clungene® COVID-19 antigen rapid test:


Clungene® COVID-19 Antigen Rapid Test
Good product.
High sensitivity and evidence of performance against Alpha, Beta, Delta, Gamma and Omicron variants.
Clungene® COVID-19 antigen rapid test