Lightning Fast Response
Use within 3 seconds from turning it on, and get your results within 10 seconds

Accurate Readings
Get alcohol-specific accurate BAC results with its fuel cell sensor

Quality Product
Rely on an Australian Standards AS3547 Certified breathalyser with a three-year warranty
---

handling made easy
Use anywhere, store inside your pocket, bag, or car with its hassle free design

Designed for your needs
Use the hidden built-in mouthpiece for personal use or share with a friend using any of the free additional mouthpieces

Reliable BAC readings whenever you need it
Verity redefines on-demand accurate results. It is powered by an advanced fuel cell sensor that measures your breath sample for alcohol content and assures you of alcohol-specific results unaffected by other substances such as mouthwash and cologne. The sensor also measures breath flow and volume exhaled, and warn you with a "FLO" error message if not enough breath sample is provided. The AlcoSense Verity breathalyser is also proudly Australian Standard AS3547 Certified, meaning it has passed accuracy and reliability tests.

Drive with an informed decision with a quality product
The slim and compact Verity is easy to bring around, fitting easily into your pocket, handbag or car glovebox compartment.
---

A breathalyser designed with YOU in mind
Fun colours
Express yourself with the Verity's colourful range. Choose from navy, pink, beige, green, blue or white. Great for all ages, genders, and personalities.
Built-in Retractable Mouthpiece
There's no need to carry around loose mouthpieces or risk misplacing them. The Verity's retractable built-in personal mouthpiece means you can use the Verity for personal testing, without needing an extra mouthpiece. Just keep some loose mouthpieces to use if you want to test friends or family.
---


Easy to understand results
The Verity has a large LCD display that shows a detailed reading of your blood alcohol content in %BAC. The large numerical digits ensure results are easy to read even in dark surroundings.

Eliminates Subjective BAC Interpretation
With the AlcoSense Verity, you don't have to second guess or do subjective interpretations of what your BAC could be. Its accuracy margin of ±0.005%BAC puts its reliability on par with industrial and law enforcement breathalysers that use fuel cell sensor technology.

Calibration alert reminders
A built-in calibration alert informs you when the unit has taken over 1,000 tests. The warning "CAL" shows up on the display screen for three seconds before warming up. (Note: We recommend calibration every 500 tests or 6 months of use, whichever comes first)
With the Verity, you don't have to second guess or do subjective interpretations when it comes to knowing your BAC.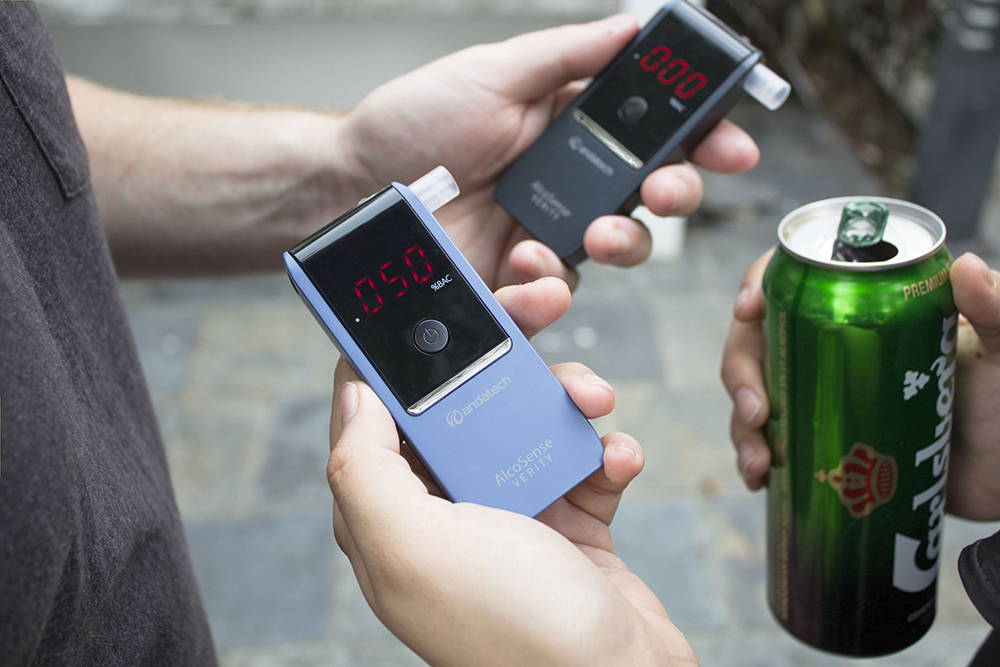 Large LCD display with clear 3 decimal place BAC readings.
Note: "050" is read as .050 %BAC - the decimal is in front of the 3 digits.
---

---
Easy to use with a retractable mouthpiece for personal alcohol breath testing.
Attach a loose mouthpiece to the retractable mouthpiece to test other people such as friends and family!
---
| | |
| --- | --- |
| Model No. | ALS-VERITY |
| BAC Range | 0.000% - 0.200%BAC |
| Sensor Type | FxCell2 |
| Accuracy | ±0.005%BAC at 0.050%BAC |
| Warm Up Time | 3 seconds ~ 4 minutes |
| Response Time | Within 10 seconds |
| Recycle Time | 10 seconds |
| Working Temperature | 5 – 40°C |
| Power Supply | 2 x AAA Batteries (Alkaline Only) |
| Mouthpieces | 5 mouthpieces supplied (please note this unit is only compatible with AlcoSense mouthpieces), built-in personal mouthpiece |
| Memory Capacity | None |
| Result Reading | 0.000% to 0.200%BAC |
| Certification | Australian Standard AS3547 |
| Calibration Frequency | 500 tests or every 6 months (whichever comes first) |
| Display | Back-lit LCD |
| Features | 3 decimal place reading, flow control, auto power off |
| Includes | User manual, mouthpieces, batteries, carry pouch, carry case |
| Product Weight | 66g including batteries |
| Dimensions | H: 100mm, W: 44mm, D: 15mm |
| Warranty | 3 years |
AlcoSense Verity Breathalyser
User Manual

AlcoSense Verity Breathalyser Reviews
This is a review section, this text will be automatically hidden when loading the live page.